Research article

Open Access

Open Peer Review
This article has Open Peer Review reports available.
Group based diabetes self-management education compared to routine treatment for people with type 2 diabetes mellitus. A systematic review with meta-analysis
BMC Health Services Research
2012
12:213
Received: 6 November 2011
Accepted: 30 June 2012
Published: 23 July 2012
Abstract
Background
Diabetes self-management education (DSME) can be delivered in many forms. Group based DSME is widespread due to being a cheaper method and the added advantages of having patient meet and discuss with each other. assess effects of group-based DSME compared to routine treatment on clinical, lifestyle and psychosocial outcomes in type-2 diabetes patients.
Methods
A systematic review with meta-analysis. Computerised bibliographic database were searched up to January 2008 for randomised controlled trials evaluating group-based DSME for adult type-2 diabetics versus routine treatment where the intervention had at least one session and =/>6 months follow-up. At least two reviewers independently extracted data and assessed study quality.
Results
In total 21 studies (26 publications, 2833 participants) were included. Of all the participants 4 out of 10 were male, baseline age was 60 years, BMI 31.6, HbA1c 8.23%, diabetes duration 8 years and 82% used medication. For the main clinical outcomes, HbA1c was significantly reduced at 6 months (0.44% points; P = 0.0006, 13 studies, 1883 participants), 12 months (0.46% points; P = 0.001, 11 studies, 1503 participants) and 2 years (0.87% points; P < 0.00001, 3 studies, 397 participants) and fasting blood glucose levels were also significantly reduced at 12 months (1.26 mmol/l; P < 0.00001, 5 studies, 690 participants) but not at 6 months. For the main lifestyle outcomes, diabetes knowledge was improved significantly at 6 months (SMD 0.83; P = 0.00001, 6 studies, 768 participants), 12 months (SMD 0.85; P < 0.00001, 5 studies, 955 participants) and 2 years (SMD 1.59; P = 0.03, 2 studies, 355 participants) and self-management skills also improved significantly at 6 months (SMD 0.55; P = 0.01, 4 studies, 534 participants). For the main psychosocial outcomes, there were significant improvement for empowerment/self-efficacy (SMD 0.28, P = 0.01, 2 studies, 326 participants) after 6 months. For quality of life no conclusion could be drawn due to high heterogeneity. For the secondary outcomes there were significant improvements in patient satisfaction and body weight at 12 months for the intervention group. There were no differences between the groups in mortality rate, body mass index, blood pressure and lipid profile.
Conclusions
Group-based DSME in people with type 2 diabetes results in improvements in clinical, lifestyle and psychosocial outcomes.
Keywords
Patient education as topicSelf-careType 2 diabetes mellitusSystematic review
Background
Diabetes mellitus is one of the most common chronic disorders in the western world. In 2007, it was estimated that there were 246 million people (7.3% of adults aged 20-79) with diabetes compared to194 million in 2003 [1]. Type 2 diabetes constitutes about 85% to 95% of all diabetes cases in developed countries.
The World Health Organisation Report on therapeutic patient education recognises the importance of patient-centred education in the effective management of chronic diseases [2]. Therapeutic patient education is education designed to help a patient (or a group of patients and their families) to manage their treatment and prevent avoidable complications, while keeping or improving their quality of life. It has been recognised that adoption of self-management skills (i.e. the learned ability to perform and act competently) by persons with diabetes is necessary to enable them to manage their diabetes.
In diabetes self-management education (DSME), the close involvement of patients and care givers is encouraged. In contrast, traditional education is didactic in nature and tends to be delivered in lecture format. There are several initiatives to provide guidelines for DSME. The International Diabetes Federation has published 'International Curriculum for Diabetes Health Professional Education' International [3] and 'International Standards for Diabetes Education' [4]. In the United States of America a 'National Standards for Diabetes Self-Management Education' has also been developed and regularly updated [5]. In the UK, the Department of Health has published the "Structured Patient Education in Diabetes" [6].
However, there are considerable variations in the content and form of DSME and thus no standardised description can be given of the intervention. Educational programs are frequently defined as complex interventions where it is often difficult to define the 'active ingredient' framework [7]. If a program is shown to be effective, that may be due to any combination of the theoretical model used, the skills of the educator, the venue, the rapport between the participants and so on. However, if sufficiently homogeneous good quality complex interventions are systematically reviewed, the active ingredient is more likely to become apparent.
In a Diabetes UK commissioned review from 1998 on the educational and psychosocial interventions for adults with diabetes [8], six meta-analyses were identified [9–14], one review [15] and 57 published controlled trials. Thus, a large number of trials have been undertaken early, mainly in secondary care in the United States. More recent reviews have evaluated the effects of different types of self-management training in type 2 diabetes [16–27] Although there is evidence that self-management training is effective, most reviews called for further research by way of well-designed and long-term studies.
None of the above reviews have had a comprehensive evaluation of the effect of diabetes self-management education delivered in a group format. This was done for studies up to 2003 by Deakin et.al. [28] where it was found that group based DSME had a significant effect on clinical, lifestyle and psychosocial outcomes. Group based DSME is widespread due to being a cheaper method and the added advantages of having patient meet and discuss with each other.
The current review builds on the previous review [28]. The aim of this study was thus to assess effects of group-based DSME compared to routine treatment on clinical, lifestyle and psychosocial outcomes in type-2 diabetes patients.
Methods
This was a systematic review with meta-analysis of randomised controlled trials (RCT's) comparing group-based diabetes self-management education with routine treatment, waiting list control or no intervention. Only studies that assessed outcome measures six months or more from baseline were included in this review.
Participants
Studies which included adults diagnosed with type 2 diabetes. There were no criteria for how the type 2 diabetes should have been diagnosed, but ideally it should have been described. In order to be consistent with changes in classification and diagnostic criteria of the disease through the years, the diagnosis should have been established using the standard criteria that were valid at the beginning of the trial.
Interventions
Studies were included if the intervention described was group-based education specific for people with type 2 diabetes and if the duration of education was a minimum of one session lasting for one hour. Furthermore, the control group must have been given the routine treatment (standard of care recommended), remained on a waiting list or received no intervention (i.e. the present healthcare was continued).
Outcomes
The time points for measurement were divided into short term (6 months - range 4 to 8 months) and long term (12 months - range 9 to 16 months) and 2 years or more (range 17 months or more). The main outcomes were Clinical (metabolic control measured by glycated haemoglobin and fasting blood glucose), Lifestyle (diabetes knowledge and self-management skills) and Psychosocial (quality of life and empowerment/self-efficacy). The secondary outcomes were; Body weight; Body mass index (BMI); Blood pressure (systolic/diastolic); Lipid profile (total cholesterol, HDL cholesterol, LDL cholesterol, triglycerides); Patient treatment satisfaction and Death.
Search and study selection
For studies that were published up 2003 we relied on the searches and assessments that were conducted for the existing Cochrane review on diabetes self-management education delivered in group format [28]. A new search of Ovid MEDLINE®, The Cochrane Library, EMBASE, ERIC and PsycINFO was done for publications from 2003 to week 2 in 2008. Resources were also hand-searched through reference lists of articles and other reviews and contact with experts in the field. An example of the search strategy used for electronic searches is given in appendix A.
Two reviewers independently scanned the titles, abstract sections and/or keywords of every record retrieved. Full articles were retrieved for further assessment if the available information suggested that the study met the inclusion criteria. If there was any doubt regarding the fulfilment of these criteria, the complete articles were retrieved. Any differences in opinion were discussed and, if necessary, resolved by a third party. Data extraction and data entry were performed independently in duplicate by two reviewers. Differences in data extraction were discussed and if necessary resolved by a third reviewer.
If data was missing in a published report, the reviewers tried to contact the first author. If the values given in the publications were not in a form that could be used in the meta-analysis, the values were recalculated if possible using the directions given in the Cochrane handbook [29]. If the standard deviations were not given for the follow up values, the baseline standard deviations were used. The re-calculations concerned converting fasting blood glucose and lipid level data from milligrams per decilitre (mg/dl) to mill moles per litre (mmol/l) and calculating the standard deviation for values where it was not provided.
Analysis
The methodological quality of the trials was assessed independently by two reviewers using the Risk of Bias approach described in the Cochrane Handbook [30]. This involves a description and a judgement for random sequence generation, allocation concealment, blinding, incomplete outcome data, selective outcome reporting and other potential sources of bias. 'Low risk' indicating low risk of bias, 'High risk' indicating high risk of bias, and 'Moderate risk' indicating either lack of information or uncertainty over the potential for bias. Any disagreements about methodological quality were resolved by discussions.
To describe the weighted average participant at baseline for included studies, the mean baseline value for each study was multiplied with the number of participants in the study. This was summarised across the studies and divided by the total number of participants.
For all analyses the DerSimonian and Laird method provided in Review manager v5 was used. A random effect approach was chosen for all analyses because it was not likely that the underlying data represented one true effect due to the differences in the populations and interventions in the different studies. For analyses of continuous data where the same measurement was used across studies, the mean difference was calculated. If the same underlying concept was measured but different outcome measurements were used, standardised mean difference (SMD) was calculated. For analyses of categorical data odds ratio (OR) was calculated. At the outset, a meta-analysis was conducted for all relevant outcomes with more than one study reporting results. Mean outcome data at each time point were compared for the main analyses. Mean change from baseline to 12 months of HbA1c was used for the subgroup and sensitivity analyses.
To test for heterogeneity, I2, which describes the percentage of total variation across studies that was due to heterogeneity rather than sample error (chance) [31], was used. If I2 was from 60% and above, a sensitivity analysis was done by removing the studies contributing to the heterogeneity and reporting this result as well. In the representation of the analysis in the tables, all the studies are included.
Change in HbA1c from baseline to 12 months was used for the subgroup and sensitivity analyses. This was calculated using the difference in absolute value at 12 months and subtracting the baseline value. The standard deviation (SD) was calculated taking the average of the baseline and 12 months SD.
Separate analyses of the effect on HbA1c at 12 months were performed for the following subgroups:
1.

Ethnicity. Studies with participants who were mostly non-Caucasian.

2.

Used theoretical model. Studies that explicitly stated that they had a theoretical model underpinning the education programme.

3.

Type of educators. Studies that had one type of educator that delivered the programme to the participants and for those that had more than one person engaged as an educator.

4.

Primary care. Studies that were delivered in primary care.

5.

Baseline HbA1c level. Studies where the mean HbA1c baseline value was 7% or more.

6.

Follow-up. Studies where the intervention group received follow-up education sessions or telephone calls.

7.

Length of delivery. Studies where delivery of education programme was completed in 5 months or less, between 6 and 10 months and in 10 months or more.

8.

Total number of hours. Total hours of education provided excluding follow up sessions, divided in quartiles.

9.

Attendance rate. Studies with overall attendance rate less than 70%.

10.

Number of participants. Number of participants in each group session.

11.

Family and friends. Studies including family and friends as participants.

12.

Number of sessions. Total number of sessions provided excluding follow up sessions, divided in three groups.
Sensitivity analyses for each outcome were performed in order to explore the influence of the following factors on HbA1c at 12 months:
1.

Language of publication English. Analysis of studies that were not translated (i.e. excluding studies which had been published in a foreign language and then translated to English).

2.

Number of participants in the study. Analysis of studies with the total number of participants more than the median of all the studies.

3.

Recalculated values. Analyses of studies where some of the values were recalculated because they were reported in a format not usable in a meta-analysis.

4.

Risk of bias (Study quality). Separate analysis of studies which were scored as low, moderate or high risk of bias.

5.

Drop out. Analysis of studies with less than 10% overall dropout rate.
Results
The original literature search conducted for the existing Cochrane review (to January 2003) [
28
] yielded 4598 citations and our updated search 2347 citations after excluding duplicates, giving a total of 6945 citations. A flow chart indicating the stages of study identification is included as Figure
1
. A total of 292 citations either met the inclusion criteria or required sight of full paper before a decision could be made. Finally 266 publications were excluded and 21 studies reported in 26 publications were included.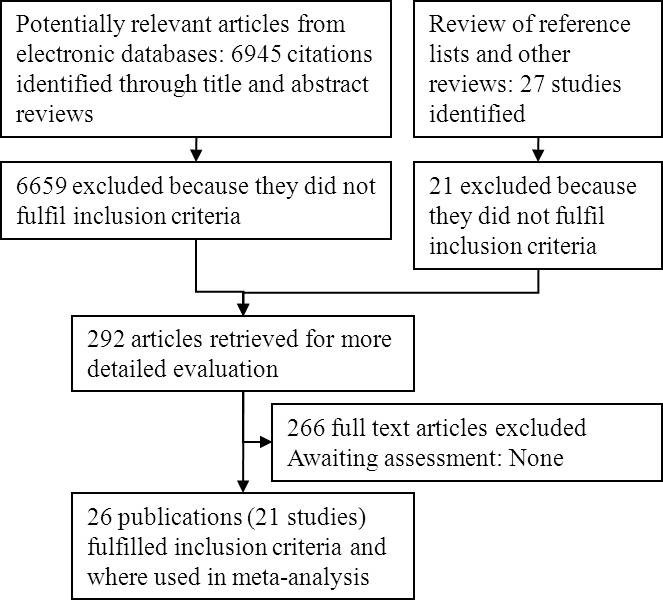 Among the 266 publications that were excluded, five were included in the original Cochrane review (Domenech 1994; Domenech 1995; Kronsbein 1988; Pieber 1995; Rickheim 2002). They were excluded from the current review due to not being randomised trials. The reasons for the exclusion of the other publications included: lack of control group; length of follow-up being too short; absence of the pre-specified outcomes; intervention group in receipt of individual appointments in addition to the group-based education programme; delivery of group-based education programme to the control group; not all participants having type 2 diabetes; narrative papers, non-randomised trial, duplicate paper, irrelevant outcomes, results presented in format not usable in a meta-analysis, and group-based education programme that did not focus on diabetes self-management education. Several studies were excluded on more than one ground.
Discussion
In total 21 studies (26 publications, 2833 participants) of group-based, diabetes self-management education programmes for people with type 2 diabetes were included. It was found that these programme overall resulted in significant health outcomes like improved glycaemic control and increased diabetes knowledge, self-management skills and self-efficacy/empowerment.
Limitations
As a large number of outcomes and subgroups have been analysed, there is a possibility of type II error. The methodological quality of studies included in the review was mainly assessed as moderate. However, unlike a drug/placebo trial, it is very difficult to provide allocation concealment and to blind the patients and providers for a group-based educational intervention. Several of the studies were conducted before analysis by intention-to-treat became the norm. It was not possible to carry out a meta-analysis on several of the main outcomes due to very high heterogeneity between studies, and/or too few studies reporting on the outcome. The studies were mostly carried out in different developed countries throughout Europe and the United States. The results of this review are therefore likely generalisable to adults with type 2 diabetes in many different developed countries and there is no evidence to suggest that group-based self-management strategies would not be suitable for developing countries as long as the DSME is delivered in a familiar language and is sensitive to the culture of the population.
Although with some variation, the patients included in the studies were surprisingly similar. They were on average 60 years old, 40% were male, they were diagnosed seven years ago, four out of five used medications, and they had a mean HbA1c level of 8.23%. This indicates that most participants had a long history of living with type 2 diabetes. Thus, using the results from this systematic review and from most of the single studies included must be seen in relationship to the characteristics of those participating. For clinical practice, this indicates that the current knowledge of the effect of group based DSME is among a population with a rather long history of living with type 2 diabetes. It is therefore possible that the findings could be different in other populations. Furthermore, as with all clinical trials, it is possible that patients who participated in the studies may not be truly representative of the local adult population with type 2 diabetes, as people who volunteer to take part in clinical trials tend to be a more committed and motivated and may generally receive more attention when participating in a clinical trial. Although having motivated participants will not affect differences between the two groups as both the intervention and control group are part of the motivated subgroup, it may affect the generalisability of the results to DSME's delivered as routine treatment.
Findings
The meta-analysis of HbA1c at all time points from six months to five years showed a significant improvement in the intervention group that received group based DSME. The same was the case for fasting blood glucose. The improvement in glycaemic control found in this study is higher than the effect seen in previous studies analysing educational and behavioural interventions in type 2 diabetes [17, 27] but lower than the effect seen in the study comparing the effectiveness of psychological specialists and general clinicians in the delivery of psychological educational programmes [18]. Furthermore, it is similar to the first review of group based DSME by Deakin et.al [28]. In conclusion, it can be said that group based DSME in general helps improve the participants' glycaemic control.
There were clear indications in this review that studies with more numbers of hours of education (19 to 52 hours), spread over 6 to 10 months or with 6 to 10 sessions tended to do better. Other reviews with different inclusion criteria have reported that it appeared as though features of intervention and trial design such as length of follow-up and duration of intervention may not be as important as the number of sessions provided [18]. Yet another review reported that positive effects may be attributable to longer-term interventions with a shorter duration between the end of the intervention and the follow-up evaluation point [22]. On the other hand, it has been found that self-care management interventions may have a higher effect if the programme is compact with sessions closely grouped together [17]. Although these findings gives some directions for diabetes educators and other healthcare providers engaged in group based DSME, the magnitude of the education programme still remains as one area that needs further investigation.
It has been suggested that education delivered by a team of educators, with some degree of reinforcement of that education made at additional points of contact, may provide the best opportunity for improvements in patient outcomes [22]. In the present study, based on those studies that reported HbA1C at 12 months, it was indicated that the largest effect was seen when having a dietician as the only educator, although this was only done in two studies. The studies with only a diabetes specialist nurse as educator also tended to do better than the studies with a group of different educators. However, due to few studies no clear conclusion can be drawn whether having one person delivering the intervention is best. In addition, studies with one person delivering the intervention could measure that person's ability and engagement more than the actual content and quality of the intervention. Thus, transferring the same program delivered by one person in one study to another setting and person might not give the same results. The implications for those working clinically in this field is that if the program is delivered by only one person, the clinical, pedagogical and personal qualities of this person should be of the highest standards.
The five studies reporting having used a theoretical model in the development of their DSME showed less effect of the intervention. This indicates that having a theoretical model underpinning the program is not needed to achieve better results. Although it might be that other studies used a theoretical model but did not report this, it still raises the question about the usefulness of such models. One possible explanation is that clinical experience with the input from participants might provide an intervention that has better effect. This should encourage diabetes educators and other healthcare providers engaged in group based DSME to include participants in the planning, carrying out and evaluation of the program.
Conclusion
Based on current evidence, there are indications that interventions delivered by a single educator, delivered in less than ten months, with more than 12 hours and between 6 and 10 sessions give the best results but more research is needed to confirm this. In general it can be concluded that group-based DSME in people with type 2 diabetes results in improvements in clinical, lifestyle and psychosocial outcomes.
Appendix A. Example of search strategy
MEDLINE
1.

2.

3.

4.

5.

exp Psychotherapy, Group/

6.

7.

(empowerment or self care).tw,ot.

8.

(patient$ adj6 education$).tw,ot.

9.

behavio?r$ therap$.tw,ot.

10.

(educational adj6 program$).tw,ot.

11.

(self adj6 (care or efficac$ or help group$)).tw,ot.

12.

(group$ adj6 (method$ or management$ or based or process$ or psychotherap$)).tw,ot.

13.

(physical adj6 (training$ or education$)).tw,ot.

14.

15.

exp Diabetes Mellitus, Type 2/

16.

exp Diabetes Complications/

17.

(MODY or NIDDM or T2DM).tw,ot.

18.

(non insulin$ depend$ or noninsulin$ depend$ or noninsulin?depend$ or non insulin?depend).tw,ot.

19.

((typ$ 2 or typ$ II) adj3 diabet$).tw,ot.

20.

((keto?resist$ or non?keto$) adj6 diabet$).tw,ot.

21.

((late or adult$ or matur$ or slow or stabl$) adj3 onset).mp. and diabet$.tw,ot.

22.

23.

24.

25.

26.

27.

28.

exp Technology Assessment, Biomedical/

29.

30.

exp Meta-analysis as topic/

31.

32.

(health technology adj6 assessment$).tw,ot.

33.

(meta analy$ or metaanaly$ or meta?analy$).tw,ot.

34.

((review$ or search$) adj10 (literature$ or medical database$ or medline or pubmed or embase or cochrane or cinahl or psycinfo or psyclit or healthstar or biosis or current content$ or systemat$)).tw,ot.

35.

36.

randomized controlled trial.pt.

37.

controlled clinical trial.pt.

38.

39.

40.

clinical trials as topic.sh.

41.

42.

43.

44.

45.

(comment or editorial or historical-article).pt.

46.

47.
Declarations
Source of support
No funds were provided for this study.
Acknowledgements
Deakin T, Mcshane C, Cade J, Williams R who undertook the review which this work builds on.
Authors' Affiliations
(1)
Department of Public Health and General Practice, Norwegian University of Science and Technology, Trondheim, Norway
(2)
Norwegian Knowledge Centre for the Health Services, Oslo, Norway
(3)
Institute of Health and Society, University of Oslo, Oslo, Norway
Copyright
© Steinsbekk et al.; licensee BioMed Central Ltd. 2012
This article is published under license to BioMed Central Ltd. This is an Open Access article distributed under the terms of the Creative Commons Attribution License (http://creativecommons.org/licenses/by/2.0), which permits unrestricted use, distribution, and reproduction in any medium, provided the original work is properly cited.