Research article

Open Access

Open Peer Review
This article has Open Peer Review reports available.
Implementation and maintenance of patient navigation programs linking primary care with community-based health and social services: a scoping literature review
BMC Health Services Research
BMC series – open, inclusive and trusted
2017
17:116
Received: 4 November 2015
Accepted: 20 January 2017
Published: 6 February 2017
Abstract
Background
Since the early 90s, patient navigation programs were introduced in the United States to address inequitable access to cancer care. Programs have since expanded internationally and in scope. The goals of patient navigation programs are to: a) link patients and families to primary care services, specialist care, and community-based health and social services (CBHSS); b) provide more holistic patient-centred care; and, c) identify and resolve patient barriers to care. This paper fills a gap in knowledge to reveal what is known about motivators and factors influencing implementation and maintenance of patient navigation programs in primary care that link patients to CBHSS. It also reports on outcomes from these studies to help identify gaps in research that can inform future studies.
Methods
This scoping literature review involved: i) electronic database searches; ii) a web site search; iii) a search of reference lists from literature reviews; and, iv) author follow up. It included papers from Canada, the United States, the United Kingdom, Australia, New Zealand, and/or Western Europe published between January 1990 and June 2013 if they discussed navigators or navigation programs in primary care settings that linked patients to CBHSS.
Results
Of 34 papers, most originated in the United States (n = 29) while the remainder were from the United Kingdom, Canada and Australia. Motivators for initiating navigation programs were to: a) improve delivery of health and social care services; b) support and manage specific health needs or specific population needs, and; c) improve quality of life and wellbeing of patients. Eleven factors were found to influence implementation and maintenance of these patient navigation programs. These factors closely aligned with the Diffusion of Innovation in Service Organizations model, thus providing a theoretical foundation to support them. Various positive outcomes were reported for patients, providers and navigators, as well as the health and social care system, although they need to be considered with caution since the majority of studies were descriptive.
Conclusions
This study contributes new knowledge that can inform the initiation and maintenance of primary care patient navigation programs that link patients with CBHSS. It also provides directions for future research.
Keywords
Primary carePrimary healthcareCommunitySocial servicesSocial careSystems navigationPatient navigationCare coordinationImplementationScoping literature review
Background
Since volunteer patient navigators were introduced in the early 90s in the US to address inequitable access to care for cancer patients [1, 2], navigation programs have expanded to meet the needs of diverse populations in various settings. Navigation programs have developed internationally to address barriers to accessing health and social care for underserved populations in cancer care [3–6]. Recently, the model has been adapted for high-risk patients, such as older adults with multiple complex conditions, and to address complex health and social needs of younger populations in primary care [7–9]. In all settings, the structure and purpose of patient navigation programs vary considerably in terms of patient population, disease-focus, program design, and implementation. Despite this variability, the broad goal of navigation programs is to link patients and families to primary care services, specialist care, and community-based health and social services (CBHSS) to provide holistic patient-centred care. While there is emerging literature about patient navigation in tertiary cancer care [1, 2, 10], a fulsome understanding of the purpose, design, and implementation of navigation programs in primary care settings is now possible. This paper reports on a scoping literature review which fills a reported gap in knowledge about: motivators for implementation; factors influencing implementation and maintenance of programs; and, outcomes of navigation programs in primary care settings [11]. It must be noted, however, that the evidence of the effectiveness of navigation programs is currently limited and our aim was not to evaluate the effectiveness of these programs. A forthcoming paper will address system navigation delivery models, and roles and functions within primary care.
Given the disease-focused, episodic, and acute care orientation of health care systems, organizational and logistical challenges abound for patients, health care providers, and families navigating systems [12]. There is often a lack of care continuity and comprehensiveness, as well as limited consideration of the broader socio-economic and environmental determinants of health that have profound impacts on patients' access to and experiences of health care [12, 13]. Health service delivery reforms have put more focus on primary care transformation, where primary care networks are promoted as the 'hub' of care coordination [12]. Consequently, patient navigation has emerged within primary care as a means to: a) facilitate patients' transitions between care providers and organizations; b) create efficiencies in care integration and coordination among multiple providers and organizations, and; c) ensure that a patient's individualized health and social needs are adequately met.
Little is known about processes that facilitate or impede implementation of navigation programs in primary care settings. This paper considers key facets of program design as articulated in the literature, with particular attention to factors related to implementation and maintenance of navigation programs. The intent is to assist managers, health care providers, and policy makers with navigation program implementation, areas to consider for outcome evaluation, as well as to identify directions for future research.
Implementation theories provide guidance on factors which can potentially influence the design and delivery of complex interventions [14, 15]. Particular emphasis is placed on the importance of understanding practical issues of implementation, such as the development and piloting of the intervention, and the value of attending to these issues in addition to evaluating program outcomes [16, 17]. Comprehensive frameworks based on these theories outline key constructs to aid in understanding attributes and processes of implementation, so that this knowledge can be shared and disseminated for uptake in other contexts. Most importantly, as Nilsen [18] points out: "Poor theoretical underpinning makes it difficult to understand and explain how and why implementation succeeds or fails, thus restraining opportunities to identify factors that predict the likelihood of implementation success and develop better strategies to achieve more successful implementation". It is therefore important to promote the use of theory to understand and improve the process of implementation.
We have chosen the model of Diffusion of Innovations in Service Organizations (DoISO model) [14] to help us consider the theory underpinning factors that influence the implementation of patient navigation programs. The DoISO model was developed based on a meta-narrative systematic review on "a novel set of behaviours, routines, and ways of working that are directed at improving health outcomes, administrative efficiency, cost effectiveness, or users' experience and that are implemented by planned coordinated actions" (p. 582). This work resulted in a conceptual model which was tested and validated. Its main components include: a) the innovation, b) adoption by individuals c) assimilation by the system, d) diffusion and dissemination, e) system antecedents for innovation, f) system readiness for innovation, g) the outer context: interorganizational networks and collaboration, h) implementation and routinization, and i) linkage among components of the model.
Methods
The purpose of this scoping literature review was to reveal what is known about implementation and maintenance of patient navigation programs in primary care settings and their associated outcomes. We focused on primary care navigation that reached beyond tertiary health care to link patients and or their families to CBHSS, such as housing and employment. Our paper answers the following research questions:
1.

What are motivators for implementing navigation programs in primary care?

2.

What are barriers and facilitators (factors) in implementing and sustaining navigation programs?

3.

What are outcomes of navigation programs?
Primary care was defined as "the first level of contact of individuals, the family and community with the national health system bringing health care as close as possible to where people live and work, and constitutes the first element of a continuing health care process" [
19
]. There is no commonly accepted definition of patient (or system) navigation, therefore, we refer to patient navigation as an individual or a team engaging in specific activities including:
Facilitating access to health-related programs and services for patients/families and caregivers

Promoting and facilitating continuity of care

Identifying and removing barriers to care

Effective and efficient use of the health care system for both patients/families, caregivers and practitioners
The navigation role could be taken on by a health care professional trained for this role, or a non-professional (lay person) trained to perform activities related to system navigation or a team of individuals.
Overview and search strategy
We followed established methods for a scoping literature review as described by Arksey & O'Malley [20] and built on by Levac and colleagues [21]. One purpose of a scoping literature is to describe research in a particular field in detail for dissemination to policy makers, practitioners, and consumers. It does not include evaluation of methodological quality of studies, but provides a broad overview of research methods that dominate the topic. A scoping review draws on all types of studies regardless of design.
The search strategy involved four activities including: i) an electronic database search; ii) a web site search; iii) a search of reference lists from reviews on the topic; and, iv) email communication withan author. Databases were searched for literature published between 1990 and June 2013. These dates were chosen to capture papers published after United States cancer navigation programs were first introduced. We included papers that reported on navigators or navigation programs initiated in primary care settings in Canada, United States, United Kingdom, Australia, New Zealand, and/or Western Europe.
We used MeSH headings and free text key words applicable to two areas of interest: navigation and primary care. Terms were combined with Boolean operators 'AND' and 'OR'. The research team worked with two librarians to develop a search strategy. The librarians were provided with papers from Dohan [
6
], Ferrante [
22
], Natalie-Perriera [
23
], Parker [
24
] and Sofaer [
11
] to assist with determining key words from primary studies highly relevant for our study. CINAHL, MEDLINE (PubMed), EMBASE, PsychInfo and CCTR databases were searched using the search terms shown in Table
1
. A general internet search using Google and Google Scholar was also conducted using the marked (**) keywords in Table
2
. We also contacted one author (Hendren) and retrieved two additional papers [
25
,
26
]. Finally, relevant papers were selected from bibliographies of these nine review articles, to identify papers focused on navigators or navigation in the community.
Table 1
Keywords for Electronic Database Search
Preceding descriptor of navigator

Client OR patient OR community OR system OR care

Navigator

Navigat* OR Coordin*OR Facilitat* OR Network*; Care coordinator; Case manager Nurse Navigator; Patient navigator; System navigator; Personal health navigator; Promotoras; Community matron; Lay Navigator; Guided Care

Primary care

Family health team OR Group health OR Family practice OR Aboriginal Health Centre OR Community health centre OR Family health organization OR Primary care networks OR Family Health Organization OR Solo Practice Physician OR Group Practice OR CLSCs/Centre local de services communautaires OR local community service centre OR nurse practitioner led clinics OR Outpost nursing station OR (see below)

Primary health care

General practice

General practitioners

Primary care nursing

Physicians/Family

Patient centered care

Community health services**

Primary care

Primary medical care

Primary health care

Primary healthcare

Primary health service

General practice**

General practise**

General practitioner

Guided care

Family practice**

Family practise**

Family practitioner

Family health (for family health team) Family medicine

Family physician

Family doctor

PCP** (primary care physician)

Medical home

Associated Groups/Outcomes

Priority populations, social determinants of health, equity, asset-based, target populations, access
Table 2
Inclusion/exclusion criteria for scoping review papers
Inclusion criteria
 Published in English
 Published between 1990 to June 2013
 Countries of origin of study: Canada, United States, United Kingdom, Australia, New Zealand, and/or Western Europe (may have involved multiple countries, but must include at least one of those listed)
Must include the following:
 • Navigator or navigation process
 • Navigation role by professional or lay navigators
 • Primary care setting
 • Navigation that involves the community (beyond the health care system)
Was a published or unpublished primary study, descriptive paper, report, literature review using any type of method
Exclusion criteria
 Published in language other than English
 Published before 1990
 Countries of origin of study other than Canada, United States, United Kingdom, Australia, New Zealand, and/or Western Europe
 If navigation was a secondary outcome
 Article did not describe in detail the extent of community navigation
 Article did not address navigator or navigation process
 Article did not include a navigation role by professional or paraprofessional
 Article did not take place in a primary care setting
 Article is an editorial, commentary or book review
Inclusion and exclusion criteria and review process
Papers retrieved from the electronic database search had four levels of review/screening using the inclusion/exclusion criteria (Table 2). EndNote and Distiller SR were used to manage retrieved electronic papers and record reviewers' decisions. Team members collaborated with librarians to refine the search and train for each level of review for relevancy for inclusion. In the first level, titles and abstracts of papers retrieved from the library database search were independently screened by all authors. Reviewers included papers when they were in doubt about their relevance or when there was insufficient information to make a decision. Papers assessed as relevant for inclusion by at least one team member progressed to the next level of review to maximize the number of possibly relevant papers. The next level of screening consisted of a full text review of each paper by at least two authors. When there was a disagreement at this stage, lead authors (RKV and NC) reached consensus regarding inclusion. Due to the large number of articles included at this level, the team decided to add an additional level of screening to ensure that papers were relevant to address our research questions. The third level of screening consisted of a second full text review of included papers to ensure that descriptions of navigation went beyond the health care (illness) system to include community-based health and/or social services (i.e., housing, financial support, etc.). Finally, the team extracted data from all included papers using Distiller SR and a common data extraction form created by the team.
Analysis
Data were coded using NVivo 10 software. The research questions provided the overall framework for the coding structure which aligned with the data extraction form. The coding structure was refined with the team over multiple face-to-face meetings. Additional meetings were held to: reorganize and finalize the coding structure and collapse results into broader categories under each research question. Attributes were determined and assigned to each paper (country, publication year, research method). Finally, motivators for implementing navigation programs (question 1) and factors influencing implementation (question 2) were considered against Greenhalgh and colleagues' DoISO model [14]. Since this is a scoping literature review, we did not systematically evaluate the methodological rigor of each paper, but did describe the research methods used [20].
Results and discussion
The search yielded 1248 papers of which 34 were deemed relevant after duplicates were removed and relevancy testing was completed (see Fig.
1
). We first present frequency counts of the countries of origin and research methods used in each paper, followed by motivators for implementing navigation programs, factors influencing program implementation and maintenance and reported outcomes. We have incorporated a discussion of Greenhalgh and colleagues' DoISO model [
14
] to explore how the factors influencing implementation aligned with the implementation theory. We also present implications for those setting up or running navigation programs where relevant. This is followed by a summary of reported outcomes.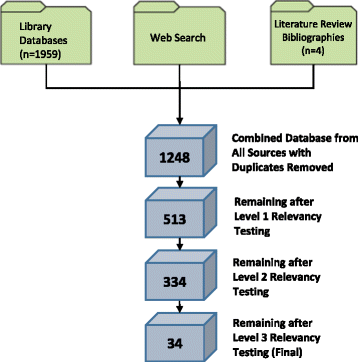 Discussion
A strength of this study was the rigor and breadth of the literature search and the stringent methods used to conduct the scoping literature review. One challenge that we encountered in our review was difficulty in identifying relevant papers for inclusion. This was due to the vague or limited descriptions of patient navigation interventions, including the extent of navigation. There were many instances where it was not clear if or how links were made to CBHSS. Given that linking patients in primary care to CBHSS was the focus of our review, when the description was unclear in relation to these links, we chose to exclude the paper. As a result, we may have excluded some papers in which primary care patient navigation programs did link to CBHSS. We strongly encourage authors to use the TIDiER checklist [64] in describing their interventions to aid in syntheses of all relevant literature and comparisons of results.
A large number of included papers were descriptive. Further, three papers did not name a research method indicating poor methodological rigor. The number of descriptive reports was somewhat surprising given the size of the yield and the fact that primary care researchers often focus on quality improvement initiatives [65, 66]. Our review also included some controlled quantitative studies as well as in-depth qualitative studies. Despite this range in the strength of methods used, we found evidence of a number of factors across papers that can support successful implementation and maintenance of primary care patient navigation programs that link patients to CBHSS. They also aligned with the DoISO model [14, 67]. There were no studies, however, that specifically focused on evaluating implementation identified in this review. This gap could be addressed to further validate our factors influencing implementation.
Given the aims of scoping literature reviews, and the fact that the majority of papers were of a descriptive nature, it is not possible to draw any conclusions related to the effectiveness of patient navigation programs in this study, nor was this our aim. Our results, however, did indicate that there were various positive outcomes reported suggesting that patient navigation programs are of value in primary care. A systematic literature review of primary care-based patient navigation programs is warranted as a next step to answer questions related to program effectiveness. The National Cancer Institute's Patient Navigation Research Program [68, 69] comprehensively explored outcomes of navigation programs in cancer care and could be a useful model to guide this work. Furthermore, we support future effectiveness-implementation hybrid trials that can measure both implementation and outcomes of patient navigation programs [70].
Conclusions
In conclusion, this scoping literature review revealed that the implementation and maintenance of navigation programs in primary care requires attention to a number of complex factors. This is not surprising since navigation programs are typically focused on meeting the needs of complex vulnerable populations or those with multiple chronic health and social conditions. Implementation factors that emerged from the literature were supported by Greenhalgh and colleagues' DoISO model [14], providing empirical support for the model as well as theoretical support for the factors found to influence implementation and maintenance of patient navigation programs in primary care that linked to CBHSS. This review therefore can be useful for those planning to realize similar programs in primary care.
It is important to note that some elements of the DoISO model were not found in our review, such as: a) intentional strategies to spread the innovation; b) the influence of political directives; and c) the role of opinion leaders or champions, although the lack of physician support was found to be a barrier in one paper [8]. Future research and practice could benefit from further investigation of these factors that can influence successful implementation. In addition, research that examines which implementation factors are most important and in which contexts is warranted. For example, are some factors more important than others based on the population served or the health or social issue being addressed? Comparative longitudinal case studies could be helpful to better understand this question. Consideration of the potential barriers and facilitators (factors) in implementing and maintaining navigation programs as well as strategies for proactively addressing them as identified in this study can help mitigate implementation and uptake problems.
Abbreviations
CBHSS:

Community-based health and social services
CHW:

Community health worker
DoISO:

Diffusion of Innovations in Service Organizations Model
Declarations
Acknowledgements
Not applicable.
Funding
We would like to gratefully acknowledge the Hamilton Family Health Team and the Hamilton Community Foundation (CHER Community Health, Education and Research Fund) for their financial support towards this work. These funders did not participate in the design, data collection, analysis, interpretation of the data, or writing of the manuscript.
Availability of data and materials
The dataset analysed and data extraction tools used during the current study are available from the corresponding author on reasonable request.
Authors' contributions
RV and NC conceptualized the study. RV, NC, AL, JN, JF assisted in the review of papers for inclusion, data extraction. All authors (RV, NC, AL, JN, JF and LC) contributed to the analysis, writing and final reviews of the manuscript. All authors read and approved the final manuscript.
Competing interests
The author(s) declare that they have no competing interests.
Consent for publication
Not applicable.
Ethics approval and consent to participate
Not applicable.
Open AccessThis article is distributed under the terms of the Creative Commons Attribution 4.0 International License (http://creativecommons.org/licenses/by/4.0/), which permits unrestricted use, distribution, and reproduction in any medium, provided you give appropriate credit to the original author(s) and the source, provide a link to the Creative Commons license, and indicate if changes were made. The Creative Commons Public Domain Dedication waiver (http://creativecommons.org/publicdomain/zero/1.0/) applies to the data made available in this article, unless otherwise stated.
Authors' Affiliations
(1)
McMaster University, School of Nursing, Hamilton, Canada