Research article

Open Access

Open Peer Review
This article has Open Peer Review reports available.
Motivational determinants among physicians in Lahore, Pakistan
BMC Health Services Research
2010
10:201
Received: 12 February 2010
Accepted: 9 July 2010
Published: 9 July 2010
Abstract
Introduction
Human resource crises in developing countries have been identified as a critical aspect of poor quality and low accessibility in health care. Worker motivation is an important facet of this issue. Specifically, motivation among physicians, who are an important bridge between health systems and patients, should be considered. This study aimed to identify the determinants of job motivation among physicians, a neglected perspective, especially in developing countries.
Methods
A stratified random sample of 360 physicians was selected from public primary, public secondary and public and private tertiary health facilities in the Lahore district, Pakistan. Pretested, semi-structured, self-administered questionnaires were used. For the descriptive part of this study, physicians were asked to report their 5 most important work motivators and demotivators within the context of their current jobs and in general. Responses were coded according to emergent themes and frequencies calculated. Of the 30 factors identified, 10 were classified as intrinsic, 16 as organizational and 4 as socio-cultural.
Results
Intrinsic and socio-cultural factors like serving people, respect and career growth were important motivators. Conversely, demotivators across setups were mostly organizational, especially in current jobs. Among these, less pay was reported the most frequently. Fewer opportunities for higher qualifications was a demotivator among primary and secondary physicians. Less personal safety and poor working conditions were important in the public sector, particularly among female physicians. Among private tertiary physicians financial incentives other than pay and good working conditions were motivators in current jobs. Socio-cultural and intrinsic factors like less personal and social time and the inability to financially support oneself and family were more important among male physicians.
Conclusion
Motivational determinants differed across different levels of care, sectors and genders. Nonetheless, the important motivators across setups in this study were mostly intrinsic and socio-cultural, which are difficult to affect while the demotivators were largely organizational. Many can be addressed even at the facility level such as less personal safety and poor working conditions. Thus, in resource limited settings a good strategic starting point could be small scale changes that may markedly improve physicians' motivation and subsequently the quality of health care.
Keywords
Organizational Factor
Female Physician
Personal Safety
Male Physician
Social Time
Introduction
The workforce is arguably the most important input to any health system and has a strong impact on overall health system performance [1]. According to World Health Organization (WHO), there is a worldwide estimated shortage of 4.3 million health workers, primarily concentrated in south Asia followed by Africa [2]. These areas also suffer the greatest burden of disease, worsened by having to cope with a much smaller health workforce [2]. Sub-Saharan Africa and southeast Asia together have 53% of the global disease burden but only 15% of the world's health care workforce [3].
Compounding this problem are low levels of health care provider (HCP) motivation. It has often been identified as a central problem in this human resource crisis and consequently, health service delivery and quality [4]. Health care delivery is highly labor-intensive, and service quality, efficiency and equity are all directly related to providers' willingness to apply themselves to their tasks. Low motivation leads to the insufficient translation of knowledge, the underutilization of available resources and weak health system performance [5, 6].
Motivation is a process that results from the dynamic interactions between individuals, their work environment and communities or society [7]. HCP motivation encompasses determinants that drive performance of a task, independent of the resources and knowledge available. Failure to account for HCP motivation can hamper the development of health care systems. In a rural district of Tanzania, efforts to provide access to facilities and competent clinicians to improve the quality of care was unsuccessful due to a lack of staff motivation [8].
Motivation is not only important for patient satisfaction, productivity, and health care sector performance but also in retaining well-performing staff [9]. Low motivation adds to the push factors for the migration of health providers, both from rural areas to the cities and out of the country [10]. Consequently, a motivated workforce is critical in retaining qualified health staff and the achievement of health services targets and reforms [11].
The health care sector is not only facing problems stemming from the shortage of skilled labor but also the increasing cost and complexity of technology, intensifying demands from the aging population, changing regulations of services for continuous quality improvement, increasing orientation towards consumers and various ongoing reorganizations [12]. In particular, in dense, urban cities in developing countries, these demands and shortages can be magnified. Thus, the challenges with respect to HCP motivation in these areas may require particular consideration.
Importantly, although employee motivation is a significant element of health systems performance, it is largely understudied [7] and little attention has been paid to this issue in developing and poor countries [4]. Not enough is currently known about which determinants of motivation are most important to different cadres of workers in developing countries [7, 13, 14]. Specifically, even fewer studies have concentrated on physician motivation [15]. Physicians act as the bridge between health systems and patients, play a critical role in the distribution and functioning of health system resources and are major stakeholders in the overall performance of health care organizations and the delivery of quality health care services [16, 17]. Therefore, the aim of this descriptive part of the larger study examining various aspects of motivation was to identify the most important motivators and demotivators of physicians in different hospitals and clinical settings in the Lahore district of Pakistan, for the purpose of exploring areas for sustainable and attainable improvement.
Methods
Health system in Pakistan
In Pakistan, health services are provided through a three-tiered health care infrastructure and a range of public health intervention programs. The former includes Basic Health Units (BHUs), Rural Health Dispensaries (RHDs) and Rural Health Centers (RHCs) as the major primary healthcare facilities. Secondary care includes first and secondary referral facilities providing acute, ambulatory and inpatient care provided by Tehsil Headquarter Hospitals (THQs) and District Headquarter Hospitals (DHQs). These are supported by tertiary level teaching hospitals. Primary and secondary facilities are public institutions while tertiary are both public and private.
Prior to devolution, the delivery of health services was the responsibility of the provincial governments. With the passage of the Local Government Ordinance in 2001, the responsibility for providing health care was almost entirely delegated to the District Governments, with the exception of the large teaching hospitals and their attached medical or dental colleges, which remained under the direct control of the provincial government.
Pakistan has one of the largest public sector-owned service delivery infrastructures in the world [18]. The majority of health service providers in low and middle income countries report their primary site of employment as the public sector (> 70% of doctors and > 50% of other health service providers). The distinction between public and private sectors in Pakistan is not very clear and many public sector practitioners also practice privately - legally or illegally [18]. Many in this region report receiving a large part of their income directly from patients rather than from the government [2].
Pakistan is 122nd according to the WHO ranking of the world's health systems [19] and currently has 0.73 physicians and 0.31 nurses per 1,000 population [20]. As of 2005, Pakistan had approximately 74,000 practicing physicians and almost 1,700 emigrating every year [21]. According to 'Pakistan Medical and Dental Council' (PMDC) almost 129,229 physicians were registered by April 2010 [22]. In addition, with the annual graduation of approximately 6800 medical graduates [21], the number of younger physicians is expected to increase substantially in the coming years. Importantly, this age group is also more likely to emigrate either from rural areas to urban or to other countries [23, 24]. Of the 10,651 general practitioners registered between January 1, 2008 to June 30, 2009, 5,128 were female while 4,228 were male. This trend is even stronger among medical graduates who pass their final examinations. As of the end of 2009, females comprised 39% of all registered physicians [22].
Study site
The study was conducted in the densely populated district of Lahore (4681 persons/km2) in Pakistan [25]. The level of urbanization in Pakistan is the highest in South Asia and its urban population is likely to equal its rural population by 2030 [26]. This trend combined with the current health settings and availability of resources was considered in selecting the study location. The Lahore district includes the second largest city of Pakistan (Lahore) with around 7.1 million people, which includes the suburban areas [27]. It has 37 BHUs, six RHCs and 23 RHDs for primary health care services. Secondary health facilities include two Tehsil and two District Headquarter Hospitals. According to PMDC there are 11 public and 15 private teaching medical institutes with affiliated teaching hospitals in Punjab, the most populous province of Pakistan. Among these four of the public and eight of the private teaching medical institutes are in Lahore, which serve a major part of the province of Punjab [22].
Study outline
The study consisted of three parts to maximize the information gathered from the participants. Part one of the study consisted of open ended questions about the motivators and demotivators from physicians' perspectives in their own words. The second part consisted of a questionnaire designed using a Likert scale for the quantification and statistical analysis of the factors related to motivation. The third part involved 16 in-depth one-on-one interviews (four interviews at each health facility level were included in the study, with equal male and female participation) for the purpose of building contextual understanding of motivation. The results presented here include physicians' responses to open ended questions regarding their five most important work motivators and demotivators within the context of their current jobs and in general. The description and results of second and third parts of the study will be submitted for publication at a later date.
Participant selection
A stratified random sample of 360 physicians was selected from the four strata (Figure
1
). Equal numbers of male and female participants were chosen at each stratum. The health setups represented in the study included all of the public primary and secondary health facilities. The two tertiary facilities (one private and one public) employing the largest number of physicians were also included. All registered medical practitioners from the PMDC working in the study health facilities at the time of recruitment were eligible for the study.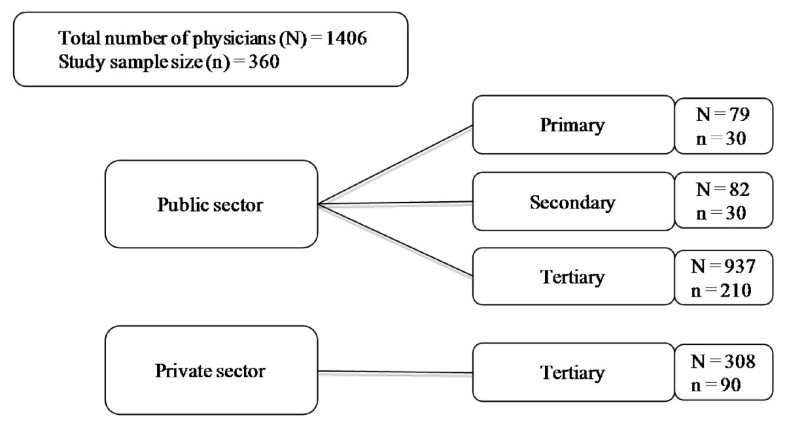 Questionnaire
Pretesting was completed with 30 physicians in non-study health facilities in Lahore to evaluate and improve the questionnaire. Following the pre-test stage, two experts, each from the field of human resource management, hospital management and psychometrics, reviewed the final instrument. The final questionnaire consisted of semi-structured, self-administered questions. To reduce the possibility of bias, two researchers (AAM, SSY) worked in parallel during data analysis, coding and theme identification. Key themes from the responses were coded after analysis according to which factors (motivators and demotivators) were identified and frequencies calculated. Factors were subsequently categorized as intrinsic, organizational or socio-cultural by three independent researchers (AAM, AS, SSY). In the case of differences, categorizations were discussed until consensus was reached.
Ethical considerations
Written informed consent was obtained from all of the study participants. Ethical approval was received both from the University of Heidelberg, Medical Faculty Ethics Committee and the Ministry of Health in Punjab, Pakistan. SPSS (SPSS 17.0.1) was used for the descriptive statistical analyses.
Conclusion
This study was first of its kind in the region to investigate physicians' motivation. Motivational determinants showed some important differences and similarities across setups and by gender. The significant motivators in this study were mostly intrinsic and socio-cultural, which are difficult to affect. However, demotivators were largely organizational factors that could also secondarily affect intrinsic and socio-cultural factors. More importantly, these factors can present opportunities for interventions and aid in the creation of new policies and strategies.
Specifically, in public tertiary setups, there is a need to address the issues of pay, working hours and workloads. In public primary and secondary setups, opportunities for higher qualifications, better supervision and adequate resource provision should also be prioritized. Similarly, addressing the problems of less pay, fewer career opportunities, heavy workloads, unsafe environments and poor working conditions are important considerations for both male and female physician motivation.
In addition to the identification of important motivational determinants among physicians in the region, the findings of this study also suggest that many of these factors can be addressed even at local levels. Therefore, promoting local facility changes could improve physicians' overall motivation and subsequently the quality of health care. Given the existing situation in developing countries like Pakistan, it is essential to address physician motivation in order to decrease physician migration, health care worker shortages and minimize the wastage of already limited resources.
Motivation does not remain static and is dependent on many continuously changing factors. The fact that different factors were reported in current job settings and in general also signifies the importance of context. Thus, future studies using exploratory methods may also be needed to better understand the underlying factors eliciting these responses. Finally, longitudinal studies across different setups and cadres should be conducted to monitor the effects of interventions and provide information for effective policy planning.
Declarations
Acknowledgements
This study was conducted with the support and cooperation of the Higher Education Commission of Pakistan, DAAD (Deutscher Akademischer Austausch Dienst) and Ministry of Health Punjab, Pakistan. The Graduate Academy of the University of Heidelberg provided financial support for the fieldwork. The authors also extend their gratitude to the local authorities, experts and especially, physicians who participated and gave their insights with keen interest.
Authors' Affiliations
(1)
Institute of Public Health, University of Heidelberg, Heidelberg, Germany
(2)
Mannheim Institute of Public Health, University of Heidelberg, Mannheim, Germany
(3)
Sir Ganga Ram Hospital, Lahore, Pakistan
Copyright
© Malik et al; licensee BioMed Central Ltd. 2010
This article is published under license to BioMed Central Ltd. This is an Open Access article distributed under the terms of the Creative Commons Attribution License (http://creativecommons.org/licenses/by/2.0), which permits unrestricted use, distribution, and reproduction in any medium, provided the original work is properly cited.