Study protocol

Open Access

Open Peer Review
This article has Open Peer Review reports available.
UK Back pain Exercise And Manipulation (UK BEAM) trial – national randomised trial of physical treatments for back pain in primary care: objectives, design and interventions [ISRCTN32683578]
UK Back pain Exercise And Manipulation (UK BEAM) Trial Team

1

Email author
BMC Health Services Research
2003
3:16
Received: 10 April 2003
Accepted: 01 August 2003
Published: 01 August 2003
Abstract
Background
Low back pain has major health and social implications. Although there have been many randomised controlled trials of manipulation and exercise for the management of low back pain, the role of these two treatments in its routine management remains unclear. A previous trial comparing private chiropractic treatment with National Health Service (NHS) outpatient treatment, which found a benefit from chiropractic treatment, has been criticised because it did not take treatment location into account. There are data to suggest that general exercise programmes may have beneficial effects on low back pain. The UK Medical Research Council (MRC) has funded this major trial of physical treatments for back pain, based in primary care. It aims to establish if, when added to best care in general practice, a defined package of spinal manipulation and a defined programme of exercise classes (Back to Fitness) improve participant-assessed outcomes. Additionally the trial compares outcomes between participants receiving the spinal manipulation in NHS premises and in private premises.
Design
Randomised controlled trial using a 3 × 2 factorial design.
Methods
We sought to randomise 1350 participants with simple low back pain of at least one month's duration. These came from 14 locations across the UK, each with a cluster of 10–15 general practices that were members of the MRC General Practice Research Framework (GPRF). All practices were trained in the active management of low back pain. Participants were randomised to this form of general practice care only, or this general practice care plus manipulation, or this general practice care plus exercise, or this general practice care plus manipulation followed by exercise. Those randomised to manipulation were further randomised to receive treatment in either NHS or private premises. Follow up was by postal questionnaire one, three and 12 months after randomisation. The primary analysis will consider the main treatment effects before interactions between the two treatment packages. Economic analysis will estimate the cost per unit of health utility gained by adding either or both of the treatment packages to general practice care.
Keywords
Back Pain
National Health Service
Roland Morris Disability Questionnaire
Spinal Manipulation
Medical Research Council Working Party
Background
Back pain is a widespread and costly health problem in many countries including the UK[1]. In the UK the number of days of Invalidity Benefit attributable to spinal disorders rose threefold over the 1980s [2]. There is little evidence that the rise in reported disability reflects changes in pathology, prevalence or even morbidity. Since the early 1990s there have been many systematic reviews of the effectiveness of physical interventions for low back pain. There appears to be a consensus, reflected in national guidelines in the UK [3, 4], USA [5], the Netherlands [6] and elsewhere [7], that patients with acute back pain should be encouraged to return to normal activity as soon as possible and have early access to physical therapy. It is less clear what form such physical therapy should take. Two commonly suggested physical treatments for low back pain are manipulation and physiotherapist led exercise programmes. The evidence to support their use is far from conclusive.
Evidence for manipulation
There have been many systematic reviews of the effectiveness of manipulation. Koes et al. [8] reviewed 38 trials and concluded that, although some results were encouraging, further trials were needed to establish the effectiveness of manipulation. In contrast, Shekelle et al. [9] did a meta-analysis combining data from nine trials and concluded that manipulation could increase the rate of recovery from acute uncomplicated low back pain, but that there were insufficient data to provide evidence for the effectiveness of manipulation in patients with chronic pain. The US Agency for Health Care Policy and Research (AHCPR) [5] reviewed four meta-analyses and 12 additional randomised trials and also concluded that manipulation could speed the recovery of patients with acute back pain and that the evidence to support the use of manipulation for radiculopathies or longer standing back pain was inconclusive. The systematic review of reviews by Assendelft et al. [10] was highly critical of the general standard of reviews. Nevertheless, nine of their best ten reviews, as judged by methodological criteria, reported positive effects of manipulation.
Subsequently Assendelft et al. in the most recent systematic review of which we are aware [11] concluded that spinal manipulative therapy has no statistically or clinically significant advantage over general practice care, analgesics, physical therapy, exercise or back school for acute or chronic back pain. However, they did find some advantages for spinal manipulation when compared to sham manipulation or therapies judged to be ineffective or harmful. This systematic review, that was published after we had collected our data, went on to recommend that any future trials of manipulation should concentrate on cost-effectiveness rather than effectiveness. This trial includes a cost-effectiveness analysis.
Evidence for exercise
Fewer systematic reviews have examined the effectiveness of exercise for back pain. Koes et al. [12] examined 16 randomised trials and found most to be of poor quality with inconclusive results. The AHCPR [5] extended this to 20 randomised trials, of which six related to acute back pain. With the exception of one well-designed study [13], however, the studies included other interventions that made it difficult to evaluate the effects of exercise. Faas [14] extended the data set to 28 randomised trials but concluded that there was insufficient evidence that specific back exercises produce clinically significant improvement in acute low back pain. While endorsing these conclusions, Waddell et al. [3] cited evidence that general exercise programmes can improve pain and functional levels in those with chronic low back pain. More recently, a Cochrane review identified 39 studies and concluded that the data did not indicate that specific exercises are effective for the treatment of acute low back pain. However, (general) exercises may be helpful for chronic low back pain patients to increase return to normal daily activities and work [15].
Waddell et al. [16] carried out a systematic review of advice about staying active with back pain and concluded that advice to continue normal activities leads to less chronic disability and time off work than the traditional advice to rest and 'let pain be your guide'. Subsequent Cochrane reviews of treatments for acute low back pain and sciatica concluded that 'advice to stay active alone has little beneficial effect for patients' [17] and that, compared to bed rest, advice to stay active alone will have limited beneficial effects [18].
On the basis of the limited evidence available the UK Clinical Standards Advisory Group [2] and the authors of the national acute low back pain guidelines, produced by the Royal College of General Practitioners (RCGP) [3, 4], advised widespread access to physical treatment for back pain. However, because the evidence underpinning this approach is weak, and the health and social impact of back pain is large, it became a NHS research priority. Consequently, the UK MRC formed an international working party, including back pain clinicians and researchers from different disciplines, to design a national trial to evaluate the effectiveness of different physical treatments for back pain in primary care: the UK Back Pain Exercise and Manipulation Trial (UK BEAM).
Methods
Trial design
The trial had a two-dimensional 3 × 2 factorial design [
19
]. Each participant was randomised:
1.

between the 'Back to Fitness' progressive exercise package and general practice management; and

2.

between the spinal manipulation package and general practice management.
Those randomised to the manipulation package were further randomised to be treated in NHS or private premises, to allow the effect of treatment location on outcome to be measured. Each participant had an equal chance of receiving general practice management, the manipulation package only, the exercise package only or both manipulation and exercise. Participants randomised to manipulation each had an equal chance of receiving treatment in NHS or private premises. (Figure
1
).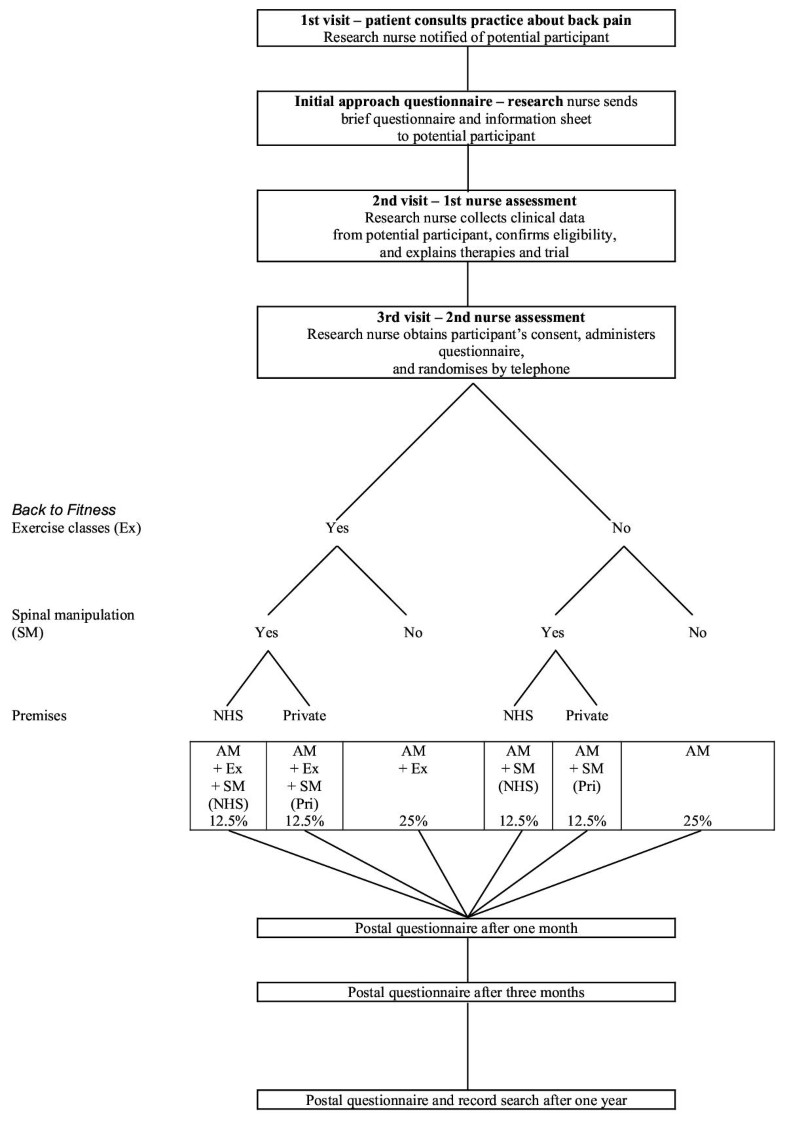 Hypotheses tested
Essentially explanatory hypotheses
The trial tested a total of four 'null' hypotheses. The three primary null hypotheses were, that in people consulting their general practitioners with back pain there is no difference in clinical outcome between:
a.

Those receiving an additional defined package of spinal manipulation or general practice management only;

b.

Those receiving this package of spinal manipulation in NHS premises or those receiving it in the private premises of chiropractors, osteopaths or physiotherapists; and

c.

Those receiving a defined package of exercises (Back to Fitness) or general practice management only.
The secondary null hypothesis was that:
d.

In those people receiving both spinal manipulation and the Back to Fitness exercise package, the improvement in clinical outcome is merely the cumulative effect of those treatments, i.e. that there is no interaction.
For hypothesis b, the feasibility study confirmed that we could recruit therapists to perform spinal manipulation from those working in their own premises who also worked, or were willing to work, in NHS premises. For hypothesis d, the feasibility study confirmed that those performing spinal manipulation and those providing Back to Fitness exercise classes could deliver their own package to participants who also received the other package.
Essentially pragmatic estimates
The trial will estimate (to within a confidence interval) the cost per unit of health utility gained by adding to general practice management:
a.

The spinal manipulation package in NHS premises;

b.

The spinal manipulation package in the private premises;

c.

The exercise package; and

d.

The spinal manipulation package (NHS or private) plus the exercise package.
Inclusion and exclusion criteria
The target population was people aged between 18 and 65 years presenting in general practice with non-specific back pain with or without referred leg pain. We defined back pain as pain of musculoskeletal origin in the area bounded by the lowest palpable ribs, the gluteal folds, and the posterior axillary lines. We included those with pain referred into the legs provided it was predominantly above the knee. To avoid carry-over effects, participants should not have had physical therapy in the previous three months. To facilitate participation in the exercise class and assessment they had to be fluent in English and able to read and write.
To avoid including participants who recovered rapidly from an acute episode without specific treatment, we included those whose current episode of back pain had lasted at least four weeks from their initial consultation. They did not have to have had pain every day of this episode. They were eligible if they had had back pain either for 28 consecutive days, or, for at least 21 of these days and at least 21 of the 28 days before that. No upper limit to the duration of pain was set. Exclusion criteria are summarised in Figure
2
.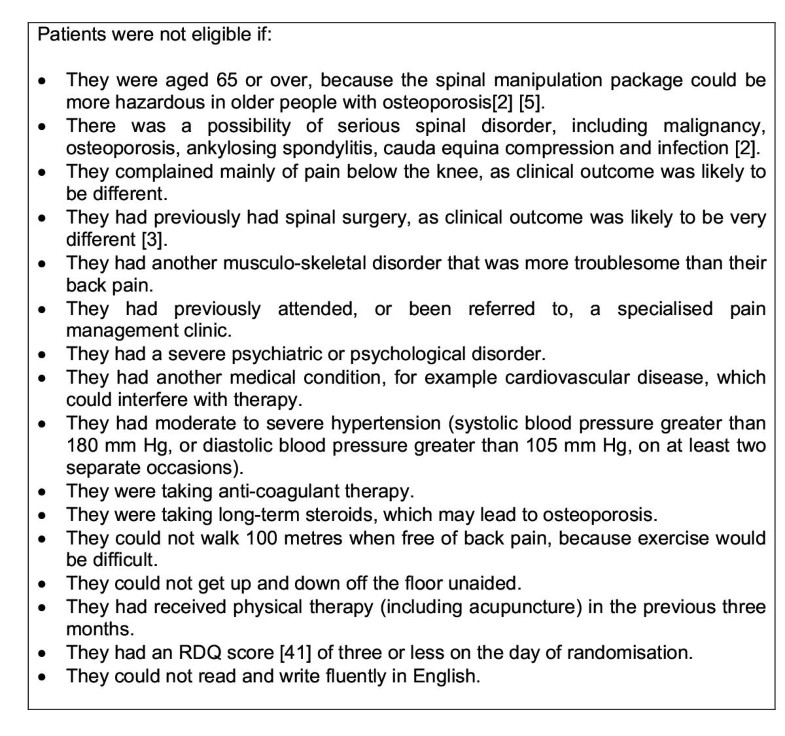 Serious adverse events
We defined a serious adverse event as one leading to hospital admission or death within one week of treatment within the trial. To ensure that we recognised any relevant events the manuals describing spinal manipulation and exercise classes each asked participating health professionals to report and follow up any potential events. Additionally, the follow-up questionnaire after three months asked participants whether they had been admitted to hospital, and practice research nurses searched participants' records for hospital discharge summaries.
Participant recruitment and allocation to treatments
General practitioners and other practice team members notified the practice research nurse of patients consulting for back pain. In practices that computerised their consultation data the nurses also did regular computer searches for back pain consultations. Potential participants were sent an invitation letter, an information sheet, and a brief questionnaire covering the main inclusion and exclusion criteria.
Those interested in the trial made an initial appointment with the nurse. At this appointment the nurse confirmed eligibility by collecting further data. She asked about employment status and how the current back pain was affecting them and explained the treatment packages available through the trial. Data on those who did not join the study will allow us to generalise our findings.
Those who appeared eligible and interested in participating in the trial saw the nurse again at least one week later. This qualifying week gave them time to reflect on the implications of taking part in the trial [40]. It also allowed the general practitioner to confirm that they appeared suitable for the trial. Randomisation took place at least four weeks after the initial consultation with the practice, to exclude anyone who made a rapid spontaneous recovery. Those who no longer met the severity entry criterion, a Roland Morris Disability Questionnaire (RDQ) [41] score of four or more could have become eligible if their condition subsequently deteriorated without needing to go through the waiting period.
Following consent, participants completed the main baseline questionnaire. The research nurse then telephoned the York randomisation service to obtain the participant's random treatment allocation. Randomisation was stratified by practice.
Outcome measures
The main outcome measures were self report questionnaires asking about participants' health, beliefs about back pain, and psychological profile. After recruitment, they received similar follow-up questionnaires by post after one month, three months (when all treatment within the trial has finished) and one year. Non-responders received written reminders after two and four weeks, the second by recorded delivery. Practice research nurses also prompted non-responders by phone at the time of the second reminder.
Conclusion
The UK BEAM trial is a major trial of physical treatments for low back pain. Obtaining participation by members of the three physical therapy professions in the UK (chiropractic, osteopathy and physiotherapy) to work to an agreed treatment was an important achievement. Whatever the outcome of the trial, the results will inform the future management of low back pain both within the UK and internationally. Participant recruitment and follow up is now complete. We recruited 1334 participants from 168 practices. With agreement from the Trial Steering Committee we included data from participants recruited by the 13 practices within the 'active management' arm of the feasibility study, thus adding two centres and making 14 in all. We obtained 12 month follow up data on 995 (75%) of all participantsthese. This provides ample data to test all our main hypotheses.
Declarations
Acknowledgments
Sponsors: Research Costs, Medical Research Council. Treatment costs, NHS Research and Development. Underwood is supported by an NHS research and development primary care career scientist award.
Trial Steering Committee: Assendelft, W, Croft P, Hughes R (chair), Klaber Moffett J, Lamb S, Russell I, Thompson S, Underwood M, Vickers M, Watt G, Vickers M, Watt G,
MRC working party: Beurskens A, Breen A, Burton K, Frost H, Garratt A, Godfrey C, van der Heijden G, Klaber Moffett J, Little P, Main C, Meade T, Roland M (chair), Russell I, Smith I, Waddell G, Underwood M, Vickers M.
Authors' Affiliations
(1)
Institute of Community Health Sciences, Barts and the London, Queen Mary's School of Medicine and Dentistry, London, UK
Copyright
© UK Back pain Exercise And Manipulation (UK BEAM) Trial Team; licensee BioMed Central Ltd. 2003
This article is published under license to BioMed Central Ltd. UK Back pain Exercise And Manipulation (UK BEAM) Trial Team; licensee BioMed Central Ltd. This is an Open Access article: verbatim copying and redistribution of this article are permitted in all media for any purpose, provided this notice is preserved along with the article's original URL.