Research article

Open Access

Open Peer Review
This article has Open Peer Review reports available.
Improving long-term care provision: towards demand-based care by means of modularity
BMC Health Services Research
2010
10:278
Received: 22 February 2010
Accepted: 21 September 2010
Published: 21 September 2010
Abstract
Background
As in most fields of health care, societal and political changes encourage suppliers of long-term care to put their clients at the center of care and service provision and become more responsive towards client needs and requirements. However, the diverse, multiple and dynamic nature of demand for long-term care complicates the movement towards demand-based care provision. This paper aims to advance long-term care practice and, to that end, examines the application of modularity. This concept is recognized in a wide range of product and service settings for its ability to design demand-based products and processes.
Methods
Starting from the basic dimensions of modularity, we use qualitative research to explore the use and application of modularity principles in the current working practices and processes of four organizations in the field of long-term care for the elderly. In-depth semi-structured interviews were conducted with 38 key informants and triangulated with document research and observation. Data was analyzed thematically by means of coding and subsequent exploration of patterns. Data analysis was facilitated by qualitative analysis software.
Results
Our data suggest that a modular setup of supply is employed in the arrangement of care and service supply and assists providers of long-term care in providing their clients with choice options and variation. In addition, modularization of the needs assessment and package specification process allows the case organizations to manage client involvement but still provide customized packages of care and services.
Conclusion
The adequate setup of an organization's supply and its specification phase activities are indispensible for long-term care providers who aim to do better in terms of quality and efficiency. Moreover, long-term care providers could benefit from joint provision of care and services by means of modular working teams. Based upon our findings, we are able to elaborate on how to further enable demand-based provision of long-term care by means of modularity.
Keywords
Care ProvisionService PackageBase PackageChoice OptionCase Organization
Background
Putting the health care client rather than the care supplier at the center of processes and structures has been advocated by several proposals on future care provision [e.g. [1–3]]. Hence, the needs and expectations of patients and clients are now being viewed as the starting point in a thorough re-orientation of roles, tasks, operational processes, organizational structures, and inter-organizational cooperation in the promotion of a demand-based approach [2]. More specifically, redesigns have been developed, such as clinical or care pathways, focused factories, and integrated care [4–6] that treat clients in a specific, predefined care trajectory. A characteristic of these new designs is that they have often been developed for a particular and well-defined client or patient group with relatively simple demands for care concerning only one constraint or disease [7]. As a result, care delivery for these clients is becoming more demand-based, without sacrificing too much efficiency and cost containment, which are other pressing factors that care providers must take into account in day-to-day care provision [8].
In the light of our aging societies, however, the nature of demand for care is subject to change. Population aging results largely in the growth of chronic and long-term conditions. Especially for the elderly, these conditions are often accompanied by multiple, diverse and non-linear needs for different types of care and related services [9, 10]. Elderly clients often have multiple demands in various aspects of life, such as health, welfare, housing, transportation, and support [e.g. [11, 12]], because they want to live independently as long as possible. Besides, we cannot speak of the needs and wants of the elderly [13]. Diversity among elderly can be expected, on the one hand, because of differences in the health status and medical requirements of individual clients [10, 14]; an elderly client with diabetes has different needs from an elderly client who suffers from problems with bending and stretching. On the other hand, the elderly differ from each other in personality, background and lifestyle, which is likely to cause the content of their needs and desires to differ as well [13]. Furthermore, needs and requirements are likely to vary over an individual's life course as a result of changing health conditions. Because health, generally speaking, deteriorates over time [e.g. [10]] the elderly will require more intensive care and services. Moreover, new constraints are likely to arise with age, thereby increasing the prevalence of multi-morbidity - the simultaneous occurrence of various (chronic) conditions [15, 16], causing the elderly to require a wider spectrum of care and services over time.
The complex and heterogeneous needs and requirements for chronic and long-term care can hardly be answered in well-delineated, unidirectional, and efficiency-driven care processes, as developed in other health care settings [4–6]. Care and services offered through these processes will be likely to have too narrow a focus to accommodate widely varying needs. In addition, the existing processes hamper a holistic view of the individual elderly client as well as coordination across the various ailments from which a client might suffer [7]. Therefore, the long-term care sector is in need of new approaches and visions that enable the sector to improve care delivery towards the development of demand-based care, and simultaneously accommodate the complex nature of demand [17, 18]. In this respect, Hofmarcher et al. [7] propose to go beyond a re-orientation of care delivery processes and focus on redesign of the health system architecture as a whole. This means that long-term care providers should organize their processes as well as the care and service parts offered and provided and professionals involved in care provision in line with underlying principles of what they want the care system to achieve. To support the development of a demand-based care system, four dimensions should be taken into account simultaneously [19]:
choice options,

variation,

client interaction, and

joint delivery.
By increasing the available range of choice options, it becomes more likely that clients will find care and service parts that optimally suit their particular circumstances. In addition, it should be possible to combine all options provided in any way desired by the client. Combining care and service parts available into differing configurations creates variation in the final offering across clients with diverse needs. Furthermore, client interaction should be stimulated and managed during the care process in order to consult clients on their needs for care and be able to adapt and customize the care offered accordingly. Finally, whereas many care organizations and even organizational departments work according to autonomous and separate processes and structures [20], demand-based care provision implies that organizations jointly take care of a client's multiple demands and serve the client in an integrated fashion. Following these four dimensions, demand-based provision of long-term care to the elderly would then imply that care and service parts ranging from dissimilar and heterogeneous areas of life, and possibly from different organizations, are combined into a single packet offered that is in turn customized, in cooperation with the client, to the individual's needs and wants [19].
Conceptually speaking, the four dimensions identified can be answered by means of modularity. Modularity is a concept that stems from the field of operations management and is increasingly recognized in health care as a means to design client-centered products and processes [e.g. [8, 19, 21–25]]. Moreover, the concept of modularity facilitates an efficient way of working, which suits the pressure for cost containment that is faced by many providers of long-term care [26, 27]. These features drive us to further investigate the potential of modularity in moving the sector of long-term care for the elderly towards the objective of demand-based care provision and underpin the practical and theoretical relevance of this study. The two main purposes of this study are then are the following: (1) evaluate current long-term care provision from a modularity perspective with respect to the four dimensions related to demand-based care, and (2) identify remaining gaps in demand-based care provision and discuss how to further enable demand-based provision of long-term care by means of modularity principles and practices. To this end, we will elaborate upon the concept of modularity in the next section. Thereafter, the methodology for our empirical research is given. Finally, the findings are presented, discussed, and elaborated upon in the light of modularity theory.
Theoretical background
Lessons from modularity
In one of the first contributions to the literature on modular production, Starr [28] formulates the basic idea behind modularity as ''... design, develop, and produce [...] parts which can be combined in the maximum number of ways''. As such, modularity proposes to create a custom product or service from standardized components [e.g. [29–31]]. Modular production principles traditionally stem from a manufacturing setting and have not been specifically developed for services or health care. However, the attention given to modularity in a wide range of service and care settings is growing [e.g. [8, 32–34]]. For example, modularity is applicable to elective surgery to deal with heterogeneous patient needs, since the set of standardized operations selected and combined for the surgical treatment may differ from one patient to another [8].
There are several important dimensions related to the concept of modularity: components, modules, interfaces, and packages. Components are parts that perform one clearly defined function in a final product or service offering. They are the smallest units into which a product or service can be divided [e.g. [33]]. In care, a wide variety of components can be discerned such as cleaning the house, washing, assistance with getting dressed, insulin injection, meal service, taxi transportation, financial advice, etc. A module is understood as a conceptual grouping of one or several components that provide variants and substitutes to the same functionality [e.g. [33]]. In care, components can be grouped into modules such as care services, welfare services, safety services, and housing services. Interfaces are linkages shared among components. In general, they manage the interactions and connections of components when they are combined into a final packet offered [30, 34]. In care, protocols, procedures, and standard lines of communication ensure that the selection of components to be provided to a single client make up a united and coherent whole. Combining and connecting various components by means of interfaces creates a modular packet offered [35]. We will refer to these as modular packages.
The main aim of modularity is to allow organizations to mix and match components into modular packages that meet closely the diverse customer preferences [8, 36]. However, modular packages have to differ only with respect to those components where customers have different requirements. As such, not all components need to be subject to change to address market heterogeneity [24, 30] and similarities among clients can be exploited [13]. In elective surgery, for example, preoperative evaluation and postoperative care are often very similar for all patients. The same holds for certain operations during the surgery process for particular patient groups [8].
Modularity concepts address not just an organization's product or care offerings, but also an organization's working processes and the organizational arrangement of people [33, 37]. Process modularity allows for the mixing and matching of process components, or activities, in order to create customized packages with and for clients. A general principle is that standardized activities should be performed first and customization activities should be postponed, occurring later in the process to allow for customization in the most effective manner [37, 38]. A modular organizational arrangement implies that an organization's workers are assigned to clearly defined teams or divisions. Each team is responsible for the provision of one or more service components and (members of) the teams can be combined and reorganized according to customer requirements [37].
Leads of modularity in the light of demand-based care
With respect to choice options and variation, Chorpita et al [21] state that modularity allows for the configuration of a large number of therapeutic interventions in psychotherapy to be created from a fairly standardized range of exercise and activity components, such as relaxation, social skills training, and problem solving skills training based on individual client's needs. This allows for greater adaptability of the therapy to different types of patients [28, 38, 39]. For long-term care, modularity would then imply that every client can be offered a different combination of care and related components and thus each is treated as unique. Moreover, modularity allows for the adaptation of a product or service package over time since component variants can easily be added, substituted, omitted, or modified [40, 41]. Building on the psychotherapy example, a particular patient's therapy can be adapted over time by adding new interventions or adapting exercise or activity components [21]. Especially in the sector for long-term care, being characterized by changing client demands, it is crucial that the modular package can be reconfigured continuously to be appropriate to expressed or implied needs.
With respect to client interaction, the provision of modular packages in a homecare setting have been found to ease the interaction between client and provider, since all modules and components required by a client could be assessed simultaneously [25]. This resulted in savings in terms of time and effort invested in needs assessment. Moreover, since components form a pre-specified, transparent, and well-organized range of options, customers and professionals can more easily interact when specifying their required combination of different components and/or activity sequences [42]. Regarding long-term care provision, modularization could then facilitate interactive package specification and enable professionals to take into account the client holistically.
Concerning joint delivery, Bohmer [8] posits that required modules and components may well originate from multiple providers. This can, for example, be seen in outpatient care for chronic conditions such as hypertension where treatment may include weight control, stress control, diet modification, drug therapy, and on-going surveillance. Each component may be provided by a separate professional or a separate organization but the combination of the components makes the hypertension treatment uniquely suited to each patient [8]. Because a modular set-up of supply uses standardized and well-tuned connections, components provided by different suppliers can be seamlessly combined into one care package. For clients of long-term care, who often require care and services from several suppliers in various fields, this would increase the likelihood that all their needs and requirements will be covered. In summary, despite the newness of the concept, modularity provides leads to bring about the four dimensions related to demand-based care provision in long-term care.
Results: modularity in practice
The next four sections discuss the themes and their relationships revealed by our data analysis with respect to modularity principles and practices that are currently used by the case organizations and the four dimensions of demand-base care. The tables presented in this section provide rich and detailed illuminations on the component setup (Additional file 1: Table S1) and specification process (Additional file 1: Table S2) of the case organizations on which the results are based.
Choice options: a modular set-up
To answer the widely varying needs of their clients, and support them in continuing to live independently as long as possible, all cases supplied an increasingly wide range of dissimilar components of care and related services on various aspects of life. In principle, each client could make use of all components provided but the actual use of components was very much guided by the medical and physical constraints and diseases from which an individual suffered. Increasingly, the interviewees found that elderly clients were also asking for components because of their personal interests and preferences, especially in social, entertainment and comfort services. Subsequently, following market demand, the range of services that were complementary to the initial provision of care was developing and growing rapidly.
To manage their widening range of supply, all cases had undertaken the challenge of finding suitable ways to organize their supply under the assumption that a logical set up would create transparency and enable professionals and elderly clients to find and use the options available. Additional file
1
: table S1 describes the diversity of approaches taken by the cases in setting up and organizing their range of care and service supply. Even though diverse approaches were used, the outline followed by all cases appeared to be fairly similar. In essence, the empirical data revealed that in each case, care and service modules had been identified that together formed the main building blocks of a menu of choice options. Each module contained a range of sub-modules and subsequent component variations that could complement, supplement or substitute each other. For example, the module 'care' in most cases contained, among others, the sub-module 'personal care' under which components such as 'washing', 'getting dressed' and 'getting ready for bed' were grouped. Components were further specified with respect to e.g. the type of clients, constraints or diseases they for which were meant and possible variations in delivery (e.g. moment, time span, duration, intensity, and location). In each case, the menu as a whole, built from the various (sub) modules, served as a platform from which appropriate components were selected and combined for each individual elderly client. A structure of the arrangement of supply, including modules, sub-modules and components, is depicted in figure
1
.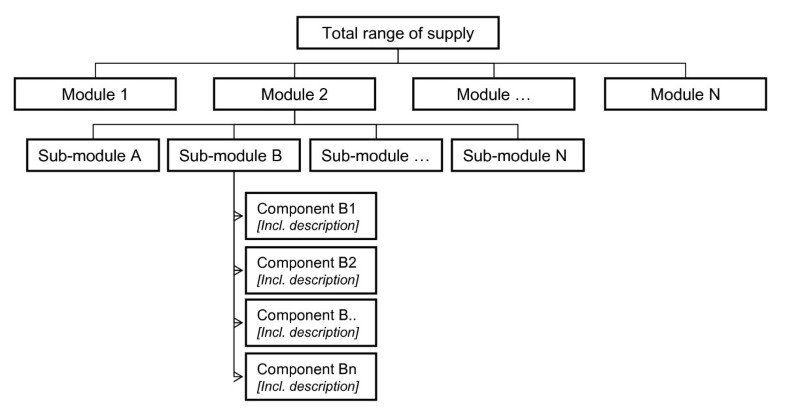 The general arrangement structure used was basically the same for all cases, however, the way in which each case organization elaborated upon the general approach taken differed (Additional file 1: Table S1). Our data indicated that components were grouped with respect to their functionality. In addition, our data revealed other ways of reorganizing components; we observed component groupings that took the client, the professional or combinations of functionality and client as their starting point.
Variation: pre-combination as a starting point
In all cases, the range of supply was separated into components. These components in turn could be recombined into any combination required by the organization's elderly clients. As such, components in personal care could be combined with meal service, a computer course, financial advice, and dietary advice, etc. The combination of components that would ultimately be delivered to the elderly client was totally dependent on the individual's situation.
As a device to aid package specification for individual elderly clients, cases made use of predefined base packages. Base packages contained a selection of pre-grouped components that are key to answering the common needs in a particular segment. Diversity among segments of elderly clients was used as a steering principle for the configuration of various base packages. For example, the case organizations developed base packages for the vital elderly, the elderly who needed some assistance in daily activities, the elderly who wanted to live independently but in a sheltered environment, and the elderly in their end-of-life phase. Subsequently, commonalities among elderly clients within one group were used to cluster key components in a base package. For example, in case 2 a base package for elderly in need of some assistance was built around key components concerning homecare activities, social activities, and an alarm service.
The interviewees indicated that the base packages developed by the cases mainly provided guidance in the development of an appropriate package for each elderly client. As such, the packages linked the organization's total range of supply to the process of needs assessment and package specification. The base packages, however, were by no means strict and closed entities, but provided formats based on which individual care and service packages could be further adapted, specified and fine-tuned during the specification process, to be discussed in the next section.
Client interaction: managing involvement during package specification
In each case organization, the total range of supply grouped into (sub) modules, together with the pre-grouped base packages formed the basis for the configuration of care and service packages. Since all case organizations had the aim of putting the demand of the elderly client at the center of care and service provision, package specification and configuration were based on a thorough needs assessment. In order to meet a given elderly client's demands for long-term care, needs assessment in each case organization was performed in close cooperation between client and professionals. Involvement of the elderly client in the assessment and specification process, thus, was seen as something highly desirable that needed to be stimulated. At the same time, the case organizations were confronted with a downside of client involvement, i.e. the introduction of a great deal of uncertainty and variability in the specification process, which posed the need to control client interaction as well. The set-up of the specification process is described in Additional file
1
: Table S2 and depicted in figure
2
.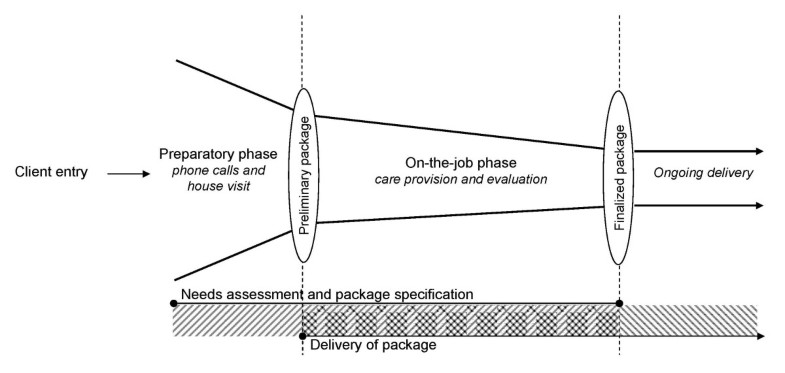 From the description of the specification process, it becomes clear that all cases worked according to a process consisting of two separate, but closely related phases. This set up of the process allowed the cases to manage the complex activity of needs assessment and package specification as well as the degree of client involvement in the process.
In the first phase of the specification process, process steps and activities undertaken were the same for all elderly clients or for the elderly in a particular segment. Even though the exact content of each activity or step might differ, its common structure reduced complexity and helped professionals to overcome the challenge of approaching each client situation as if it were being dealt with for the first time. The second phase of the specification process mainly consisted of activities that dealt with specific client situations. It ensured that the final care and service offered optimally suited an individual elderly client, both in terms of medical constraints and in terms of personality and lifestyle. Care and service packages configured or selected in the first phase were further adapted to individual elderly clients by making use of the menu of options; components were added, intensified, or omitted, as such translating specific client needs into appropriate supply.
The activities that took place in the specification process were, thus, sequenced in such a way that common-to-all activities occurred early in the process while customization activities were postponed until later in the process. Thereby, the first process phase allowed for quick diagnosis and assessment and thereby also a quick start of care delivery to each elderly client. Postponement of customization activities provided time to the case organizations to reveal detailed client specifications regarding their multiple and changing needs and requirements. In this way it was ensured that each elderly client received all the care and related service parts that answered his ailments and/or old age constraints and that these parts were delivered in the client's preferred manner.
Moreover, the case data indicated that process steps were organized according to the intensity of client involvement. Early in the process, interaction with an elderly client was needed to know what kind of needs and requirements had to be answered by the organization. However, the intensity of the client interaction was as low as possible (phone conversation, house visit). As such, the elderly client could not affect the course of the process too much, which allowed for efficient and effective execution of process activities. The intensity of the interaction was increased when activities were taking place to customize an individual's care and service package. As such, client induced uncertainty was centralized in a particular part of the specification process.
Joint delivery: a challenge for the future?
In all cases, our data revealed the existence of a well-arranged range of supply and specification processes. Despite this, there was no single, integrated access to all the care and service components available within each organization. This finding held for all cases. Individual divisions and cooperating organizations still very much tended to set up their own care and service packages on offer as well as their own specific (sub) specification lines. If elderly clients required components from multiple divisions of one organization, or of cooperating care and service providers, they often ended up contacting each of these divisions or organizations separately to acquire information as well as access to the services.
Inter and intra-organizational partitions, thus, were highly prevalent. Because of the non-transparency in supply and fragmented accessibility across case departments and organizations, professionals indicated that they were often unaware of the full range of care and service components available. This issue became more prevalent as the case organizations grew larger and expanded their range of care and services to areas that were formerly unrelated to their original core business, i.e. 'pure' care provision. As a result, care and service packages specified for individual elderly clients were often too narrow compared to the multiple needs of the clients and the abilities of the (cooperating) organization. Even though all interviewees in all cases were aware of the existing intra and inter-organizational boundaries, and improvement projects were started to overcome these, joint delivery of care and services both within and across organizations was indicated as being a challenge for the future at the time of our data collection.
Discussion: Towards modular care provision
Modularity is increasingly recognized in various health care settings as a means to cope with heterogeneous client demands and design care systems that are centered on the health care client [e.g. [8, 19, 21–25]]. In order to advance the sector for long-term care for the elderly towards its goal of demand-based care provision, we evaluated current practice in this sector through a modularity lens. As such, our study added empirical evidence on the use of different modularity principles and practices in this sector as well as remaining gaps, primarily in relation to joint delivery. In this section, we will discuss our findings in the light of modularity theory.
Moreover, we indicate how long-term care providers could advance the four dimensions of demand-based care by drawing modularity principles and practices further into the operational set up of their organizations. In this respect it is important to stress the dependencies within the organizational system (i.e. the organization's products (services), processes and people). The basis for providing choice options and variation is given by the arrangement of an organization's product (service) supply. However, a well thought-out process is needed in which this supply can be configured into a package based on client needs and requirements. People link products and processes together since service workers and health care professionals are the ones who execute process activities to configure the required product components. Thus, to create a care delivery system that enables service to clients being as demand-based as possible, the organization's product (service) supply, processes and people should be kept aligned.
Conclusions
Based on empirical case research, this study aimed to investigate the potential of modularity in moving the sector of long-term care for the elderly towards the objective of demand-based care provision. The cases provided us with a rich empirical understanding of a new phenomenon in the field of long-term care and its relation to demand-based care provision and allowed us to start building insights and theory in relation to demand-based care provision.
The insights that have been presented in this paper stem from ideas that were developed in manufacturing and service settings, where thorough thinking about the design of processes and systems has greatly improved both quality and efficiency [65]. By looking upon the sector for long-term care from a modularity perspective, we were able to show how different modularity practices can contribute to the creation of a system providing demand-based care.
Making use of product modularity insights enables organizations to accommodate diverse client demands in different ways and provide clients with choice options and variation. In addition, modularity provides guidance during needs assessment and subsequent package specification since it allows organizations to both stimulate and manage client involvement in the specification process. We briefly elaborated on how modularity could further assist long-term care providers in joint provision of care and services when applied to the arrangement of professionals.
The trend towards demand-based and client-centered approaches to care provision is topical all over the developed world and in many fields and sub-sectors of health care systems [e.g. [3, 5]]. Therefore, all kinds of healthcare organizations might benefit from the insights presented in this paper in order to approach the operational implications of demand-based care. Adequate setup of an organization's supply, as well as its specification phase activities, is indispensible for providers in every healthcare field who aim to do better in terms of quality and efficiency. Therefore, recognition of the potential of modularity is an important first step in elaborating demand-based care and service provision at the operational level.
Declarations
Acknowledgements
The authors thank the health care insurers CZ and VGZ and the Science Shop of Tilburg University for their support of this research. In addition, the authors thank Prof. Bert Vrijhoef and the two reviewers of the manuscript for their valuable comments and critiques.
Authors' Affiliations
(1)
Amsterdam Centre for Service Innovation (AMSI), University of Amsterdam, The Netherlands
(2)
Department of Tranzo, Tilburg University, The Netherlands
(3)
Department of Organization and Strategy, Tilburg University, The Netherlands
(4)
Department of General Practice, Maastricht University, The Netherlands
Copyright
© de Blok et al; licensee BioMed Central Ltd. 2010
This article is published under license to BioMed Central Ltd. This is an Open Access article distributed under the terms of the Creative Commons Attribution License (http://creativecommons.org/licenses/by/2.0), which permits unrestricted use, distribution, and reproduction in any medium, provided the original work is properly cited.