Research article

Open Access

Open Peer Review
This article has Open Peer Review reports available.
A prospective evaluation of first people's health promotion program design in the goulburn-murray rivers region
BMC Health Services Research
BMC series – open, inclusive and trusted
2016
16:645
Received: 3 May 2016
Accepted: 27 October 2016
Published: 10 November 2016
Abstract
Background
Aboriginal Community Controlled Organisations (ACCOs) provide community-focussed and culturally safe services for First Peoples in Australia, including crisis intervention and health promotion activities, in a holistic manner. The ecological model of health promotion goes some way towards describing the complexity of such health programs. The aims of this project were to: 1) identify the aims and purpose of existing health promotion programs conducted by an alliance of ACCOs in northern Victoria, Australia; and 2) evaluate the extent to which these programs are consistent with an ecological model of health promotion, addressing both individual and environmental determinants of health.
Methods
The project arose from a long history of collaborative research. Three ACCOs and a university formed the Health Promotion Alliance to evaluate their health promotion programs. Local community members were trained in, and contributed to developing culturally sensitive methods for, data collection. Information on the aims and design of 88 health promotion activities making up 12 different programs across the ACCOs was systematically and prospectively collected.
Results
There was a wide range of activities addressing environmental and social determinants of health, as well as physical activity, nutrition and weight loss. The design of the great majority of activities had a minimal Western influence and were designed within a local Aboriginal cultural framework. The most common focus of the activities was social connectedness (76 %). Physical activity was represented in two thirds of the activities, and nutrition, weight loss and culture were each a focus of about half of the activities. A modified coding procedure designed to assess the ecological nature of these programs showed that they recruited from multiple settings; targeted a range of individual, social and environmental determinants; and used numerous and innovative strategies to achieve change.
Conclusion
First Peoples' health promotion in the Goulburn-Murray Rivers region encompasses a broad range of social, cultural, lifestyle and community development activities, including reclaiming and strengthening cultural identity and social connectedness as a response to colonisation.
Keywords
Health PromotionCommunity BasedIndigenous PeoplesAboriginal and Torres Strait Islander peopleEcologicalEvaluation
Background
The Aboriginal community of the Goulburn-Murray Rivers Region has the largest population of First Peoples in Victoria, outside of the Melbourne metropolitan area, with several thousand Aboriginal and Torres Strait Islander people living or passing through the Shepparton region. The region includes the traditional lands of the Yorta Yorta and Bangarang nations. There are a large number of Aboriginal organisations operating and providing services to the community. These organisations are community focused and culturally safe, and play an important role in employment, education and health for First Peoples of the region. Aboriginal Community Controlled Organisations (ACCOs) such as these play an important role in providing culturally safe services, strengthening First Peoples' identity, and in advocacy for health and human rights [1, 2]. ACCOs emerged from community in the 1970s as a means of reclaiming self-determination and identity for First Peoples after two centuries of denial of these important determinants of wellbeing by mainstream society. In this study, 'First Peoples' is the preferred term to refer to the Aboriginal Torres Strait Islander population, as it encompasses both the diversity of Aboriginal and Torres Strait Islander peoples in the region, while also reflecting the shared experiences that unite Indigenous peoples in Australia and internationally.
The Creating Healthy Environments project evolved from a history of collaboration between The University of Melbourne, Viney Morgan Aboriginal Medical Service, a primary health service focusing on clinical and social health; Rumbalara Football Netball Club, a sporting club that engages community in health promotion; and Rumbalara Aboriginal Co-operative, a multi-faceted organisation providing health, housing, emergency relief and Elder services [3]. The three ACCOs run a range of activities that promote healthy behaviours, physical activity, healthy lifestyle choices and nutrition awareness, and the University has collaborated with them on various teaching, research and evaluation projects. Rumbalara Football Netball Club stands out by focussing on promoting healthy lifestyles and preventative health programs rather than crisis intervention services [4]. All three ACCOs identified that their programs were not being evaluated and reported in ways that reflect how they address social determinants of First Peoples' health and the holistic nature of their design [5]. This is not unique to this region or country [6–8]. Each of the ACCOs were locked into certain funding arrangements (which largely neglected prevention activities) that prevented them working together to achieve common goals. In 2010 the organisations formed the Goulburn-Murray Health Promotion Alliance. This alliance emerged from community leaders' concerns regarding a lack of understandings about the impact their programs were having on the community, and how services could be better delivered. The project was the first of its kind in the region to challenge First Peoples' organisations to examine what they were providing, and also the design and outcomes of their services. They were also interested in knowing if any of the services provided in the community organisations overlapped and if there were opportunities for collaborative program delivery. This was seen as a way of better utilising already under-resourced organisations in the region.
Thus the Creating Healthy Environments project was developed in part to address the limitations of monitoring and reporting health program activity [7]. We have previously used an ecological model as an indicator of health program complexity and design [5, 9] and found it to have value for this purpose, despite certain limitations [10]. In theory, health programs are more likely to be effective if they act to change the environment in which people live as well as working with individuals. Interventions following an ecological approach emphasise the relationship between people and the physical and social systems within which they live, including their social networks, organisations, communities, and the broader society. In this way, ecological models may be viewed as more closely aligned with First Peoples' world views and holistic models of health, and therefore hold greater value for First Peoples and ACCOs. According to ecological theory, projects that intervene at many of these levels offer greater potential for promoting health over the short and long term than those with a single focus [11]. This approach is increasingly being acknowledged as a means of promoting health among First Peoples in Australia [12–14]. However, beyond interventions for preventing disease, ACCOs are important contributors to cultural identity and community development for First Peoples as noted above. We have previously identified important components of wellbeing that inform the cultural safety and service delivery practices of ACCOs in the region [2] but these aspects of wellbeing have not been systematically examined as part of program evaluation.
The initial aims of this project were to: 1) identify the aims and purpose of existing health promotion programs conducted within the Health Promotion Alliance; and 2) evaluate the extent to which these programs are consistent with an ecological model of health promotion, addressing both individual and environmental determinants of health.
This work was carried out with approval from The University of Melbourne's Human Research Ethics Committee [0931708] and the Aboriginal Health and Medical Research Council and in line with ethical guidelines of the National Health and Medical Research Council of Australia [15].
Methods
Establishing the Health Promotion Alliance
Partnership, good communication, and trust were fundamental in working with the community organisations and especially if working in research [16]. The current work grew from a long history of collaboration with an emphasis on community direction, capacity development and exchange, a participatory research approach, and privileging First Peoples' knowledge [2, 3, 17]. The project was funded by The Lowitja Institute and the NHMRC and included several community-based researchers as Chief Investigators. A Memorandum of Understanding guided the conduct of the research, which was overseen by a Steering Committee on which each of the organisations was represented. This manuscript was submitted for publication with approval from the Steering Committee.
The three community organisations provided an overview of the health activities and programs that were operating from their centre. The information provided an opportunity to map what each organisation was delivering to community members in health promotion [4]. Each organisation participated in the Alliance by nominating programs on which they felt comfortable collaborating and wanted to know more about. The detailed information collected prospectively at each partner organisation related to the following 12 programs: at Viney Morgan AMS, Sister Girl and Ladies' Art and Craft women's wellbeing programs; at RFNC, Makin' A Move physical activity and nutrition program, Fruit Share and (with RAC) 3 Healthy Messages programs for youth, Unity Cup reconciliation activities, and RFNC Mural community history project; at RAC, Lulla's Health Check child health activity, Divine Breast Day women's activities, Koori Maternity Services maternal and child health program, and Elders' Exercise Group for senior community members. These programs do not represent the entire range of services delivered by the collaborating organisations, but are those that they decided to include as part of the Alliance's body of work.
Data collection and analysis
Local Indigenous workers were engaged and trained in gathering data, and to develop a set of tools that were culturally sensitive for the organisation to use in their programs beyond the life of the research project. The researchers worked with the organisations, their practitioners and program managers to discuss the process of collecting data and the tool used to gather the information on the health promotion programs prospectively, as described below.
Using a standardised form based on that used for the Kahnawake Schools Diabetes Prevention Program [
18
], with some modifications for local use, we collected information about 88 separate activities run as part of the health promotion programs listed above as they were being implemented, between 2011 and 2014. The form includes information about: activity name, sponsoring organisation, date, description; whether it fulfilled its objectives on the day; target group, numbers of participants and where they were recruited from; health focus; role of local culture in activity design; barriers and facilitators to implementation of the activity. We assessed the degree to which this group of programs integrated an 'ecological' approach considered best practice in health promotion, that is, how this program of health promotion addressed a range of individual and environmental determinants of health. For this purpose we then coded these activities by identifying a) where the participants were recruited from (the settings), b) who or what was meant to change as a result of the activity (the targets), and c) how this change was to be brought about (the strategies) [
19
]. Strategies are coded by linking a health promotion activity [HP] to its targets. For example, an activity that seeks to provide knowledge directly to participants is coded as HP → IND, while an activity that brings people together to strengthen their social connections is coded as HP → [IND-IND] → INT, and so on. Richard and colleagues [
19
] provide a method for categorising settings and targets within the levels of a nested hierarchy—individuals, interpersonal relationships, organisations, community, the broader society, and the supranational level. We have found that this systems model of the relationship between people and their environment, described in most detail by Miller [
20
], inaccurately describes First Peoples' communities and we utilised an alternative model for the purpose of coding health promotion activities. It is beyond the scope of this paper to provide a detailed explanation of how this model was derived, but it is based on a series of in-depth discussions and workshops with Indigenous peoples and on other published work, including the 'Living Communities' model [
21
–
23
]. In our revised system, individuals, families, culture, identity and land are inextricably linked as a living community, not in a hierarchical manner but as interrelated and equal parts of an embodied whole. For coding, 'culture' and 'identity' are placed within the interpersonal (INT) category ('culture' being primarily the way in which people relate to each other, and 'identity' arising in large part from a person's relationship to family, community and place) and Land within the community (COM) category. We have replaced Richard's solid lines separating these levels with dotted lines to emphasise this non-hierarchical, fluid structure (Fig.
1
). Organisations are placed at the interface between the First Peoples' community and the broader Australian society (itself made up of many communities in addition to First Peoples). First Peoples' community-controlled organisations (ORG) are expressions of self-determination, and many have evolved to become a bridge between community members and mainstream government, funding and professional institutions. Mainstream organisations (ORGm) emerge from the societal level and are an important point of contact between First Peoples and other communities and society. We recognise that First Peoples' communities are among many regional, ethnic and social communities living within the Goulburn-Murray Rivers Region and making up Australian society, while holding a special place as the original inhabitants, Traditional Owners, and holders of cultural authority for this Country. First Peoples seek to be treated as equal, productive and leading communities within society, not as a 'problem' nor as 'disadvantaged'. However, for the purpose of this analysis, First Peoples' community is distinguished from other regional communities which are collectively (and very imprecisely) referred to as part of 'mainstream' society as there are unique social and political circumstances that affect the current relationship of First Peoples with Australian society and which impact negatively on health.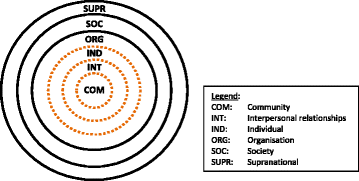 Unlike Richard and colleagues, and consistent with the community development philosophy of health care favoured by ACCOs [24], we have not assumed that the individual (IND) is the ultimate target for all health promotion activities, and this is reflected in the way strategies are coded. Finally, reflecting the overwhelming influence the large, majority non-Indigenous population [25] has on the cultural, social and economic wellbeing of First Peoples, the broader Australian society (SOC) is considered a legitimate target for change. This is necessary given the existence of ongoing discriminatory regional or national government policies, the high incidence of structural and personal racism [26] and the absence of a legally binding agreement between the government and the sovereign First Peoples. Coding for all activities, was performed by two authors (JD, KR) with additional input from staff of respective programs as required.
Descriptive statistics are presented showing frequencies of participant contacts by program, the health focus of the 88 health promotion activities implemented across the 12 programs, and of program settings, targets and strategies. Statistical analyses were performed using SPSS Version 22.
Discussion
This prospective study of First Peoples' health promotion showed that these Aboriginal organisations are providing culturally relevant and innovative health activities that address community needs for First Peoples of the Goulburn-Murray Rivers Region. The aims and purpose of these health promotion activities were much broader than for conventional programs. The design was consistent with a First Peoples' ecological model of health promotion.
Conclusions
First Peoples' health promotion in the Goulburn-Murray Rivers region encompasses a broad range of social, cultural, lifestyle and community development activities including reclaiming and strengthening cultural identity and social connectedness as a response to colonisation. Social connectedness was a major component of a majority of activities that were implemented as part of the Health Promotion Alliance, including important parts of activities addressing nutrition, physical activity and weight loss.
At present, there are barriers, such as limited time or capacity, that lead to First Peoples perspectives being excluded from health promotion implementation and evaluation processes, resulting in inaccurate or misleading conclusions based on available data. The present study seeks to move towards understanding how First Peoples' health promotion is implemented, in line with community priorities and processes, and to thereby improve the ability of mainstream institutions to grasp and respond to these priorities. In order to achieve sustainable program implementation and monitoring of outcomes, funding processes need to move beyond short-term cycles that increase competition rather than collaboration. Evaluation and reporting of First Peoples' health promotion should be aligned with the important social and cultural aims and practices that are integral to health promotion programs for First Peoples.
Footnotes
1
'Community development' includes social and physical resources, capacity and the recognition by society of First Peoples.
Abbreviations
ACCO:

Aboriginal Community Controlled Organisation
CRC:

Co-operative Research Centre
NHMRC:

National Health and Medical Research Council
RAC:

Rumbalara Aboriginal Co-operative
VMAMS:

Viney Morgan Aboriginal Medical Service
Declarations
Acknowledgements
The authors acknowledge the guidance and contribution of the project's Steering Committee: Paul Briggs, Felicia Dean and Rochelle Patten. We acknowledge the contribution of community members Kylie Briggs and Rex Taylor to data collection. We thank Leah Johnston and Jasmine Lyons for assistance with the manuscript. Finally we dedicate this work to our colleague, mentor, and above-all friend, Dr. Kevin Rowley (1964–2016).
Funding
This work was funded by grants from the NHMRC (#1049086) and Lowitja Institute, incorporating the Cooperative Research Centre for Aboriginal and Torres Strait Islander Health, a collaborative partnership partly funded by the CRC Program of the Commonwealth Department of Innovation, Industry, Science and Research KR was supported by NHMRC Senior Research Fellowship, and MC by an ARC Future Fellowship.
Availability of data and materials
Ownership of all data relating to this research project remains with the participating organisations. Access to and use of this data by external parties may only occur at the organisations' behest. Please contact the corresponding author for details.
Authors' contributions
The authors of this article are from diverse ethnic backgrounds, geographies and disciplines, and include five First Peoples' and five mainstream researchers and practitioners with training and experience in health promotion, health service management, epidemiology, nutrition, psychology, education, public health and program evaluation. JD, SA-B, PA, BF, JC and TC are community-based researchers from the Goulburn-Murray Rivers region of northern Victoria, with extensive experience of community development and service delivery. JD & KR drafted the manuscript with contributions from other authors. KR conducted quantitative data analysis. JD, SA-B, BF, participated in data collection and analysis. JD, PA, JC, RR, MC, TR, TC, KR contributed to research program design and methods development. All authors contributed to data interpretation and read and approved the final document.
Competing interests
The authors declare that they have no competing interests.
Consent to publish
Not applicable.
Ethical approval and consent to participate
This work was carried out with approval from The University of Melbourne's Human Research Ethics Committee [0931708] and the Aboriginal Health and Medical Research Council, and in line with the ethical guidelines of the National Health and Medical Research Council of Australia. All participates gave written informed consent to participate.
Open AccessThis article is distributed under the terms of the Creative Commons Attribution 4.0 International License (http://creativecommons.org/licenses/by/4.0/), which permits unrestricted use, distribution, and reproduction in any medium, provided you give appropriate credit to the original author(s) and the source, provide a link to the Creative Commons license, and indicate if changes were made. The Creative Commons Public Domain Dedication waiver (http://creativecommons.org/publicdomain/zero/1.0/) applies to the data made available in this article, unless otherwise stated.
Authors' Affiliations
(1)
The Onemda Group, Centre for Health Equity, Melbourne School of Population & Global Health, The University of Melbourne, Melbourne, Australia
(2)
Viney Morgan Aboriginal Medical Service, Barmah, Australia
(3)
Wardliparingga Aboriginal Research Unit, South Australian Health and Medical Research Institute, Adelaide, Australia
(4)
School of Health Sciences, University of South Australia, Adelaide, Australia
(5)
Centre of Excellence in Intervention and Prevention Science, Carlton, Australia
(6)
Goulburn Valley Partnerships Office, The University of Melbourne, Shepparton, Australia