Research article

Open Access

Open Peer Review
This article has Open Peer Review reports available.
Advocacy for outpatient cardiac rehabilitation globally
BMC Health Services Research
BMC series – open, inclusive and trusted
2016
16:471
Received: 27 October 2015
Accepted: 11 August 2016
Published: 6 September 2016
Abstract
Background
Cardiovascular diseases (CVD) are the leading cause of death globally. Cardiac rehabilitation (CR) is an evidence-based intervention recommended for patients with CVD, to prevent recurrent events and to improve quality of life. However, despite the proven benefits, only a small percentage of those would benefit from CR actually receive it worldwide.
This paper by the International Council of Cardiovascular Prevention and Rehabilitation forwards the groundwork for successful CR advocacy to achieve broader reimbursement, and hence implementation.
Methods
First, the results of the International Council's survey on national CR reimbursement policies by government and insurance companies are summarized. Second, a multi-faceted approach to CR advocacy is forwarded. Finally, as per the advocacy recommendations, the economic impact of CVD and the corresponding benefits of CR and its cost-effectiveness are summarized. This provides the case for CR reimbursement advocacy.
Results
Thirty-one responses were received, from 25 different countries: 18 (58.1 %) were from high-income countries, 10 (32.4 %) from upper middle-income, and 3 (9.9 %) from lower middle-income countries. When asked who reimburses at least some portion of CR services in their country, 19 (61.3 %) reported the government, 17 (54.8 %) reported patients pay out-of-pocket, 16 (51.6 %) reported insurance companies, 12 (38.7 %) reported that it is shared between the patient and another source, and 7 (22.6 %) reported another source.
Conclusions
Many patients pay out-of-pocket for CR. CR reimbursement around the world is inconsistent and insufficient. Advocacy campaigns forwarding the CR cause, supported by the relevant literature, enlisting sources of support in a unified manner with an organized plan, are needed, and must be pursued persistently.
Keywords
Cardiovascular diseaseReimbursementCardiac rehabilitationInsurance
Background
Cardiovascular disease (CVD) is the leading cause of death globally, [1] and the burden of CVD is growing [2]. Consequently, CVD accounts for 10 % of disability-adjusted life years (DALYs) lost worldwide; 10 % of DALYs lost in low and middle-income countries, and 18 % of DALYs lost in high-income countries [3, 4]. According to the Global Burden of Disease Study, CVD was the leading cause of disability-adjusted life years lost in 2010 [4]. In the same year, years lived with disability due to ischemic heart disease was 8795 for all ages, or 128 per 100,000 [5].
Cardiac rehabilitation (CR) is an outpatient chronic disease management program for the secondary prevention of CVD. The World Health Organization has defined CR as the "sum of activities required to influence favorably the underlying cause of the disease, as well as the best possible physical, mental and social conditions, so that they may by their own efforts, preserve or resume when lost, as normal a place as possible in the society" [6]. The core components of CR include baseline patient assessment, nutritional counseling, risk factor modification, psychosocial interventions, physical activity counseling and exercise training [7–13].
The substantive clinical benefits of CR have recently been summarized [14, 15]. In brief, in high-income countries, CR is shown to reduce morbidity and mortality by 25 % [15]. In low and middle-income countries, CR participation is associated with significant improvements in lipids, body mass index, blood pressure, as well as quality of life, and functional capacity [14, 16].
Unfortunately, CR is grossly under-developed around the globe [
17
]. While the reasons are multi-factorial, arguably the chief reason is lack of service reimbursement. Accordingly, the International Council of Cardiovascular Prevention and Rehabilitation (
www.globalcardiacrehab.com
; Fig.
1
) set out to develop a resource for CR professionals and associations to advocate for CR reimbursement. This conceptual paper first describes the scope of the problem of low use of CR and reimbursement. Results from a survey undertaken by the International Council regarding CR reimbursement by government and insurance companies in various regions of the globe are presented. Second, a 6-step approach to advocating for CR is provided. The approach starts with demonstration of the scale of the CVD problem, and then supporting evidence. Accordingly, the paper concludes with this needed information, summarizing the economic impact of CVD and the economic benefits of CR, to support CR advocacy efforts.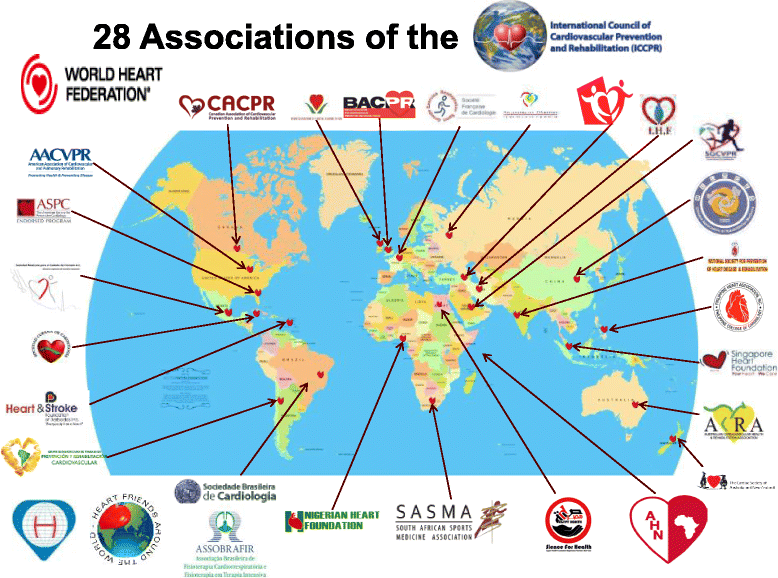 Conclusions
The need for CR has been established, and the economic benefits of CR provision have been demonstrated. Given the evidence of CR benefits for patient health and vocational outcomes, greater provision of these services through coverage may result in fewer recurrent cardiac events and associated hospitalizations, fewer revascularization procedures, as well as greater return-to-work and productivity. Given that CR is cost-effective, greater provision of such programs may be of significant economic benefit to government, insurance companies, the private sector and individuals.
It is imperative to advocate for reimbursement of CR services so that availability and affordability for patients will be greatly increased. An ancillary consequence will be that healthcare providers will be motivated to train and work in the field of CR, which will also enable greater implementation. It is incumbent upon CR associations to advocate for CR coverage, using the strategies forwarded herein.
Abbreviations
CR:

Cardiac rehabilitation
CVD:

Cardiovascular disease
DALYs:

Disability-adjusted life years
ICCPR:

International Council for Cardiovascular Prevention and Rehabilitation
SD:

Standard deviation
WHO:

World Health Organization
Declarations
Acknowledgements
We gratefully acknowledge the following collaborators for sharing CR advocacy success stories: John Buckley, PhD, Theodoros Papasavvas, MSc, RPT; Karen Liu, RN, MS; Masoumeh Sadeghi, MD, and Zahra Kasaei, MD. We also acknowledge Nizal Sarrafzadegan, MD for providing substantive input on the outline; and Raquel Marinho, MSc, for administration and analysis of the CR reimbursement survey.
Availability of data and materials
The dataset analysed in the current study available from the corresponding author on reasonable request.
Authors' contributions
AB, FL and SLG conceived of the work and designed the reimbursement survey. WI, HJ and FLJ drafted the economic and cost sections. SLG drafted the sections on CR availability, benefits and reimbursement. RT drafted the section on advocacy and associated tables. AB drafted the introduction and was responsible for referencing. AH drafted content related to the role of professional associations and governments in advocating for CR. All authors contributed to the development and revision of this manuscript and have approved the final submission.
Authors' information
FL is the Chair, International Committee, American Association of Cardiovascular and Pulmonary Rehabilitation (AACVPR).
RLT is the Vice-Chair, Clinical Cardiology Council, American Heart Association (AHA).
SLG is the Secretary of the International Council for Cardiovascular Prevention and Rehabilitation (ICCPR).
Competing interests
The authors declare that they have no competing interests.
Consent for publication
Not applicable.
Ethics approval and consent to participate
Not applicable.
Open AccessThis article is distributed under the terms of the Creative Commons Attribution 4.0 International License (http://creativecommons.org/licenses/by/4.0/), which permits unrestricted use, distribution, and reproduction in any medium, provided you give appropriate credit to the original author(s) and the source, provide a link to the Creative Commons license, and indicate if changes were made. The Creative Commons Public Domain Dedication waiver (http://creativecommons.org/publicdomain/zero/1.0/) applies to the data made available in this article, unless otherwise stated.
Authors' Affiliations
(1)
Department of Physiotherapy, School of Allied Health Sciences, Manipal University, Manipal, India
(2)
Preventive Cardiology Program, Division of Cardiovascular Diseases, Mayo Clinic, Rochester, USA
(3)
Centre for Excellence in Economic Analysis Research, Li Ka Shing Knowledge Institute, St. Michael's Hospital, Toronto, Canada
(4)
Institute of Health Policy, Management and Evaluation, University of Toronto, Toronto, Canada
(5)
Institute of Cardiology of Santa Catarina, Universidade e do Sul de Santa Catarina, Palhoça, Brazil
(6)
School of Kinesiology and Health Science, York University, Toronto, Canada
(7)
Toronto Western Hospital, GoodLife Fitness Cardiovascular Rehabilitation Unit, University Health Network, Toronto, Canada