Research article

Open Access

Open Peer Review
This article has Open Peer Review reports available.
Modelling the healthcare costs of skin cancer in South Africa
BMC Health Services Research
BMC series – open, inclusive and trusted
2016
16:113
Received: 10 June 2015
Accepted: 24 March 2016
Published: 2 April 2016
Abstract
Background
Skin cancer is a growing public health problem in South Africa due to its high ambient ultraviolet radiation environment. The purpose of this study was to estimate the annual health system costs of cutaneous melanoma, squamous cell carcinoma (SCC) and basal cell carcinoma (BCC) in South Africa, incorporating both the public and private sectors.
Methods
A cost-of-illness study was used to measure the economic burden of skin cancer and a 'bottom-up' micro-costing approach. Clinicians provided data on the patterns of care and treatments while national costing reports and clinician fees provided cost estimates. The mean costs per melanoma and per SCC/BCC were extrapolated to estimate national costs using published incidence data and official population statistics. One-way and probabilistic sensitivity analyses were undertaken to address the uncertainty of the parameters used in the model.
Results
The estimated total annual cost of treating skin cancers in South Africa were ZAR 92.4 million (2015) (or US$15.7 million). Sensitivity analyses showed that the total costs could vary between ZAR 89.7 to 94.6 million (US$15.2 to $16.1 million) when melanoma-related variables were changed and between ZAR 78.4 to 113.5 million ($13.3 to $19.3 million) when non-melanoma-related variables were changed. The primary drivers of overall costs were the cost of excisions, follow-up care, radical lymph node dissection, cryotherapy and radiation therapy.
Conclusion
The cost of managing skin cancer in South Africa is sizable. Since skin cancer is largely preventable through improvements to sun-protection awareness and skin cancer prevention programs, this study highlights these healthcare resources could be used for other pressing public health problems in South Africa.
Keywords
Cost-of-illness
Melanoma
Squamous cell carcinoma
Basal cell carcinoma
Skin cancer
Background
In South Africa, among the white population, there is one of the highest incidences of malignant melanoma in the world and concern for skin cancer overall has grown in recent years. The estimated yearly incidence of malignant melanoma is 4.76 per 100,000 persons overall and 19.2 per 100,000 in whites [1]. In 2009, the Western Cape of South Africa's incidence for whites was unofficially reported as high as 69 per 100,000 population [2]. South Africans are especially susceptible to skin cancer due to their exposure to year-round high ambient solar ultraviolet radiation (UV) and latitude (22–34°S) [3]. In a population of 54 million, the racial mix within South Africa shows a diverse population, consisting of black (80.2 %), white (8.4 %), coloured (8.8 %) and Asian/Indian (2.5 %) populations [4]. "Coloured" is a Statistics South Africa non-derogatory term referring to people of mixed race in South Africa. The skin pigmentation of South African populations varies widely and although whites are most susceptible to skin cancer, skin cancer occurs in all persons regardless of their skin pigment. Squamous cell carcinoma (SCC), basal cell carcinoma (BCC) and cutaneous melanoma (CM) have the highest incidence in white people, followed by coloureds and has considerably lower incidence in both blacks and Asian/Indians [1]. However, black South Africans often present to doctors late when their melanoma has already metastasized. Research has also found that there is a high risk of developing SCC in human immunodeficiency virus (HIV)-positive South Africans [5].
The South African healthcare system has made progress towards meeting the Millennium Development Goals, although in order to reach these goals and continue an upwards trajectory, significant improvements still remain necessary [6]. The increasing incidence of skin cancers will demand larger amounts of scarce healthcare resources and will compound the stress already placed on a strained public healthcare system. The expected rising incidence of skin cancer has already been seen for CM in the Cape [7] and possibly for all cancers, including CM, in the country as a whole [8]. Targeting diseases like skin cancer which are largely preventable through better awareness and promotion of healthy behaviours among its citizens is crucial to minimizing this healthcare resource burden.
The purpose of this study was to estimate the yearly health system costs of CM, SCC and BCC in South Africa, incorporating both the public and private sectors. In doing so, it will provide a better understanding of this disease burden, the health resources used in its current management, and the potential cost savings that might arise from prevention programs [9].
Results
Our model predicted that the annual total cost of treating skin cancers in South Africa were ZAR 92.4 million ($15.7 million). This assumes all those diagnosed are treated as per local clinical practice however, despite some anecdotal evidence that loss to follow up may be high in the public sector in South Africa. The estimated costs were ZAR 81.6 million ($13.8 million) for non-melanoma skin cancer and ZAR 10.8 million ($1.8 million) for CM (Table
3
). When lesions suspected to be skin cancers, but were diagnosed as benign, were considered, these additional costs were ZAR 45.1 million ($7.7 million). The total skin cancer costs per ethnic group were highest for whites (ZAR 30.5 million ($5.2 million) or 33.0 %), coloureds (ZAR 9.69 million ($1.6 million) or 10.5 %), black Africans (ZAR 7.84 million ($1.3 million) or 8.5 %) and lowest for Asians/Indians (ZAR 0.44 million ($0.1 million) or 0.5 %) (Table
3
). The remaining ZAR 44.0 million ($7.5 million) (47.6 %) was attributed to persons of 'unknown race'. The validity of the cost distribution across the ethnic subgroups is diminished due to the 'unknown race' subgroup representing almost half the total costs. Consequently, the estimates are grossly underestimated and are a limitation of the current data quality in South Africa.
Table 3
Estimates of national costs of skin cancer (2014/15 ZAR, $US)
Melanoma

BCC and SCC

Total

Mean costs per suspected case

ZAR 3566 $605

ZAR 2154 $366

-

Mean costs per diagnosed case

ZAR 4197 $712

ZAR 2767 $470

-

<1 mm ZAR 2931 $497

>1 mm ZAR 7149 $1213

Incidence per 100,000a

4.77

54.6

59.4

million

million

million

Total costs

ZAR 10.80 $1.8

ZAR 81.60 $13.8

ZAR 92.40 $15.7

By racial group

 Blacks

ZAR 2.09 $0.4

ZAR 5.76 $1.0

ZAR 7.84 $1.3

 Asians/indians

ZAR 0.05 $0.0

ZAR 0.38 $0.1

ZAR 0.44 $0.1

 Coloureds

ZAR 1.04 $0.2

ZAR 8.66 $1.5

ZAR 9.69 $1.6

 Whites

ZAR 3.67 $0.6

ZAR 26.82 $4.6

ZAR 30.49 $5.2

 Unknown race

ZAR 3.96 $0.7

ZAR 40.06 $6.8

ZAR 44.02 $7.5

By Gender

 Men

ZAR 6.10 $1.0

ZAR 54.71 $9.3

ZAR 60.81 $10.3

 Women

ZAR 4.70 $0.8

ZAR 26.96 $4.6

ZAR 31.67 $5.4
Sensitivity analyses showed that the annual cost of skin cancers could vary between ZAR 89.7 to ZAR 94.6 million ($15.2 to $16.1 million) when melanoma-related variables were changed and between ZAR 78.4 to ZAR 113.5 million ($13.3 to $19.3 million) when non-melanoma-related variables were changed. The primary driver in costs were the costs of follow-up and investigations, cost of excision and histopathology and the proportion of public patients, melanoma >1 mm and non-melanoma referrals.
Discussion
This is the first cost-of-illness study performed on skin cancer in South Africa. The total cost of treating skin cancer was estimated to be in the vicinity of ZAR 92.4 million ($15.7 million) a year in South Africa. This is likely to be underestimated due to not all BCC being monitored throughout South Africa and also excludes the costs associated with potential life lost and lost productivity, as included in other studies [16]. However, putting this finding into perspective, if skin cancer was prevented and the funds currently spent on diagnosis and treatment were redeployed, ZAR 92.4 million ($15.7 million) could provide two doses of human papilloma virus (HPV) vaccine to 305,000 girls in public schools (this translates to 67 % coverage of Grade 4 girls aged 9 and older, based on 2014 data)1. Cost-of-illness studies are limited for health policy decisions because they do not provide information on cost-effectiveness and therefore, cannot guide decisions about the wisest choice of interventions to be provided. However, skin cancer is preventable if sun exposure is not excessive and therefore cost studies are important and useful for raising awareness for preventable diseases, and they illustrate the costs that may be averted through prevention programs. Many studies have previously shown that prevention initiatives such as sunscreen promotion, educational programs, and multifaceted programs are cost-effective [17–22]. These programs have been effective in the context of organisational settings such as educational locations as well as workplaces and sporting bodies and at systemic levels through mass media campaigns.
Skin cancer is known to be caused by solar ultraviolet radiation and sun protection strategies are well-established in primary prevention. Preventing skin cancer through clothing, hats, sunscreen and seeking shade when outdoors, are known to reduce skin cancer development. In a strained healthcare system, understanding the impact of averting skin cancers emphasizes the economic importance of skin cancer prevention as a way of not only promoting health but freeing health resources for other conditions. Due to the lack of recent cancer statistics and monitoring systems, the study highlights the need for efficient surveillance and data capturing, increased research, improved awareness and informed prevention of skin cancer.
South Africa has a pluralistic health system, where the public and private sectors have radically different resources . Approximately 80 % of the population is served by an under-resourced and severely strained public health system where treatment is provided free of charge [23]. The remaining 20 % of the population (mostly those who are formally employed) receives world-class health care from private healthcare providers, through private medical insurance. Health resources are heavily skewed towards the private sector, which serves the minority of the country's population. There are racial differences in health care utilisation: 60 % of white and coloured adults visit a health professional in a year, of which 81 % were to a private facility, compared to 44 % of black African adults, of which 34 % were to private facilities [24]. The lower rates of black South Africans seeking medical care are explained, in part, by high travel costs to attend health care, out-of-pocket cost burden, long queues, perceived disrespectful treatment by facility staff, medicine stock-outs, perceived ineffective care and a preference to see traditional healers [25]. This behaviour has affected the presentation of melanoma in black South Africans with nodal disease occurring in more than one third of patients at their initial visit and 15 % already having disseminated metastatic disease [26, 27]. The lack of concern for skin problems relative to other serious health worries for people with HIV/AIDS may also be an additional reason for late presentation. Because black South Africans are not immune to skin cancers and because of high HIV prevalence, sun protection messages remain important [28].
A recent systematic review of studies reporting national costs of skin cancers and cost-effectiveness studies of prevention programs indicates the significant economic burden of skin cancer around the world [29]. The review found that in 16 studies, as a ratio to the population size of the country, the highest annual direct health system costs, is felt in Australia, New Zealand, Sweden and Denmark. If the results of the present analysis were available at the time of the review, it would have showed that South Africa was lowest for melanoma burden but higher than Brazil for non-melanoma cost burden (as a ratio of 2013 euros to population size) [29].
This analysis is limited because it relies on simplifying assumptions and on limited expert opinion for the treatment probabilities in the model rather than on large observational studies. Although not ideal, such data is not available in South Africa. Nevertheless, our estimates are 'real life', contemporary and the types and frequencies of treatments are comparable to those of the general international literature and guidelines for skin cancer [12]. For example, excision is clearly the preferred and dominant approach for non-melanoma skin cancer and melanoma. In these types of modelling studies, gaps commonly occur and reliance on expert opinion for these estimates is often necessary [30]. Treatments of skin cancers are also changing. New targeted therapies for advanced melanoma (e.g., dabrafenib, ipilimumab) are now available in other countries and are very expensive. If these are accepted for use in South Africa, the estimated cost of ZAR 10.8 million (US$1.6 million) for treating CM will be even higher. Lastly, the incidence data used to extrapolate the total costs were calculated using data from 2000 to 2004, and may no longer be accurate, and under-reporting is strongly suspected for BCCs because health care services do not fully cover all areas of South Africa [1].
It is standard practice in health economics to acknowledge and transparently quantify the uncertainty present in modelling studies [
30
]. We undertook one-way sensitivity analyses to assess parameter uncertainty and the tornado figures (Figs.
2
and
3
) outline the variables which impact the costing results the most. An additional use of the sensitivity analysis in this study is that it highlights which variables new research could concentrate on to obtain better estimates. Those with high uncertainty and significant influence on the results are displayed at the top of the tornado diagrams (Figs.
2
and
3
). They include the costs of follow-up and investigations, cost of excision and histopathology, the proportion of public patients, melanoma size and non-melanoma referrals. Beyond skin cancer, dedicated investment for capturing medical surveillance data in order to create accurate costing models in the South African setting is necessary. This would assist decision-makers in allocating resources where the most public health gain and least costly choices are possible. An efficient health system is one where spending occurs wisely, wastage is eliminated and where the most South Africans can gain better health outcomes.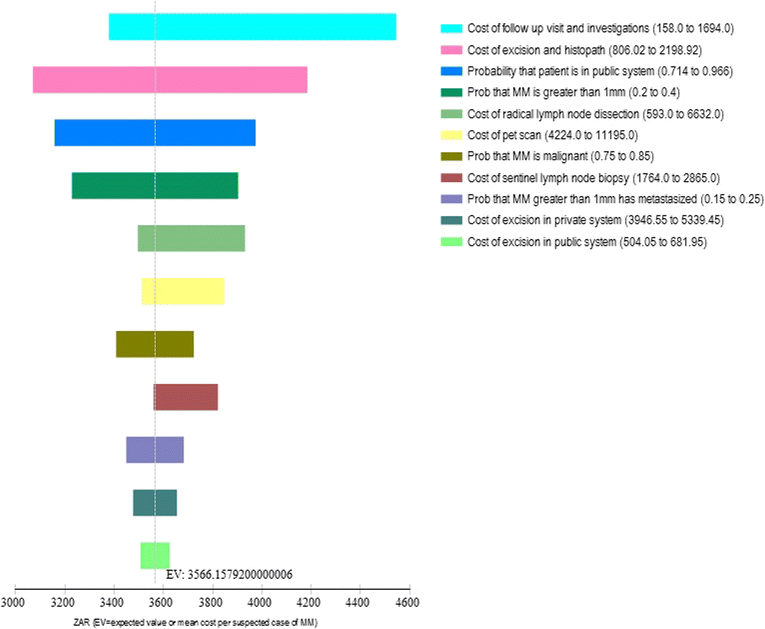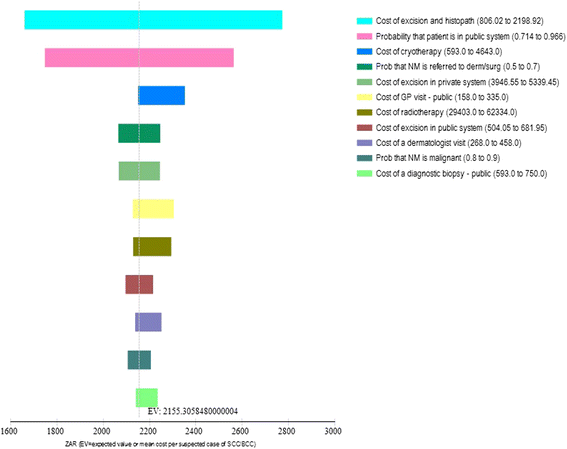 Conclusion
In conclusion, this study is a first attempt to provide a snapshot on the financial burden of skin cancer in South Africa. Subject to the caveats herein, the cost of skin cancer in South Africa is substantial and improvements to sun-protection awareness and behaviours are likely to avoid skin cancer development. In doing so, the health of individuals will be improved while also releasing scarce healthcare resources for other pressing public health problems.
Footnotes
1
HPV vaccine was approved in the public sector in South Africa in 2014 (school-based program for girls in Grade 4 in government schools). Vaccines are to be provided to approximately 450,000 girls who will receive a 2 dose vaccine, at a cost of R157 per dose (GSK tender prices reported by MSF). In round 1 of vaccination reached 412,617 girls and round 2 reached 422,000 girls. Authors own calculations based on data included in: Richter, K (2014) Implementation of HPV vaccination in South Africa, https://www.phasa.org.za/implementation-hpv-vaccination-south-africa/ Sans Frontieres (2015). The Right Shot: Bringing Down Barriers to Affordable and Adapted Vaccines, 2nd Edition. January 2015. Downloaded from https://www.msf.org.za/msf-publications/new-msf-report-says-cost-sa-vaccines-too-high.
Abbreviations
AIDS:

Acquired Immunodeficiency Disease
BCC:

basal cell carcinoma
CM:

cutaneous melanoma
HIV:

human immunodeficiency virus
HPV:

Human papilloma virus
NCR:

National Cancer Registry
SCC:

Squamous cell carcinoma
USD:

United States Dollars
ZAR:

South African Rand
Declarations
Acknowledgements
Dr Marc Roscher, dermatologist; Dr Lester Davids, scientist at UCT; Dr Dagmar Whittaker, dermatologist; Patricia Kellett, National Cancer Registry and Dr Stephen Purcell and Dr Anil Bramdev, Lancet Laboratories. The CSIR Parliamentary Grant EECM022 funded this research during 2013–2014. Thomas Elliott is funded through a grant from the National Health and Medical Council of Australia through the Centre for Research Excellence in Sun and Health #1001456.
Open AccessThis article is distributed under the terms of the Creative Commons Attribution 4.0 International License (http://creativecommons.org/licenses/by/4.0/), which permits unrestricted use, distribution, and reproduction in any medium, provided you give appropriate credit to the original author(s) and the source, provide a link to the Creative Commons license, and indicate if changes were made. The Creative Commons Public Domain Dedication waiver (http://creativecommons.org/publicdomain/zero/1.0/) applies to the data made available in this article, unless otherwise stated.
Authors' Affiliations
(1)
Griffith University, Menzies Health Institute Queensland, Centre for Applied Health Economics, Logan Campus, University Dr, Meadowbrook, Australia
(2)
Centre for Research Excellence in Sun and Health, Queensland University of Technology, Brisbane, Australia
(3)
Environment & Health Research Unit, South African Medical Research Council and Department of Geography, Meteorology and Geoinformatics, University of Pretoria, Pretoria, South Africa
(4)
Health Economics and HIV and AIDS Research Division, University of KwaZulu-Natal, Durban, South Africa
(5)
Division of Dermatology, Department of Medicine, Stellenbosch University, Tygerberg Academic Hospital, Cape Town, South Africa