Technical advance

Open Access

Open Peer Review
This article has Open Peer Review reports available.
Preventing mental illness: closing the evidence-practice gap through workforce and services planning
BMC Health Services Research
2015
15:283
Received: 15 July 2014
Accepted: 14 July 2015
Published: 24 July 2015
Abstract
Background
Mental illness is prevalent across the globe and affects multiple aspects of life. Despite advances in treatment, there is little evidence that prevalence rates of mental illness are falling. While the prevention of cardiovascular disease and cancers are common in the policy dialogue and in service delivery, the prevention of mental illness remains a neglected area. There is accumulating evidence that mental illness is at least partially preventable, with increasing recognition that its antecedents are often found in infancy, childhood, adolescence and youth, creating multiple opportunities into young adulthood for prevention. Developing valid and reproducible methods for translating the evidence base in mental illness prevention into actionable policy recommendations is a crucial step in taking the prevention agenda forward.
Method
Building on an aetiological model of adult mental illness that emphasizes the importance of intervening during infancy, childhood, adolescence and youth, we adapted a workforce and service planning framework, originally applied to diabetes care, to the analysis of the workforce and service structures required for best-practice prevention of mental illness.
Results
The resulting framework consists of 6 steps that include identifying priority risk factors, profiling the population in terms of these risk factors to identify at-risk groups, matching these at-risk groups to best-practice interventions, translation of these interventions to competencies, translation of competencies to workforce and service estimates, and finally, exploring the policy implications of these workforce and services estimates. The framework outlines the specific tasks involved in translating the evidence-base in prevention, to clearly actionable workforce, service delivery and funding recommendations.
Conclusions
The framework describes the means to deliver mental illness prevention that the literature indicates is achievable, and is the basis of an ongoing project to model the workforce and service structures required for mental illness prevention.
Keywords
Mental illness
Prevention
Workforce planning
Health services planning
Health policy
Method
Application of needs-based workforce modelling and service planning to mental disorder prevention
Goal
The goal of needs-based workforce modelling in mental illness prevention is to estimate the workforce and service structures required for a given regional population to effectively address core risk factors in infancy, childhood, adolescence and youth ('young people') that are implicated in the development of mental illness in adults.
Underlying premises and definitions
Adult mental illness is defined by disorders listed in the Diagnostic and Statistical Manual of Mental Disorders (DSM-IV) [121] and the International Classification of Diseases (ICD-10) [122]. Rather than focus on the prevention of a single disorder (e.g. depression), our approach to workforce modelling in mental health is to consider multiple disorders simultaneously. This reflects the existence of a set of risk factors that feature in the development of multiple mental illnesses. Preventing adult mental illness is operationalised numerically as reductions in incidence (new cases) of diagnosed mental illness, and prevalence (percentage) of the population with diagnosed mental illness.
Our conceptualisation of the development of adult mental illness is captured in Fig.
1
. The Origins of Adult Mental Illness (OrigAMI) model is informed by an extensive review of the literature, the authors' clinical work with children, adolescents and youth with mental illness, and the authors' clinical and theoretical work in child maltreatment [
123
–
125
]. The model describes a central pathway where negative family-based exposures, such as abuse, neglect, family violence, poverty and parental mental illness, impact negatively on a child's cognitive, emotional, behavioural and biological development, placing the child at increased risk of psychopathology, and increased risk of additional negative exposures such as bullying. These underlying vulnerabilities, some of which are present from birth (e.g. low birth weight due to intrauterine exposure to drugs) can greatly increase the risk of developing adult mental illness, especially if they accumulate over childhood, adolescence and into young adulthood. This central pathway is subject to multiple moderating influences. At the individual level, these include genetics, positive exposures (e.g. supportive teacher) and personal strengths (e.g. resilience, coping style). At the societal level, these include the quality of the local environment in which the individual lives, the quality and availability of health and social services, and the culture that the individual is exposed to. The model also captures the intergenerational nature of mental illness, in which adults become parents and their mental illness becomes a driver of negative family-based exposures in the next generation.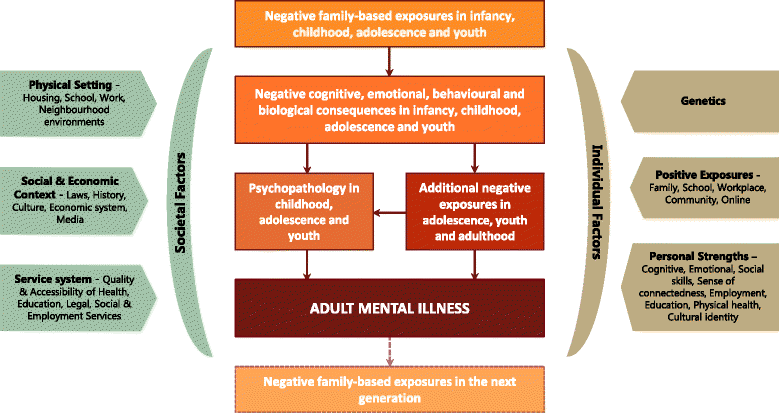 Importantly, the model emphasises that the prevention of adult mental illness is achieved through a focus on the preceding phases of life: infancy, childhood, adolescence and youth (referred henceforth as "in young people"). The logic of the model is that reducing young people's exposure to negative family-based factors such as physical and sexual abuse, neglect, and domestic violence, and identifying and treating young people who suffer the negative consequences of these exposures, should be the key focus of adult mental illness prevention activities.
We understand from the literature that not all exposures and consequences (referred to collectively as risk factors) are of equal importance in the aetiology of adult mental illness. We also recognise that it may not be feasible to address all identified risk factors in a single workforce and services model. Thus, one of the critical steps in workforce and services planning in mental illness prevention is to prioritise risk factors in order to identify significant prevention "opportunities" [67]. These opportunities are defined as exposures or consequences (or clusters of exposures and consequences) whose modification is predicted to have significant effects on adult mental illness. This process of prioritisation is built into the workforce model and is described in Step 1 below.
We also recognise, based on the moderating influences described in the model, that the modification of these risk factors might be achieved from programs across diverse portfolios (e.g. health, education, employment, social services) and at different stages of the lifespan from conception to youth. Thus, a wide net must be cast when scoping for best-practice programs in Step 3 (described below).
Finally, we approach the workforce and services modelling from a perspective of delivering an uncompromised and ideal workforce and services model that is not necessarily tied to existing conceptualisations of workforce, professions, skill mix, service structures or funding. In this respect, the recommendations arising from the workforce and services planning activity might require considerable structural, funding or other reforms for their implementation. This approach includes a definition of 'workforce' that is broader than just those professions commonly associated with mental health (e.g. psychologists, psychiatrists, social workers, mental health nurses). It encompasses workers across different portfolios (e.g. education, employment), from other occupations (e.g. youth workers, teachers), and with varying levels of training, from lay-people (e.g. volunteers, neighbours, family members) and peer workers, through to specialised mental health professionals. This approach also allows for significant creativity in proposing new service structures, funding models, professional designations, and programs. It also allows for consideration of new training and credentialing arrangements to create new professional groups.
The steps and tasks of needs-based workforce modelling and service planning in mental disorder prevention
Segal's workforce planning framework for mental illness prevention (Fig.
2
) provides a logical and repeatable process for moving from the defining of the at-risk population in terms of negative exposures and consequences across the lifespan (A), to defining the workforce and service structures required to deliver best-practice interventions with these at-risk groups (B). The six steps of this framework are described below. Readers interested in seeing how some of these steps were applied to diabetes care are directed towards the model application published elsewhere [
120
].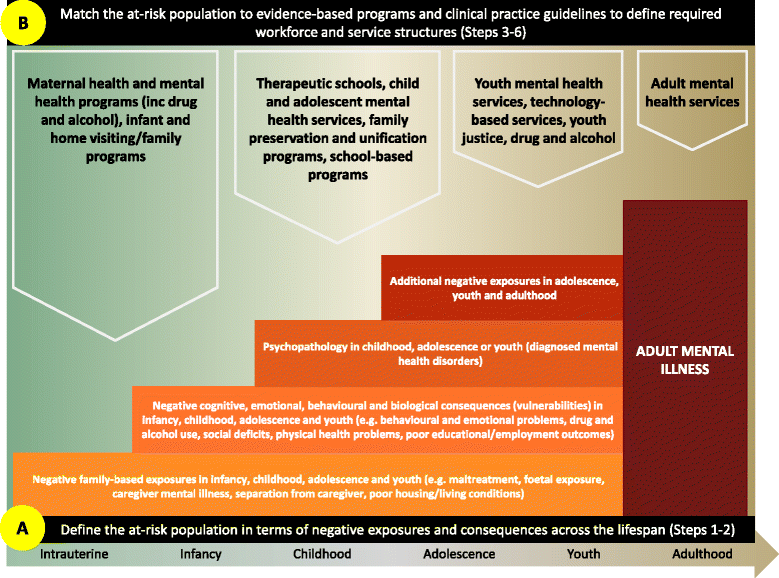 Step 1 – prioritising risk factors
The aim of Step 1 is to focus the workforce and services model around risk factors most relevant to reducing adult mental illness. Guided by the aetiological model (Fig. 1), it first involves identifying systematic reviews and meta-analyses of studies reporting on risk factors for adult mental illness. The reason for drawing on reviews is the sheer volume of studies that have reported on risk factors for mental illness. For example, a recent review published by Fryers and Brugha in 2013 [79], which limited its scope to longitudinal studies of childhood determinants of adult mental illness, found a large number of risk factors, but these risk factors collapsed into a relatively small number of clusters (mental, emotional and behavioural disorders, genetics, neurological deviance or damage, childhood adversity including abuse and neglect, family environment including parenting and parental mental illness, personality factors, and school performance/achievement).
The risk factors identified in these studies are then prioritised using criteria summarised in Table
1
. The entry criterion is that the risk factor is modifiable. Other criteria are concerned with (i) quantitative importance, related to prevalence of the risk factor, and/or the strength of the relationship between the risk factor and adult mental illness; (ii) quality of evidence that the risk factor is a critical part of the causal pathway for the development of mental illness, established by a clearly defined causal mechanism and empirical evidence supportive of a causal relationship (i.e. temporality, dose–response); and (iii) the practicality of identifying the risk factor in the population. A desirable, but not necessary criterion is that there are interventions that have been shown to modify the risk factor. This is because we do not want to be restricted in identifying potent modifiable risk factors by the failure to build an evidence-base for modifying those risk factors. Taken together, these criteria help identify the set of risk factors that are responsible for a significant proportion of the preventable burden of adult mental illness. This process is analogous to methods employed by the WHO to prioritise risk factors for global prevention interventions [
126
].
Table 1
Criteria for identifying priority risk factors from risk factor literature
Description

Entry criteria

▪ Modifiability

The risk factor is, at least in theory, modifiable

Other necessary criteria

▪ The relationship between the risk factor and adult mental illness is causal

Established mechanism of action: There are clear mechanisms by which the risk factor influences outcomes (e.g. established biological pathways)

Temporality: The risk or protective factor precedes the outcome.

Dose–response: Poorer mental illness outcomes associated with increased exposure to risk factor

▪ Size of effect

Strength and Consistency: Cross-sectional and longitudinal studies have demonstrated that the risk or protective factor is a strong and consistent predictor of adult mental illness outcomes.

Prevalence of risk factor: the more common the risk factor the greater will be its contribution to incidence and burden (all else equal)

Multifinality: The risk factor features in the aetiology of multiple mental illness outcomes (e.g. different disorders) and therefore its modification may influence multiple outcomes.

Health inequalities: the risk factor is found to be unjustly distributed in certain population groups.

▪ Identifiability

The risk factor can be identified in the population through screening and surveillance.

Desirable criteria

▪ Intervention opportunities

Evidence base for interventions: There are efficacious, effective and/or cost-effective interventions that modify the risk factor.

Clustering: The risk factor clusters with other known risk factors for the outcome, suggesting interventions may be able to target multiple risk factors at the same time.
The selected risk factors are then screened by an expert advisory panel consisting of clinicians, service providers, academics and consumers. The use of such a panel is to ensure that the selected risk factors are comprehensive but not over-defined. This panel, of up to 20 or so individuals, is re-engaged throughout the subsequent stages to offer comment and advice on other aspects of the process, such as reviewing clinical service options and competencies attached to best practice. A separate consumer engagement strategy can be utilised if considered valuable.
Step 2 – profiling the at-risk population
The goal of Step 2 is to measure the distribution of the prioritised risk factors in the population; that is, to estimate the number at risk, in the defined risk categories. For example, mental, emotional and behavioural disorders (MEBD) in children, adolescents and youth are a significant risk factor for adult mental illness [70–74]. In Step 2, we determine how many children, adolescents and young people (within a specified population) have such disorders and how they are distributed demographically (e.g. age, gender, education, ethnicity or SES) and type of mental, emotional or behavioural problem (e.g. anxiety, depression, schizophrenia). The purpose of this detailed profiling is to (a) quantify the number of people in the population affected by selected risk factors, and (b) support improved matching of interventions/services to those at risk, by understanding how those risk factors are distributed.
Step 2 primarily involves a review of regionally representative observational data (longitudinal and cross-sectional) to understand the prevalence and distribution of the selected risk factors. Example data sets relevant to mental illness prevention in Australia include the National Survey of Mental Health and Wellbeing [127] and the Longitudinal Study of Australian Children [128]. Analyses of these data sets is supplemented by consultation with the expert advisory panel who identify additional sources of data regarding risk factor prevalence and highlight risk groups (those with higher prevalence of risk factors) who may not be well captured in observational data sets. Examples of such risk groups include refugees and young people in the justice system.
Step 3 – matching population needs to best practice
In Step 3, the risk factors and risk groups identified in Steps 1 and 2 are matched to relevant clinical practice guidelines and evidence-based programs with demonstrated impacts on both the risk factor and progression to mental, emotional or behavioural disorders and adult mental illness. As with Step 2, this process includes both a review of the relevant literature, starting with systematic reviews and meta-analyses, and the use of the expert advisory panel to identify best-practice programs to and provide guidance on how comorbidities and contextual factors could be managed in practice. Programs identified at this stage might come from diverse portfolios and be targeted at different stages of the lifespan. The output of Step 3 is a set of clinical practice guidelines and/or evidence-based programs that are available to address the identified risk factors and at-risk groups.
Step 4 – translation of best practice to competencies
In Step 4, the project team work closely with clinicians from the expert advisory panel to dissect each of the selected evidence-based programs and guidelines into a set of actionable tasks (competencies), which represent how that program would be implemented in practice. Clinicians are called on individually, or in small groups, based on having relevant experience with the program/guidelines being analysed.
Each competency is expressed in hours per annum per target individual (or family, in the case of family-based programs). For example, a competency statement describing the implementation of a drug treatment guideline for attention deficit hyperactivity disorder (ADHD) would include individual competencies relating to pre-drug assessment, titration, and monitoring, as well as an estimate of the time required per annum to complete these competencies for a single child. Competency statements are created for each of the selected programs or guidelines derived from Step 3.
As part of the competency process, clinicians also consider and make recommendations on what professions are best qualified to carry out the competency. In cases where competencies can potentially be carried out by different professionals, the budget implications of using different professionals can be explored in Step 5. The clinical advisory group can also suggest new professional classifications if the competencies suggest a unique combination of skills that are not well captured by an existing profession. By the conclusion of Step 4, each program and guideline has a corresponding competency statement.
Step 5 – translation of competencies to workforce and services estimates
The hours of each competency required to deliver best practice care described in Step 4 are combined with the estimated prevalence rates of the sub-groups (from Step 2) to estimate the total hours by competency. Taking from Step 4 the estimated clinician time, by competency, required to deliver the identified best practice programs to one person over a year, we extrapolate to the total number of hours at the population level using the risk factor prevalence estimates from Step 2. Survey-based estimates of hours allocated to direct clinical service delivery per clinician per year are used to translate into full-time equivalent (FTE) workforce estimates by competency.
Step 5 also includes exploration of different workforce and service structures and their impact on the cost-efficiency of delivering the identified competencies. This includes the cost implications of (a) using different professionals or workers to carry out competencies, and (b) combining programs into defined services such as specialised child and adolescent mental health services for the management of mental, emotional and behavioural disorders.
Step 6 – exploring policy implications of workforce and services estimates
Step 6 comprises multiple activities that can be undertaken to explore the policy implications of the different workforce and service structures proposed in Step 5. These activities are summarised in Table
2
. This step involves further stakeholder consultation. For example, in our work we have established a strategic partnership with the State Department of Health to assist in the translation of the results into practice.
Table 2
Exploring the policy implications of workforce and service modelling
| Policy question | Description |
| --- | --- |
| What potential impact will implementing the workforce and service structures have on incidence and prevalence rates of adult mental illness? | Assuming the workforce and service structures from Step 4 are implemented at full fidelity and reach all relevant individuals/families, the theoretical impact on rates of adult mental illness are estimated using population attributable fractions (PAF). PAF provide an estimate of the burden of mental illness that is attributable to an individual or group of risk factors. |
| What are the potential cost-savings of implementing the proposed workforce and service structures? | In this activity we use estimates of the societal costs of mental illness to determine the potential savings of reducing rates of adult mental illness. This can then be compared to the costs of implementing the prevention programs. |
| What are the shortfalls and surpluses in terms of professionals available to deliver the proposed workforce and service structures? | This activity uses Australian Bureau of Statistics (ABS) Population Census data items on workforce, qualifications, place of work, industry, employment status, age, gender and hours of work to estimate the current and potential health workforce in defined regions. This can then be compared with the workforce estimates from Step 4 to identify major areas of imbalance. |
| Are current prevention activities in Australia consistent with the evidence-base? | In conjunction with a review of current Australian prevention activities, we can compare against those recommended from the modelling to identify gaps in best-practice prevention provision. |
| What resources will be required to implement the proposed workforce and service structures? How should those resources be distributed? | Explore the cost implications of alternative delivery models and workforce mixes. This will be informed by standard fees or training costs for each occupation. The impact on cost, of delivery characteristics such as occupational mix, mode of service delivery (individual/group, face-to-face/internet/phone, team-based or single clinician) will be explored. These analyses also include questions of whether services should be state or nationally funded. |
| How does current spending on prevention compare to that required to implement the proposed workforce and service structures? | Survey the human services system to determine how much is currently being spent at a state and commonwealth level on mental illness prevention. Compare this funding to that required to deliver the proposed workforce and service structures to determine resources shortfall. |
| What are the education and training implications of implementing the proposed workforce and service structures? What new professional classifications might be needed to be created to deliver the proposed services? | Use the analysis of competencies in Step 3 to determine what additional or specialised training might be required to prepare health, education or social welfare service professionals to staff the proposed workforce or service structures. In addition, explore new professional classifications to capture the unique set of skills required to intervene with children, adolescents and youth at risk of mental illness. |
| How do we translate the proposed workforce and services structures to local level changes? | In this activity, we collaborate with local health, education and social welfare service administrators to explore options for changing funding and delivery model to support implementation of the proposed workforce and service structures. |
| What may be the additional flow-on effects of implementing the workforce and service structures recommended in the project? | Quantifying the potential impacts on other domains. For example, some mental health programs may have impacts beyond mental illness (e.g. physical health, family quality of life, education attendance, work attendance). |
Results and discussion
Chronic illnesses in adulthood, including mental illness are increasingly being viewed through a developmental lens [129, 130]. Through this lens, experiences starting in-utero and continuing through infancy, childhood, adolescence and youth are crucial in laying the foundations for long-term health and wellness. Decades of evidence in mental illness prevention research supports this view, with multiple different programs supporting young people demonstrating capacity to reduce risk for future mental health problems [82]. The concept of supporting young people and families to build a healthy adult population is central to mental illness prevention.
Our observation is that the prevention dialogue in Australian health is largely focused around cardiovascular disease, cancer and obesity. It is common to hear people speak of risk of heart attack, or risk of developing cancer based on genetic, behavioural or environmental exposures. It is also expected that general practitioners will speak with patients about their risk for these conditions, and make recommendations for lifestyle changes or recommend preventive treatments. It is far less common, however, to hear people talk about the risk of developing mental illness, or for health professionals to inform those who might be at risk, based on presenting risk factors and recommend steps that might be taken to reduce risk. From a prevention perspective, the stigma associated with mental illness may be a significant barrier to intervention.
We are arguing that there is an opportunity to address this issue at the population level, through well-targeted mental health informed services delivered at key junctions over the lifespan. Similar to Hosie and colleagues [117] who argued for reforms to the mental health system to avert unsustainable growth in demand for treatment, we believe there are multiple opportunities from before birth into early adulthood to reduce people's risk of developing mental illness. A number of areas of research have furthered our understanding of the key modifiable risk factors for adult mental illness (such as adverse childhood experiences and child/adolescent emotional and behavioural disorders) and at the same time there is a growing body of evidence-based interventions to address these factors.
However, there remains a gap in operationalising this evidence, which requires appropriate workforce and service structures to deliver evidence-based interventions at a population level. Determining the workforce and service structures and the associated resource implications needed to deliver a preventive mental health agenda is required by policy makers to take this agenda forward, but there has been limited work in this area. When Pirkis et al. [131] reviewed 32 mental health plans from five developed countries that outlined core mental health services required, they found only 4 cited specific resource targets based on some evidence-based rationale.
The needs-based workforce and services planning framework described in this paper offers a preliminary way of translating the evidence-base in mental health prevention to specific recommendations regarding workforce structure and skill mix. Because of its flexibility, the framework can be adapted to different regions (using local population data), different illness types (targeting different risk factors), and local intervention capacities (local adaptations of best practice). We believe this work complements the broader advocacy work being done by groups like the Alliance for Prevention of Mental Disorders [132] in Australia and provides a way to develop "evidence-based models of care" [133] in which service structures are tightly linked to current best-practice evidence.
Conclusion
The prevention of mental illness is imperative, achievable and best targeted at young people. As our understanding of the aetiology of mental illness improves, so should our capacity to translate that evidence into population-level initiatives to prevent mental illness. Needs-based workforce planning frameworks offer methods to achieve this by identifying core risk factor targets and translating best-practice management of those risk factors into workforce and service structures for a defined regional population. In this paper we have described the process of needs-based workforce planning in mental illness prevention. We plan to present the findings from the implementation of this work within the context of Australian health services in the near future.
Abbreviations
WHO:

World Health Organisation
IOM:

Institute of Medicine
MEBD:

Mental, emotional and behavioural disorders
NMHSPF:

National Mental Health Service Planning Framework
DSM-IV:

Diagnostic and Statistical Manual of Mental Disorders
ICD (10):

International Classification of Diseases Version 10
CAMHS:

Child and Adolescent Mental Health Services
FTE:

Full time Equivalent
Declarations
Acknowledgements
The authors would like to acknowledge the National Health and Medical Research Council (NHMRC) and SA Health for the project funding. The funding bodies played no role in the study design, data analysis, or preparation of the manuscript for publication.
Authors' Affiliations
(1)
Health Economics and Social Policy Group, School of Population Health, University of South Australia, Adelaide, Australia
(2)
School of Nursing and Midwifery, Sansom Institute, University of South Australia, Adelaide, Australia
(3)
Department for Health and Ageing, South Australia, Adelaide, Australia
(4)
Australian Regional and Remote Community Services Ltd, Adelaide, Australia
(5)
Survivors of Torture and Trauma Assistance and Rehabilitation Services, Adelaide, Australia
(6)
Orygen Youth Health Research Centre, Centre for Youth Mental Health, The University of Melbourne, Melbourne, Australia
Copyright
© Furber et al. 2015
This article is published under license to BioMed Central Ltd. This is an Open Access article distributed under the terms of the Creative Commons Attribution License (http://creativecommons.org/licenses/by/4.0), which permits unrestricted use, distribution, and reproduction in any medium, provided the original work is properly credited. The Creative Commons Public Domain Dedication waiver (http://creativecommons.org/publicdomain/zero/1.0/) applies to the data made available in this article, unless otherwise stated.