Research article

Open Access

Open Peer Review
This article has Open Peer Review reports available.
A descriptive review of the methodologies used in household surveys on medicine utilization
BMC Health Services Research
2008
8:222
Received: 24 June 2008
Accepted: 31 October 2008
Published: 31 October 2008
Abstract
Background
Studies carried out in the community enable researchers to understand access to medicines, affordability, and barriers to use from the consumer's point of view, and may stimulate the development of adequate medicines policies. The aim of the present article was to describe methodological and analytical aspects of quantitative studies on medicine utilization carried out at the household level.
Methods
Systematic review of original papers with data collected in studies in which the household was a sampling unit, published between 1995 and 2008. The electronic review was carried out in Medline/Pubmed, Scielo and Lilacs. The reference lists of the papers identified were examined, as well as other publications by their authors. Studies on the utilization of specific pharmacological groups, or those including only respondents with a given disease were excluded.
Results
Out of 4852 papers initially identified in the literature search, 61 fulfilled our inclusion criteria. Most studies were carried out in Europe and North America and used a cross-sectional approach. More than 80% used face-to-face interviews for data collection, and the most frequently used recall period for assessing medicine utilization was 14–15 days. In 59% of the studies, interviewers were trained to request the packaging of the medicines reported by the subjects; medical prescriptions were requested less frequently (15% of the studies).
Conclusion
These data will be useful for updating researchers on what methods their peers are currently using. Such information may help overcome challenges in the planning and analyses of future studies. Moreover, this publication may contribute to the improvement of the quality of medicine use data obtained in household surveys.
Keywords
Elderly Subject
Household Survey
Postal Questionnaire
Recall Period
Anatomical Therapeutic Chemical
Background
Studies on the overall prevalence of medicine utilization are frequent in the scientific literature. Such studies are characterized by the investigation of any medicine used within a defined period of time. These studies represent an important tool to be used in health system evaluation.[1] Information may help draw conclusions about prevalence of diseases, treatment of adverse events, health status and quality of health care or of prescribers' behavior.[2] Studies carried out in the community also enable researchers to understand medicine use and its related aspects from the consumer's point of view, and may stimulate the development of adequate medicines policies.[3] This type of study may also help in understanding access to medicines, affordability, and barriers to use, at the community level.
In low and middle-income countries, in general, there are no computerized systems that integrate the information about medicines. Therefore, in most cases, it is not possible to carry out medicine utilization studies based on this source of information. As a result, researchers usually rely on studies with direct interviews with consumers, or investigate medical records, which are often incomplete. Taking into account that studies based on questionnaires are subject to reporting bias, it is important to use a carefully designed methodology for data collection.
The primary aim of this review is to describe the methodologies used for collecting and analyzing quantitative data on medicines use in household surveys. The paper also analyzes qualitatively the methodologies employed in the reviewed studies, and provides recommendations for future studies in the field.
Methods
A literature review was carried out using the Pubmed, Scielo and Lilacs databases. The following keywords were searched in the title or abstract of the papers: "drug(s) use", "drug(s) utilization", "drug(s) utilisation", "drug(s) usage", "drug(s) consumption", "medication use", "medication utilization", "medication usage", "medication consumption", "medicine(s) use", "medicine usage", "medicine consumption", "self-medication", "over-the-counter".
Several restriction criteria were used in the electronic search: (a) only articles published in Portuguese, English and Spanish were considered (only four papers were excluded due to this criterion); (b) only studies published between January 1995 and June 2008 were included, in order to focus on a description of the survey methods in current use; (c) only original papers were included. Studies in hospitals, schools, universities, nurseries, pharmacy counters, health clinics, and workplaces were excluded, as well as those including only institutionalized individuals (nursing homes and prisons). Finally, studies investigating the specific use of a given pharmacological group or including only individuals with a given morbidity were not considered.
Using the keywords mentioned earlier in Pubmed, 4852 titles were found until July 2005. After reviewing their titles and abstracts, 134 original papers appeared to fulfill the inclusion criteria, and therefore, their full texts were obtained. From July 2005 to June 2008, the same search strategy was automatically repeated in Pubmed. The searches at Scielo and Lilacs added few publications, and were made in July 2005, April 2006 and June 2008. Articles detected in the electronic search were reviewed by two of the authors, who decided whether or not the manuscript fulfilled the inclusion criteria. When they disagreed, the article was discussed by the two until a final decision was reached, based on the inclusion and exclusion criteria.
The references of the selected papers were reviewed in order to find other eligible publications. A search by the names of all first authors from the selected papers was also made. In seven cases, in which more than one publication was based on the same data, only the first was included in our review. After a detailed examination of the selected papers (obtained in full), 61 fulfilled all inclusion criteria.
The original papers included in the review were classified according to several characteristics:
Country of data collection;

Continent of data collection: studies carried out in more than one continent were denominated 'mixed';

Design used: cross-sectional, cross-sectional nested within a longitudinal study, and longitudinal;

Age groups: all ages, children only, adolescents and adults, elderly only;

Sample size: divided into ≤ 1000, 1001–5000, >5000 subjects;

Sampling strategy: utilization of a random sampling strategy or not;

Questionnaire administration mode: face-to-face interview, postal questionnaire, self-administration and telephone;

Respondent: medicine user, medicine user and proxy, medicine user and parents, parents only, family breadwinner or any resident;

Presentation of the survey questions that define the use of medicines in the article: yes or no;

Presentation of data on the validity of the questionnaire used for evaluating medicine utilization: yes or no;

Type of questions used to investigate medicine use: (a) open ended questions (in general, the first question is: "Have you used any medicine in the last xx days?" After a positive answer, a second group of questions includes identification and characterization of the medicines, following the specific objectives of the study); (b) checklists (questions about specific medicine names, pharmacological groups or diseases which are exclusively of interest to the study).

Request for packaging presentation: yes or no;

Request for prescription presentation: yes or no;

Types of medicines investigated: medicines for chronic use, medicines for acute use or both;

Indication of medicine taking: investigation of prescribed, over-the-counter or both types of medicines;

Pharmacological group classification: classification system used for dividing medicines into pharmacological groups;

Denominator used in the analyses: individuals, medicines or both;

Recall period: as described in each article.
Results
Additional file 1 summarizes the 61 studies included in our review, [4–64] whereas Additional files 2 and 3 present detailed characteristics of each article. Most studies were carried out in Europe and North America (64.0%), and used cross sectional designs. Sample size was greater than 1000 subjects in two-thirds of the studies, and most (95.1%) reported using random sampling strategies. More than 80% used interviewers to collect data. In the three studies including children,[32, 49, 62] the information on medicine use was provided by parents. In only 30% of the studies, the questions used to define medicine utilization were presented in the publication; in 93.4%, authors did not provide information on the validity of the questionnaire used to assess medicine use. Approximately 75% of studies used open ended questions, 59% required the presentation of the medicine packaging and only 15% required the presentation of medical prescriptions. In 11.5% of studies, only medicines for chronic illness were assessed, and 90% collected information about medicines regardless of being prescribed or not. The Anatomical Therapeutic Chemical (ATC) was the most frequent pharmacological group classification system used, although 42.5% of the studies did not indicate the classification system used. Most studies used individuals as the denominator in the analyses.
The most frequently used recall period was 14 days, or two weeks, although the periods ranged from one day to two years (Figure
1
). The recall period differed in studies investigating only medicines to treat chronic diseases (or for regular use)[
5
,
28
,
34
,
50
,
51
,
56
,
59
] compared to those evaluating medicines for acute use. The former usually asked about current use without a defined reference period. When both groups of medicines were investigated, some studies differentiated the recall period for each kind of medicine.[
31
,
33
,
39
,
45
,
55
]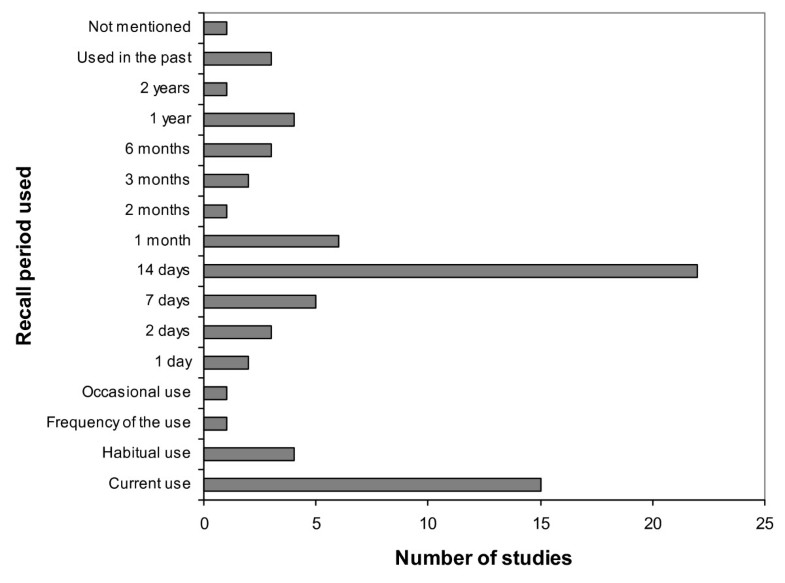 Discussion
Data on past utilization of medicines that are collected by interview may be inaccurate, since they are subject to imprecise recall (leading to omission of medicines used), incomplete information (for example, interviewees knowing the name of a medicine, but not the dose or duration of the treatment) or even wrong information (due to misunderstanding either the question itself or the medicine treatment in use) [33, 64]. As a consequence, some methodological aspects are crucial for deriving valid information on medicine use through household surveys.
The following sections discuss several key methodological aspects of household surveys on medicine utilization, summarizing the strategies used in the reviewed studies, quantified in the results section, and presenting directions and recommendations for future studies in the field.
Conclusion
The present review focused on the methods used in 61 household surveys of medicine utilization published between January 1995 and June 2008. These data will be useful for updating researchers on current standards of practice, and may help overcome challenges in the planning and analyses of such studies. Moreover, recommendations in this publication may help to improve the quality of the data about medicine use obtained in household surveys.
Given that studies are conducted for different purposes, a certain degree of heterogeneity in methods is expected. However, standardization of certain practices would be beneficial. For example, international and regional comparisons of medicine utilization prevalence would benefit from the utilization of consistent methodologies. Actually, the World Health Organization has tried to overcome the problem, by proposing standard instruments. In the 2002 World Health Survey, a standardized questionnaire including some questions on medicine access, affordability and use, was administered in 53 countries[78].
Regardless of the issue of standardization, some publications lack important details on the methodologies used, for example, the system used to classify medicines into pharmacological groups or the question used to investigate the main outcome variable. Authors should provide such details in the articles, so that other researchers may adequately replicate studies in different settings. Finally, because data on the reliability and validity of medicine use questionnaires are rare, it is uncertain if the instruments currently in use are accurately assessing the construct of medicine utilization.
Authors' Affiliations
(1)
Programa de pós-graduação em Saúde Coletiva, Universidade do Vale do Rio dos Sinos, Brazil
(2)
Takemi Program in International Health, Harvard School of Public Health, Boston, USA
(3)
Programa de Pós-graduação em Epidemiologia, Universidade Federal de Pelotas, Brazil
(4)
Department of Ambulatory Care and Prevention, Harvard Medical School and Harvard Pilgrim Health Care, Boston, USA
Copyright
© Bertoldi et al; licensee BioMed Central Ltd. 2008
This article is published under license to BioMed Central Ltd. This is an Open Access article distributed under the terms of the Creative Commons Attribution License (http://creativecommons.org/licenses/by/2.0), which permits unrestricted use, distribution, and reproduction in any medium, provided the original work is properly cited.