Research article

Open Access

Open Peer Review
This article has Open Peer Review reports available.
Implementing strategies in consumer and community engagement in health care: results of a large-scale, scoping meta-review
BMC Health Services Research
2014
14:402
Received: 14 April 2014
Accepted: 11 September 2014
Published: 18 September 2014
Abstract
Background
There is growing recognition of the importance of the active involvement of consumers and community members in health care. Despite the long history of consumer and community engagement (CCE) research and practice, there is no consensus on the best strategies for CCE. In this paper, we identify various dimensions of CCE-related strategies and offer a practical model to assist policy-makers, practitioners and researchers.
Methods
We undertook a large-scale, scoping meta-review and searched six databases using a list of nine medical subject headings (MeSH) and a comprehensive list of 47 phrases. We identified and examined a total of 90 relevant systematic reviews.
Results
Identified reviews show that although there is a significant body of research on CCE, the development of the field is hindered by a lack of evidence relating to specific elements of CCE. They also indicate a diverse and growing enterprise, drawing on a wide range of disciplinary, political and philosophical perspectives and a mix of definitions, targets, approaches, strategies and mechanisms. CCE interventions and strategies aim to involve consumers, community members and the public in general, as well as specific sub-groups, including children and people from culturally and linguistically diverse backgrounds. Strategies for CCE vary in terms of their aim and type of proposed activity, as do the methods and tools which have been developed to support them. Methods and tools include shared decision making, use of decision aids, consumer representation, application of electronic and internet-based facilities, and peer support. The success of CCE is dependent on both the approach taken and contextual factors, including structural facilitators such as governmental support, as well as barriers such as costs, organisational culture and population-specific limitations.
Conclusions
The diversity of the field indicates the need to measure each component of CCE. This meta-review provides the basis for development of a new eight stage model of consumer and community engagement. This model emphasises the importance of clarity and focus, as well as an extensive evaluation of contextual factors within specific settings, before the implementation of CCE strategies, enabling those involved in CCE to determine potential facilitators and barriers to the process.
Keywords
Consumer and community engagement (CCE)
Shared decision making (SDM)
Consumer representation
Patient involvement
Implementation
Background
There has been recognition of the need for a more active role for consumers in health care – what Mold refers to as the inclusion of patient 'choices' and patient 'voices' – for over 50 years [1]. The ultimate aim of such involvement is said to be the improvement of service delivery, patient experiences and patient outcomes [2]. The impetus for consumer and community engagement (CCE) in health care has continued to grow and change over the decades. Although a number of patient and consumer organisations have been active since the 1950s, momentum built in the 1960s and 1970s with the emergence of what can be seen in hindsight as the patient rights movement [3], a component of large-scale citizenship and social rights movements [4]. These movements include both a general focus on the role of patients and consumers, and a more specialised focus on specific advocacy areas, including, for example, HIV-AIDS [5].
In more recent years, additional factors have highlighted the need for more active engagement of consumers. One is the changing nature of patient profiles [6], in particular the increasing number of individuals living with chronic and complex conditions. A second is the large-scale reform agendas which have swept over developed countries [7, 8]. A third is the involvement of patients in patient safety, in monitoring and developing strategies for responding to medical errors and adverse events [9].
Numerous reasons have been identified to support the stimulus to involve consumers actively in health care. These include a directive by the World Health Organization (WHO) supporting participation as a right for all people [10]; the assertion that consumer involvement is a means to greater democratisation of health care; the proposition that the involvement of consumers could reduce gaps between health care professionals and patients; and that such a shift could help increase the acceptance, quality and efficiency of health care [11]. There is a potential contribution of consumer participation such as for example in the successful implementation of clinical protocols [12]; and, at a meso level, drawing on many studies, there is an argument that widespread community involvement is among the factors that not only contributes to, but defines, successful service delivery programs [13].
Community engagement addresses the need to increase citizens' awareness of, and involvement in, health-related decisions such as prioritising research and allocations of funding [14, 15] and the design and delivery of initiatives and actions aimed at improving public health outcomes and reducing health inequalities [16]. The process can involve a variety of aspects across five key elements: "patient involvement, participation, collaboration, education, and empowerment" [14: 279].
Consumer perspectives can assist in making health information more balanced and relevant to patients, and increase the chance of meeting the needs of consumers [17]. There is some evidence for more successful implementation of organisational change based on community involvement [2].
At an individual level, consumers involved in engagement activities have reported that they felt as though they were being listened to by professionals, that their ideas were being acted upon and that their individual experiences as patients were being used to help others [2, 18]. Overall, it is widely believed that building more effective consumer networks can contribute to improvements in health care for the wider community and the active citizenship of individuals and groups [19].
Extant models and approaches
The well-known model of CCE, Arnstein's ladder of citizen participation, describes a hierarchy of engagement, from non-participation (which allows merely for the public to be educated and influenced by those who are in power), to co-operation, and delegation of full power and control to the citizens [20]. The latter enables the public to influence decision making and be in effective control of the systems they are seeking to influence [20]. However, Tritter and McCallum have criticised Arnstein's model for focusing solely on power. They argue that this model undermines some forms of knowledge and expertise and does not recognise that participation itself can be a goal for some users [21]. Another model provided by Travaglia and Robertson identifies and describes three levels of CCE: micro; meso; and macro [22]. Other conceptualisations of CEE are also widely utilised [23]. Bowen et al., for example, employ the "continuum of community engagement". Engagement strategies within this model fall into one of three levels: "transactional, transitional, and transformational engagement" [23]. At the first level, the community adopts a passive role, receiving information (e.g. charitable donations, employee volunteering, and information sessions). At the second level, the community has a more active role that involves two-way communication. However, rather than equal, the community's role is more of a recipient (e.g. stakeholder dialogues, public consultations, meetings). At the third level, there is shared decision making (SDM), and the community has an equal position (e.g. joint management, joint decision making, co-ownership) [23]. Bowen et al. suggested that effective community engagement will provide long-term benefits, rather than immediate cost-benefits [23].
Despite the long history of CCE research and commentary [23], there is still no clear map of the current work on CCE strategies and barriers in health care, and no consensus on definitions and terminologies [16, 24]. The field is very diverse. The aim of this scoping meta-review is to map the field and identify various dimensions of CCE related strategies and establish a practical model that aggregates, synthesises and reflects the current knowledge of CCE. By doing this, we intend to provide policy-makers, practitioners and researchers with a sharper perspective on CCE strategies and for them to be better able to engage with and promote such an important enterprise.
Methods
This study is based on an innovative method: a "scoping meta-review" [25]. This method combines scoping review and meta-review methods. A scoping review is an emerging literature review methodology used to map a field of interest [26, 27]. Scoping reviews can map wide-ranging targeted literature, addressing broad research questions on a topic [26]. Meta-reviews refer to activities which synthesise evidence from systematic reviews [28].
We used scoping review methodology to outline CCE-related systematic reviews. The appropriateness of this method was identified based on a non-systematic preliminary review which resulted in the collection of 438 documents (e.g., research articles, policy documents, information sheets). Our preliminary review indicated that the field is diverse and complex. We needed a scoping review methodology to map CCE-related strategies and barriers embedded in the literature. In addition, based on the preliminary review, we identified many systematic reviews examining various aspects of CCE. Thus, it was feasible to conduct a scoping overview of extant systematic reviews on CCE in health care. The advantage of relying on systematic reviews was the possibility of presenting a robust and reliable picture of the field. Each paper included using this method is a systematic review that has appraised a number of studies.
For the purpose of this scoping meta-review, we searched six databases: Pub Med Central (medicine); Embase (medicine); EBM reviews (including Cochrane Database of Systematic Reviews); CINAHL; APAPsycNET (including PsycINFO); and Scopus, using a list of nine medical subject headings (MeSH) and a comprehensive list of 47 phrases incorporating a combination of terms including 'user', 'community', 'consumer' with terms such as 'engagement', 'involvement', 'participation'. The search strategy is provided in Additional file 1.
Systematic reviews that directly addressed CCE in health care were included in the scoping meta-review. We did not place any further limitations on the included studies and did not exclude any study based on the target groups, type of professionals involved, or the services provided. There were no geographical limitations placed on the search; however opinion pieces, books, chapters, discussions, and letters and publications in languages other than English were excluded. Citations were excluded initially on the basis of the relevance of their title and abstract. The full text was obtained for the remaining references and evaluated against the selection criteria and excluded if they were not related to CCE or if they were not systematic reviews. An appraisal tool developed by the Public Health Resource Unit, England was consulted to decide whether papers fulfilled the criteria of a systematic review [29]. Qualitative data analysis was guided by a grounded theory approach for capturing emerging categories and concepts [30]. It involved a number of stages. Following a close reading of the included papers, emerging themes related to CCE were recorded. Then informative summaries were drawn from each paper to construct an introduction to the emerged theme and then the themes were categorised. Finally a model was developed that summarises the findings of the analysis. The main process of the review was undertaken by the first author, who regularly presented the produced works and samples of the selected items to the rest of the team. The team discussed the materials until agreement was obtained and decisions were made, for example, over inclusion or exclusion of papers or the emerging themes and categories.
Results
The initial search produced 10,078 citations. After excluding duplicates (n = 3,044), 7,034 citations were evaluated by title and abstract and 4,875 citations were excluded based on topic and methodology. Given the number and the scope of the remaining citations (n = 2,159), a new exclusion criteria was applied and papers published prior to 2010 were excluded (n = 1,993). It is notable that revising the search strategy and limiting the scope of a review, although reducing the comprehensiveness of the study, is acknowledged in the scoping review methodology as a step that is sometimes inevitable [
26
,
27
]. Although we excluded papers published prior to 2010, we could still indirectly access results of the studies published previously, because the included systematic reviews were presenting the results of the studies from those earlier years. A total of 166 papers published between January 2010 and October 2011 remained and the full text of these papers considered. During the final stage 76 papers were excluded on the basis of relevance or methodology. There were 90 systematic reviews included for final analysis and evaluation (Additional file
2
). An overview of the process is provided in Figure
1
. The results are presented according to the emerging themes. Initially we discuss the two main aspects of the CCE-related literature: the challenge of definition and the lack of evidence. We then present eight different aspects of CCE strategies: aims; type of activity; participants; preparedness; methods of engagement; methods of evaluation; barriers and facilitators.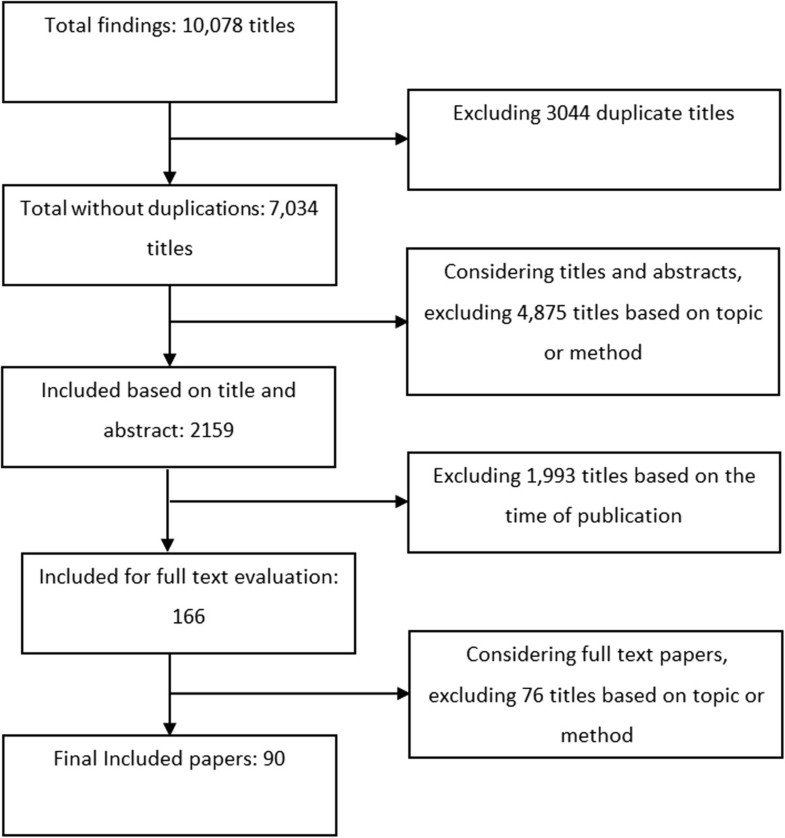 Discussion
CCE has been advocated in health care. A range of actual and potential participants, strategies, facilitators and barriers to CCE are identified in this large-scale, scoping meta-review. Despite attempts to resolve barriers [23], implementing CCE raises numerous challenges. There are challenges in gathering and synthesising consumers' viewpoints, and there is often not enough evidence to compare different methods of CCE in order to adequately judge which approach is most likely to be effective [39].
A primary finding of this review is the importance of carefully evaluating initiatives for CCE before commencing implementation. It is useful to take baseline measures, and estimate and evaluate the costs, benefits, barriers and facilitators of each engagement initiative. While seeking to foster long term benefits, CCE is likely to require immediate allocation of resources.
Our findings imply the need to undertake a comprehensive approach to assessment, including evaluating hidden costs such as training of health care professionals and consumers, and time required for the participation process as well as that allocated for meetings or presentations. The costs of such initiatives have to be compared with the benefits of CCE for consumers, the community and the health care system. Proposed benefits include enhanced ownership and empowerment of consumers, and increased accountability of initiatives [16]. To ensure the analysis is comprehensive and rigorous, the viewpoints of different groups of stakeholders must be included. This needs to be supported by precisely defined roles and responsibilities and the involvement of consumers in all health information-related steps: planning; development; evaluation; and dissemination [17].
A model for implementation of CCE
In this review, we identified that there are many context-related factors contributing to the success of CCE strategies. Therefore, a strategy that has been successful in one context might fail in another. Consequently, based on this review, it is recommended that proponents of CCE undertake a careful evaluation and rigorous assessment of the context against several dimensions that will impact CCE. To facilitate evaluation and assessment, an eight stage model identifying the key elements of CCE, drawn from the review, was developed. The model is presented in Figure
2
. Each of the elements in the model is introduced and discussed.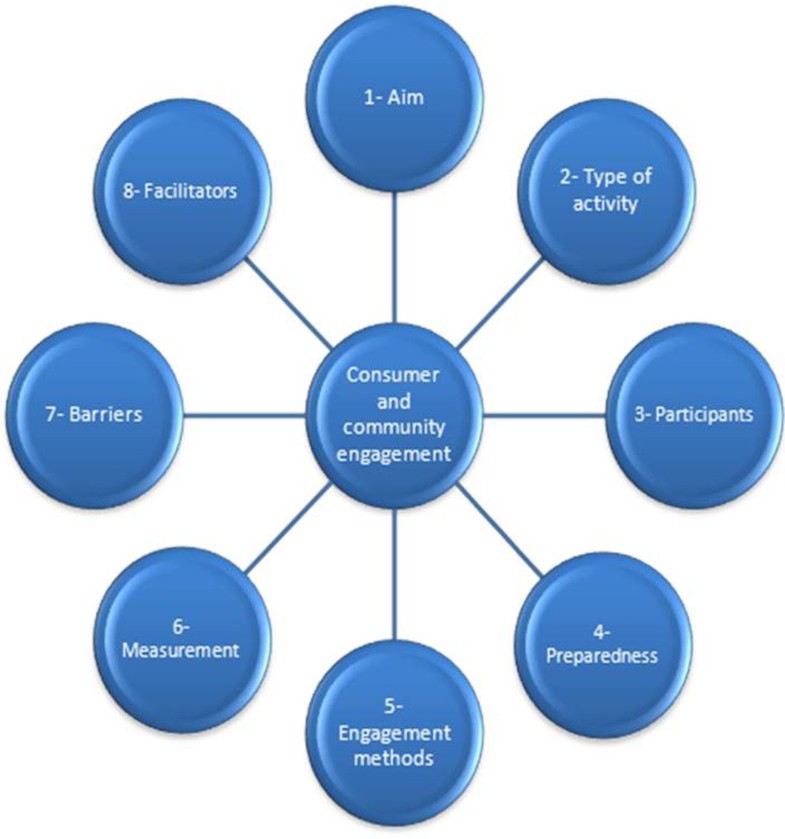 Step 1: Aim
The first step in the process is to decide on the focus of the CCE intervention. Although an obvious stage, the importance of this step, which forms the basis for the next stages, is often underestimated. The aims of CCE are often unclear and diverse, and interventions may fail, or may not be effectively evaluated, if their purpose, aim and target are not clearly defined.
Step 2: Type of engagement activity
Once the aim is defined, it is necessary to identify which CCE activities are most relevant in light of the aim. Potential CCE activities range from involvement in research, service planning and delivery, through SDM, policy making, development of informational materials and decision aids.
Step 3: Participants
After the aim and type of CCE activity have been determined, relevant participants must be identified. CCE participants may be consumers, relatives and carers, citizens and members of the public, members of specific communities, non-government and health consumer organisations, and they may be seen a co-providers, collaborative researchers, and policy-makers.
Step 4: Preparedness to be involved in the process of CCE
One of the emerging themes in this scoping meta-review was the lack of preparedness of stakeholders involved in CCE. Education and training in preparation for participation in CCE activities are crucial prerequisites for any CCE intervention. Assessment of the need for, and the availability of, appropriate forms of education, training and information materials are essential.
Step 5: Engagement methods
Depending on the topic and the individuals involved, potential engagement methods can be developed and applied. These range from strategies which best suit micro-engagement (such as SDM and DAs), through focus groups or discussions that bring together members of a community or communities, to public inquiries which can open debates on health care to a whole community.
Step 6: Measurement of the CCE
Evaluation and measurement of CCE activities will involve process and outcome evaluation. This will include an assessment of the elements such as availability of evaluation tools; measurement of people's experience; and assessment of effectiveness and outcomes.
Step 7: Barriers to CCE
In order to implement CCE, potential barriers need to be identified and addressed. This review identified several barriers, including: cost; culture; structural issues; situated-specific limitations; and population-specific limitations.
Step 8: Facilitators of CCE
In order to implement and enhance CCE processes, potential enablers of CCE need to be identified and harnessed. Facilitators of CCE may include key clinical or patient groups and governmental support.
Limitations
In this study, we selected and explored a large sample of academic papers. However, we did not directly include everything available, such as non-systematic reviews and grey literature. Therefore, we might have failed to capture activities and strategies that are not reflected in review papers. In addition, while we utilised an extensive list of 47 search phrases, we acknowledge that we are presenting a snapshot of this emerging field. It is necessary to continue reviewing related data through further reviews. Finally, we undertook a qualitative analysis of the included papers, an inevitably subjective process. Therefore, we recommend that future work examine the model we propose and attempt to refine it.
Conclusions
The principles of CCE have been acknowledged and applied in various health care settings. This scoping meta-review identifies numerous CCE approaches, strategies, techniques and tools. However, there is a challenge to develop local, context-specific interventions. Due to the diversity and complexity of the topic, it is inappropriate to extrapolate a preferred approach for engagement or one that could be universally successful. Rather, what emerges from the evidence is a broad-based eight-stage model which incorporates key elements underpinning the principles, the processes, and the practices of CCE. Efforts to engage at each level of the health system, whether micro, meso or macro, should take these elements into account to plan, execute, and evaluate CCE activities.
Authors' information
PSF is a medical sociologist with a doctoral degree in medicine and a PhD in sociology. His broad expertise includes the study of social aspects of health and medicine for more than a decade. He has extensive international research expertise and has worked in Iran, the United Kingdom and Australia focusing on consumer and community engagement, clinical variation, and mental health. He is active in supervising postgraduate students undertaking research on consumer and community engagement in health care.
JT has been involved in health services education and research for over 20 years, actively inquiring into and promoting and developing the fields of diversity, patient safety and inter-professional learning and practice across the Australian and Italian health systems. She has led research and evaluation projects on a range of topics relating to patient safety, the quality and equity of service provision in aged and health care, communication, collaboration, peer support, diversity, ethnicity, cultural competence, disability and inter-professionalism. She worked recently on an evaluation of inter-professional practice and learning across an entire health system, and currently works on projects concerning consumer engagement, vulnerability, patient safety, and comparative international health systems studies.
DD is a research officer and PhD candidate. She is a registered nurse and midwife with experience in both rural and metropolitan acute care settings. She graduated with a Bachelor of Arts degree majoring in Psychology and Sociology. Her Honours Thesis investigated automatic and controlled cognitive processing in the elderly and her research interests are medication error, patient safety and workarounds. DD conducts projects and provides research expertise across multiple health systems research projects and her PhD focuses on workarounds in health care.
JB is a leading health services researcher with an international reputation for his work investigating the culture and structure of acute settings, leadership, management and change in health sector organisations, quality and safety in health care, accreditation and surveying processes in an international context and the restructuring of health services. He has published extensively (more than 300 refereed contributions, and 500 total publications) about organisational, social and team approaches to care which has raised the importance of these internationally. He has been conferred many awards and prizes for his research and teaching.
Abbreviations
AIDS:

Acquired Immunodeficiency Syndrome
CALD:

Culturally and Linguistically Diverse
CBR:

Community-Based Rehabilitation
CCE:

Consumer and Community Engagement
DAs:

Decision Aids
ePHRs:

electronic Personal Health Records
HIV:

Human immunodeficiency virus
MeSH:

Medical Subject Heading
NHMRC:

National Health and Medical Research Council
NICE:

National Institute for Health and Clinical Excellence
SDM:

Shared Decision Making
SEB:

Socio-Economic Background
WHO:

World Health Organization.
Declarations
Acknowledgments
The preliminary review and the scoping meta-review were undertaken as a part of the Community Engagement Research Project (CERP), which was a joint project of the Agency for Clinical Innovation (ACI) and the Australian Institute of Health Innovation (AIHI), at University of New South Wales (UNSW), Sydney, Australia.
Authors' Affiliations
(1)
Australian Institute for Health Innovation (AIHI), University of New South Wales (UNSW), Sydney, Australia
(2)
School of Public Health and Community Medicine (SPHCM), University of New South Wales (UNSW), Sydney, Australia
Copyright
© Sarrami-Foroushani et al.; licensee BioMed Central Ltd. 2014
This article is published under license to BioMed Central Ltd. This is an Open Access article distributed under the terms of the Creative Commons Attribution License (http://creativecommons.org/licenses/by/4.0), which permits unrestricted use, distribution, and reproduction in any medium, provided the original work is properly credited. The Creative Commons Public Domain Dedication waiver (http://creativecommons.org/publicdomain/zero/1.0/) applies to the data made available in this article, unless otherwise stated.