Research article

Open Access

Open Peer Review
This article has Open Peer Review reports available.
Articulating current service development practices: a qualitative analysis of eleven mental health projects
BMC Health Services Research
2014
14:20
Received: 3 April 2013
Accepted: 7 January 2014
Published: 17 January 2014
Abstract
Background
The utilisation of good design practices in the development of complex health services is essential to improving quality. Healthcare organisations, however, are often seriously out of step with modern design thinking and practice. As a starting point to encourage the uptake of good design practices, it is important to understand the context of their intended use. This study aims to do that by articulating current health service development practices.
Methods
Eleven service development projects carried out in a large mental health service were investigated through in-depth interviews with six operation managers. The critical decision method in conjunction with diagrammatic elicitation was used to capture descriptions of these projects. Stage-gate design models were then formed to visually articulate, classify and characterise different service development practices.
Results
Projects were grouped into three categories according to design process patterns: new service introduction and service integration; service improvement; service closure. Three common design stages: problem exploration, idea generation and solution evaluation - were then compared across the design process patterns. Consistent across projects were a top-down, policy-driven approach to exploration, underexploited idea generation and implementation-based evaluation.
Conclusions
This study provides insight into where and how good design practices can contribute to the improvement of current service development practices. Specifically, the following suggestions for future service development practices are made: genuine user needs analysis for exploration; divergent thinking and innovative culture for idea generation; and fail-safe evaluation prior to implementation. Better training for managers through partnership working with design experts and researchers could be beneficial.
Keywords
Healthcare OrganisationService DevelopmentFault Tree AnalysisLean PrincipleInnovative Culture
Background
The utilisation of good design practices to develop complex health services is essential to their quality [1–4]. Good design practices can be defined as methods that lead to design artifacts, either products or services, having a 'fitness for purpose' for their task while maintaining commercial viability [5]. The establishment of good design practices has come from 50 years of study and reflection across a range of sub-disciplines, including industrial design, product design and engineering design [6].
Service development, often referred to as service design, is an on-going activity that helps healthcare organisations meet a changing kaleidoscope of new challenges and opportunities. For example, changes in services are required to meet increased demand under budget constraints or integrate new technologies. Many healthcare organisations have sought to emulate operation principles that lead to highly reliable and safe practices [7].
Healthcare organisations, however, are often considered seriously out of step with modern design thinking and practice, particularly in relation to patient safety [8, 9]. This is not due to a lack of health care-specific tools. A large number of design tools and methods have been introduced to healthcare organisations [7, 10–13]. Yet, many remain at a conceptual level and have not been utilised to the same degree as in other sectors such as automotive and aerospace [8, 14].
The proactive utilisation of good design practices in other domains indicates that adoption is increased if the context of intended use is understood [6]. To this aim, the study presented in this paper articulates current service development practices. Description of existing practices can provide insight into how healthcare leaders and managers might better utilise good design practices in health service development projects.
Methods
Study context
The study took place in Cambridgeshire and Peterborough NHS foundation trust in the United Kingdom. The trust is a designated Cambridge University Teaching Trust and provides mental health services to 755,000 residents. The research team gained access to an older people's division in the trust as a part of a larger applied health research project (CLAHRC: Collaboration for Leadership in Applied Health Research and Care) funded by National Institute of Health Research (NIHR), UK.
Participants
All six operation managers in the older people's mental health division participated in the study. Four were regional operation managers, one a service development manager, and one a senior manager. All had previous roles in either health or social care provision, with four being former nurses, one a former occupational therapist, and one a former social worker. They had between 15 and 30 year experience in health or social care services each, including 5 to 20 years in management. One of their main management roles had been to lead or coordinate service development projects.
Data collection
The study uses a retrospective semi-structured interview strategy to investigate various aspects of service development practices. Principles from the critical decision method are adopted [
15
]. This approach has been used successfully to investigate the cognitive bases of judgement and decision-making of an individual in naturalistic settings in environments from system development to intensive care units [
16
,
17
]. This study draws specifically on the following elements: a case-based approach, a focus on non-routine cases, semi-structured probing, and cognitive probes [
15
]. Diagram-based cues (Figure
1
) are used to facilitate decision point probing.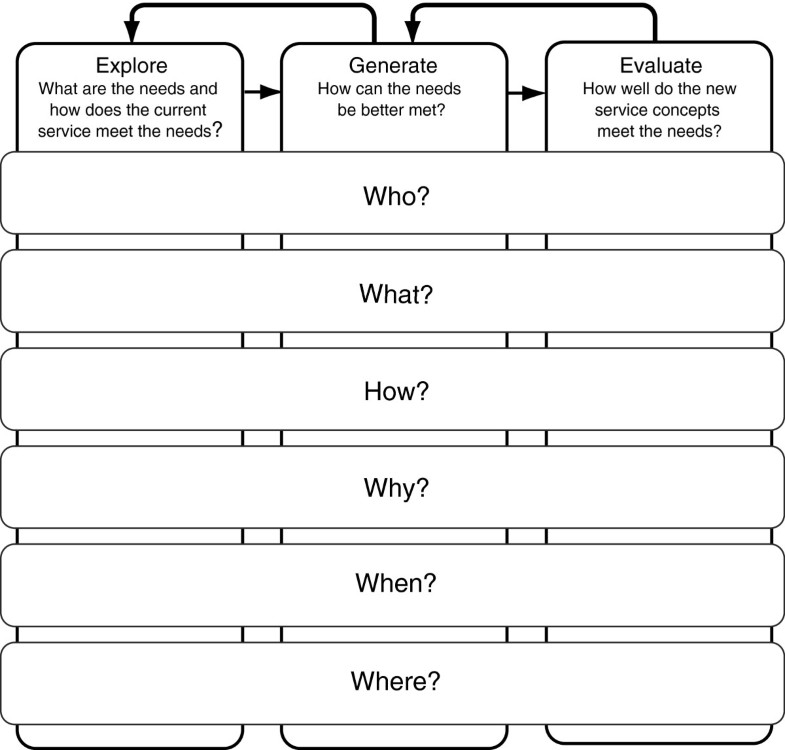 Diagrammatic elicitation helps to capture a more detailed recollection of activities and decisions than questions alone [18, 19]. A diagram, adapted from Cross [20], representing a simple three stage design process is used (Figure 1). The three stages are: explore (what are the needs and how are these met through current services?), generate (how can the needs be better met?) and evaluate (how well do the new service concepts meet the needs?). Each stage is further probed through more specific cues: who; what; how; why; when; where. These are represented by the rows in Figure 1.
Participants were contacted by email a week before the interviews and asked to choose two service development projects to discuss. It was specified that they should have been carried out within the past five years and that one should be considered successful and the other, unsuccessful. Our intention was to obtain more specific information by probing concrete and non-routine cases as argued in the critical decision method [15].
Relevant background information to the project was captured at the beginning of the interviews. This included personal information such as current role, years of experience, and training and qualifications, as well as project information such drivers, goals and duration. The diagram (Figure 1) was then placed on the table as a visual prompt and the series of cue questions for each design stage were asked in relation to the projects they chose. The diagram and questions provided prompts, but the participants were allowed to discuss their projects as they wished. The audio-recorded interviews took between 1 and 1.5 hours and were transcribed.
Analysis
The transcribed interviews were initially coded using a framework derived from the elicitation diagram (Figure 1). Relevant data were captured for each design stage in tabular form. Columns included: who was involved, what actions or decisions were taken, how were decisions made, as well as why, when and where. Projects were then characterised and grouped by goals, drivers, durations and design activities. During this initial analysis, the authors identified that the majority of the projects were approval-driven. For example, the progress of many design activities was controlled by approvals from committees, senior management or commissioners.
Stage-gate design process models were chosen to further visualise the project narratives. Stage-gate models break a design project into sets of stages and gates. Each stage consists of a set of activities and a gate is an entrance to a stage. Gates serve as quality control mechanisms and check points [21]. Stage gate models have been adopted by many technology companies to better understand and manage their project development processes [21]. In this study, we depicted the narratives according to such models in order to support consistent comparison between projects and recognise distinctive patterns. The various design activities of each project were categorised into the design stages (explore, generate and evaluate) as defined in Figure 1. Gates were then identified between stages.
This study did not require review by a NHS research ethics committee as it was classified as service evaluation. It was reviewed and approved by local NHS research governance (Cambridgeshire and Peterborough NHS foundation trust).
Results
Eleven projects were identified. The features of each project in terms of
goals, drivers, durations
and
design activities
are described in Table
1
.
Table 1
Summary descriptions of the eleven projects
Goal

Project

Driver

Duration

Summary

New service introduction

1. Introduction of memory services to primary care

Government policies

9 months

A project team was set up to pilot a new service model (memory clinic service in primary care) proposed from government policies. A business case was developed to get approval from a commissioning body and two days a week piloting was carried out.

GPs' complaints

2. Roll-out of a primary care psychology service

Cost saving

18 months

A multidisciplinary working group was set up to conduct a full-scale implementation of a new service after piloting. After the review of the piloting outcomes, detailed implementation plans were developed to get an approval from executive committee and a commissioning body.

Demand growth

3. Introduction of an intermediate mental health care team

GPs' complaints

2 years (piloting) 3 years (roll-out)

A working group was set up to introduce a new intermediate care team. A proposal for five days a week piloting was developed, approved by a commissioning body and conducted. Then, a roll-out planning was developed, approved and conducted.

Government policies

4. Development of a new mental health unit building

Population growth

8 years

A core project team was set up to conduct a new building development project. Benchmarking and evidence search was to capture requirements for the new building. Architects were involved to develop drawings and mock-ups based on which various evaluations (accessibility, noise, layout, supplies, etc.) were carried out.

Service integration

5. Integration between social and health care teams (region A)

Government policies

1 year (piloting)

A project lead was appointed to implement a team integration piloting project. Team social events were organised to address staff's concern. A partnership agreement was developed to conduct six month piloting.

6. Integration between social and mental health care teams (region B)

Government policies

2 years (piloting)

A project lead was appointed to lead a full scale implementation of a team integration project. Detailed service models and implementation plans were developed and approved by a steering committee.

Service improvement

7. Interface improvement between health care and social care

Government policies

6 months

A project working group was appointed to improve service interface between social and health care. Staff workshops were arranged to develop new service concepts and agreement was made. Implementation was not approved by a commissioning body.

8. Lean service transformation

Senior management

12 months

An external consultancy was appointed to conduct a lean service transformation project. Staff workshops were organised along with lean methodology training. Seven rapid improvement activities were proposed, approved by a project board and implemented.

Cost saving

Better efficiency

9. Review and redesign of physiotherapy services

Staff retirement

12 months

A project lead was appointed to develop a service improvement project. Current services were mapped and staff members were interviewed. An improvement proposal was developed and approved by senior management and implemented.

Cost saving

10. Interface improvement between primary and secondary mental health care

GPs' complaints

2 years

A working group was appointed to improve service interface between primary and secondary care. Staff workshops were organised to understand current system and develop new concept solutions. The implementation was approved by a committee.

Service closure

11. Close-down of care home services

Financial loss

6 months

A project team including a communication lead was appointed to implement service closure. Individual patient's needs were assessed to determine care plans after closure. Public and staff consultations were arranged. The project was completed by the post closure check by a local council.
Discussion
Based on current service development practices this study articulated, we would like to discuss how good design practices could be utilised at each design stage to increase the likelihood of successful implementation.
Conclusion
This study set out to fill a gap in our understanding of health service development practices by examining the design processes and methods utilised in eleven mental health service development projects. This study has shown a wide gap between healthcare service development practices and modern design thinking and practices. As part of this assessment, we have highlighted appropriate methods that could be employed to close this gap.
More specifically, the study has shown that currently, there is a top-down approach to service design led by government policies. This has led to a focus on location-specific implantation rather than the generation of new service design ideas. Unfortunately, top-down approaches undervalue the exploration of genuine needs and problems through stakeholder involvement. In turn, this limits opportunities to apply more divergent thinking methods and develop an innovative, creative workforce within healthcare organisations.
The study has also demonstrated that the evaluation methods used are primarily implementation-based. Alternative methods discussed in this paper include various conceptual and virtual methods for checking validity and safety prior to implementation. These have the added benefit of allowing staff to experiment with new ideas and solutions with no risk to patients or the organisation.
Partnership working between health service managers and design researchers can contribute to finding the most appropriate design practices for the current context of health service development. These must address the unique organisational culture and limited availability of staff's time and skill. Further research on how design practices are to be better supported in healthcare organisations is also needed. Partnerships would also enable healthcare managers to be better trained in good design practices through an appropriate, 'learning by doing' method. This bilateral approach will help to bring the healthcare sector in line with, and benefit from, modern design thinking and practices.
Declarations
Acknowledgements
This work was funded by and took place at the National Institute for Health Research (NIHR) Collaboration for Leadership in Applied Health Research and Care based at Cambridgeshire and Peterborough. The views expressed are those of the author(s) and not necessarily those of the NHS, the NIHR or the Department of Health. The authors thank the operation managers in the older people's mental health division of Cambridge Peterborough NHS Foundation Trust who participated in this study. The authors also thank colleague researchers, Dr Terry Dickerson, Dr Warren Kerley, Dr James Ward and Dr Alexander Komashie for their comments.
Authors' Affiliations
(1)
Loughborough Design School, Loughborough University, Loughborough, UK
(2)
Engineering Department, University of Cambridge, Cambridge, UK
Copyright
© Jun et al.; licensee BioMed Central Ltd. 2014
This article is published under license to BioMed Central Ltd. This is an open access article distributed under the terms of the Creative Commons Attribution License (http://creativecommons.org/licenses/by/2.0), which permits unrestricted use, distribution, and reproduction in any medium, provided the original work is properly cited.